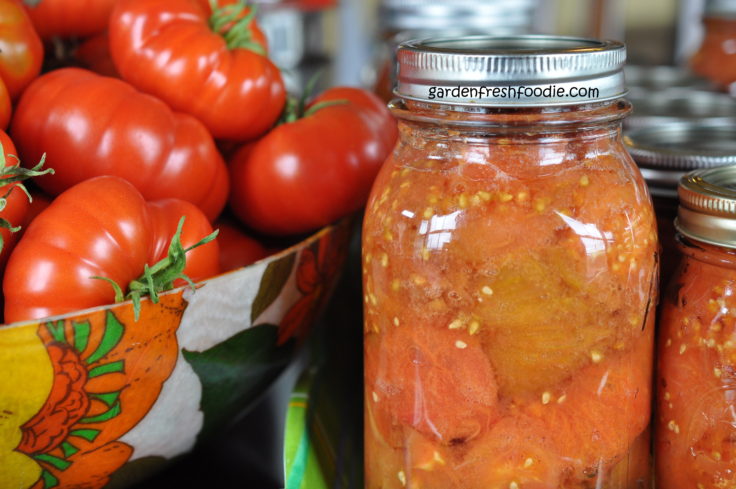 If your garden is exploding right now with tomatoes, you should learn how to can these beauties! If you don't have a garden, you most likely have access to a farmer's market or produce stand that has quarts and quarts of tomatoes for sale. Now is the time-SEIZE THE DAY (or days in my case) and preserve some tomatoes. Whether you choose to freeze or can these, in-season tomatoes are the bomb! Nothing is like a fresh, juicy tomato in terms of taste and quality. By canning your own foods, you avoid BPA-lined containers. Foods that are very acidic, like tomatoes, can corrode the liners and expose you to greater levels of BPA than other canned foods. You can avoid this by using glass jars. Our favorite is the Ball-line of products, as they are made in America.
The steps below explain how to can tomatoes. We can in both quart and pint sized jars, to give us flexibility for how much we need for various recipes. We don't add seasonings, as this also gives us flexibility for adding to a variety of recipes. We also don't add salt. The reason for this is again, flexibility. If we added salt to the tomatoes, we would have less control about the amount of salt in a given recipe. If you like yours salted, by all means, add a little to each jar. The reason we use bottled lemon juice as opposed to fresh is to ensure the acidity level of the jars. Bottled juice is regulated, and fresh can add another variable to the canning process.
It's best to can skinned tomatoes. This takes longer, but provides a better product with more versatility. Check out our You Tube video on all of the steps of How To Can Tomatoes. See directions below for new tip not in the movie.
Growing Organic Tomatoes
We grow organically, so we get the added benefit of no pesticide or harmful chemicals touching our fruits. We begin our seedlings inside in February for late May planting outside. Tomatoes are highly sprayed, since they are prone to a bunch of fungi here in the Northeast. Blight is the most common offender, causing yellow, spotted leaves, and eventual plant death. We try to keep up on this by breaking off leaves that show the first sign of blight (for more info on blight click here). There's also an oil that can be used, called Neem oil that can help with this, as well as powdery mildew, if sprayed at first sign. We forgot to do this this year, and had both fungi attack our plants (powdery mildew is common on zucchini and cucumbers). It didn't however lower the production of our tomatoes! Just be sure to rotate your crops, to avoid having the same diseases come back each year.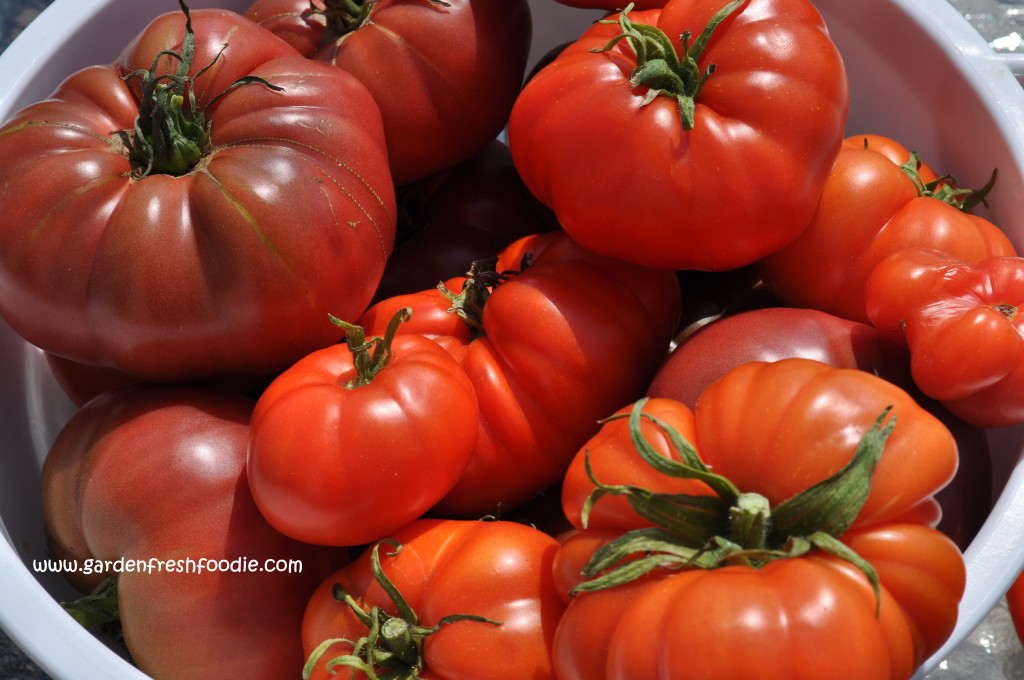 Ingredients:
Quart and/or pint jars, new lids, and screw-bands
Canner
Bottled lemon juice
Tomatoes
Instructions: For Video Steps, check out our You Tube Video on How to Can Tomatoes ***See Notes on #7 for a change in directions for tip on how to start with cold tomatoes.
Clean jars, lids, and screw tops in hot soapy water. Have ready to go while preparing tomatoes
To skin tomatoes: clean tomatoes, score each tomato by placing an X on the bottom, drop into almost boiling water. Remove and place into ice cold water to shock, and then peel. Save the liquid left behind from this process to be as a stock or fresh tomato juice. We freeze ours.
Core tomatoes: after tomatoes are peeled, cut out the center core of the tomato and discard. Cut into quarters if tomatoes are to be canned (if to be made into our Garden Fresh Foodie salsa, cut into smaller pieces). I do this step often ahead of time, as I often run out of time to do everything in one day. This is fine, place peeled/cored tomatoes into the refrigerator and proceed with steps.
Place 2 tbsp lemon juice into each quart jar and 1 tbsp lemon juice into pint jars
Pack tomatoes into jars tightly. If desired, pour hot tomato juice (left behind from peeling) over the tops of jars. Clean outside of jars, making sure they aren't sticking to ensure a good seal around the tops. 
Sterilize lids into hot water and place on top of jars, and adjust screw tops
**VERY IMPORTANT! IF PLACING COLD TOMATOES INTO JARS-DON'T START WITH BOILING CANNING BATH WATER!!! PLACE JARS INTO WARM WATER IN YOUR CANNER AND BRING UP TO BOILING, start your timer once water boils and cook for 50 minutes.  If tomatoes are hot, cover with HOT liquid, and place jars into canner with boiling water for 50 minutes (the video said longer, but I have found this isn't necessary). Both sized jars can go in at the same time. If you have cold jars they

WILL

crack once you place them into boiling water. I am finding it easier and easier to start with warm water and bring everything up to boiling together. I have had no cracked jars since doing this method!
Let cool, and check lids to ensure proper seal. You do this by removing bands and trying to lift up on lids. They shouldn't budge. If they do, your seal didn't form and it's best to freeze these tomatoes. You could try re-canning, but be sure to use a clean jar and new lid. 
Nutritional Benefits:
Tomatoes are packed with antioxidants and are an anti-inflammatory food. They are very high in a antioxidant carotenoid, called lycopene. Lycopene has been linked to decreasing many forms of cancer and lowering blood pressure and heart disease. They have also been linked to improving bone health, namely osteoporosis. 1 cup of tomatoes also provide 33% of Vitamin C needs, a vitamin that boosts immunity and wards off disease. Click here for more information.
For recipes on how to preserve the tomato season or use canned tomatoes, check out these tips and tomato recipes (more can be found by searching "tomato" on the blog):