Eating raw foods can help increase your gut biome.  Raw foods contain pre-biotics, helpful microbes that exist that would be destroyed by the heating process.  This soup can be whipped together quickly if using a Vitamix. The heat from the chipotle powder along with the dill and lemon really open up your senses. If you desire the soup to be warm, let the Vitamix run for a little longer. The great thing about this, is that it takes minutes to prepare and is packed with vitamins and fiber.  If you want to create a creamier texture, you could soak 1/4 cup of cashews and add to the mix. This will create a fattier mouth feel.
*This recipe was adapted from the Vitamix cookbook.
For other raw food ideas, check out:
Ingredients:
2 cups chopped carrots
1 cup chopped celery
1/2 cup chopped scallions
1 tbsp minced garlic
juice of 1 lemon
1/2 tsp salt
dash of chipotle powder
2 tbsp fresh dill or 1 tsp dried
2 cups water
*optional-1/4 cup soaked cashews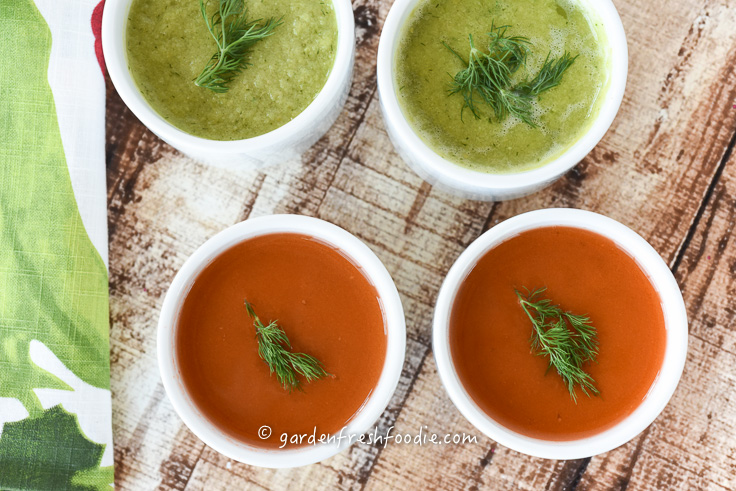 Instructions:
Place all ingredients into blender and blend until warm
Enjoy! Also shown here is my fresh spring pea soup.
Raw Chipotle Carrot Soup
A raw carrot soup with a kick that whips up in minutes.
Ingredients
2 cups chopped carrots
1 cup chopped celery
½ cup chopped scallions
1 tbsp minced garlic
juice of 1 lemon
½ tsp salt
dash of chipotle powder
2 tbsp fresh dill or 1 tsp dried
2 cups water
*optional-1/4 cup soaked cashews
Instructions
Place all ingredients into blender and blend until warm
Enjoy! Also shown here is my fresh spring pea soup