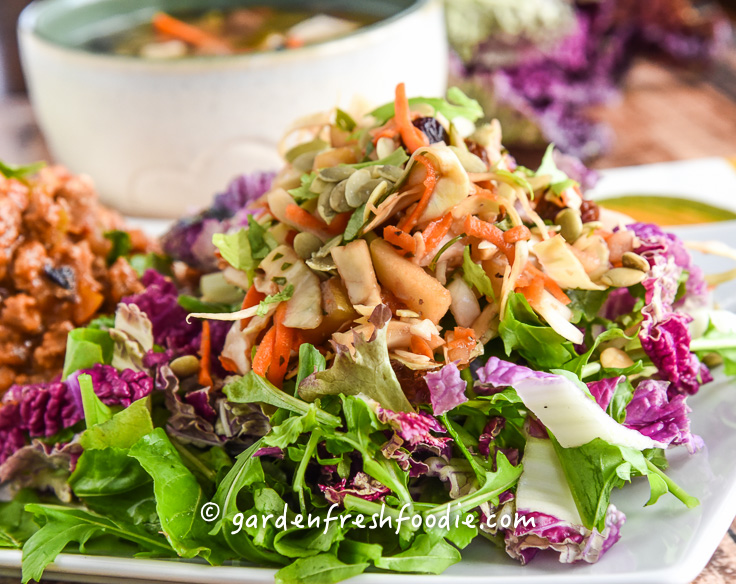 This slaw was an invention I whipped up during a class I was teaching on "Cook The Share".  We had all the fall/winter foods available and I wanted to create something light and colorful to go along with our meal.  Quickly we chopped and massage the veggies and presto! This slaw was born.  Massaging help to soften raw foods and make them easier to digest.  For more info on that, check out my massaged kale salad. This slaw uses only apple cider vinegar and no oil or added sugars.  Because it's oil free, there are virtually no calories in this, and it's packed with pre-biotics.  Pre-biotics are found on raw foods and aid in digestion.  I love using Bragg's Raw Apple Cider Vinegar, as it's fermented and not pasteurized, maintaining the biotic quality of this dish. This salad is even better the next day (it lasts for a week), as the juices in the veggies will come out and marinate.  I suggest prepping it the day before you want to serve it, leaving the pumpkin seeds (or which ever you chose to use) until the day of so that they don't get soggy.
Cabbage is a great veggie to eat all winter as it's a storage crop, like carrots, and apples.  Lighten up those plates and save something in-season and nutritious that everyone will love!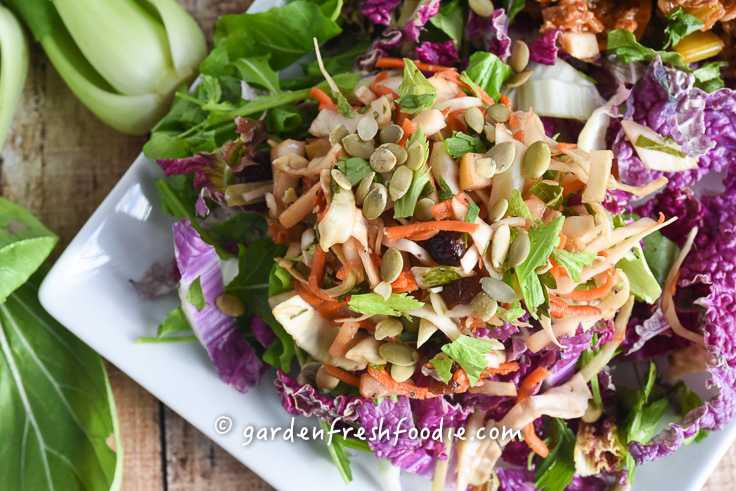 Ingredients:
1 head of cabbage, roughly 15-18 cups, sliced thinly in strips
4 cups shredded carrots (use a food processor for ease)
5 cups thinly sliced apples, about 5 apples
1 cup apple cider vinegar, preferably raw/fermented (see above)
2 cups fruit juice sweetened (not sugar) craisins or dried cherries
2 tsp kosher or sea salt
1 1/2-2 tsp black peppers
1 cup minced parsley
2 cups pumpkin seeds (sunflower seeds or nuts work too)*
Instructions:
Place all ingredients except parsley and seeds/nuts into a bowl
Massage the ingredients by rubbing them for a little while until well mixed and slightly softened
Add in parsley
When ready to serve add in seeds (do this right before serving so that they keep their crunch)
Serve along side your favorite dishes! This would go well with my Asian Sloppy Joe's (coming soon), Miso Soup, Lentil Cassoulet, or Veggie Burgers,

Nutritional Benefits:
Low in calories
No added fats or sugars
No cholesterol
Whole food, plant-based, raw
Rich in fiber, nutrients, and pre-biotics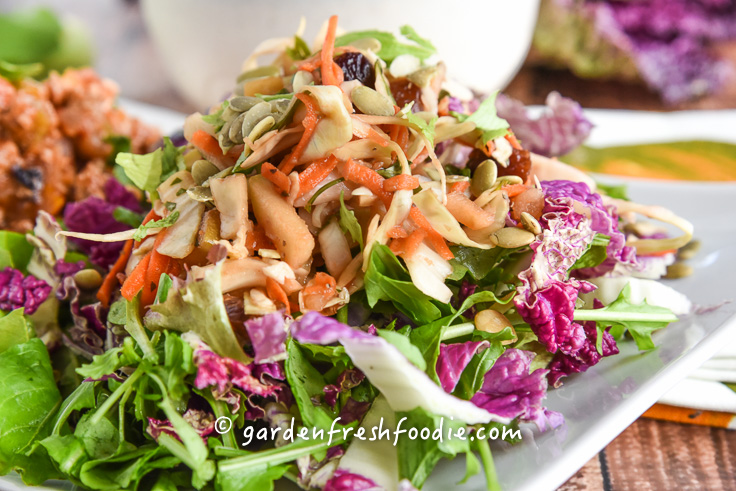 Oil Free Fall Apple Slaw
Oil Free Fall Apple Slaw: Apples, Cabbage, and Carrots, the perfect side for your fall and winter meals.
Author:
Garden Fresh Foodie
Ingredients
1 head of cabbage, roughly 15-18 cups, sliced thinly in strips
4 cups shredded carrots (use a food processor for ease)
5 cups thinly sliced apples, about 5 apples
1 cup apple cider vinegar, preferably raw/fermented (see above)
2 cups fruit juice sweetened (not sugar) craisins or dried cherries
2 tsp kosher or sea salt
1½-2 tsp black peppers
1 cup minced parsley
2 cups pumpkin seeds (sunflower seeds or nuts work too)*
Instructions
Place all ingredients except parsley and seeds/nuts into a bowl
Massage the ingredients by rubbing them for a little while until well mixed and slightly softened
Add in parsley
When ready to serve add in seeds (do this right before serving so that they keep their crunch)
Serve along side your favorite dishes! This would go well with my Asian Sloppy Joe's (coming soon), Lentil Cassoulet, or Veggie Burgers