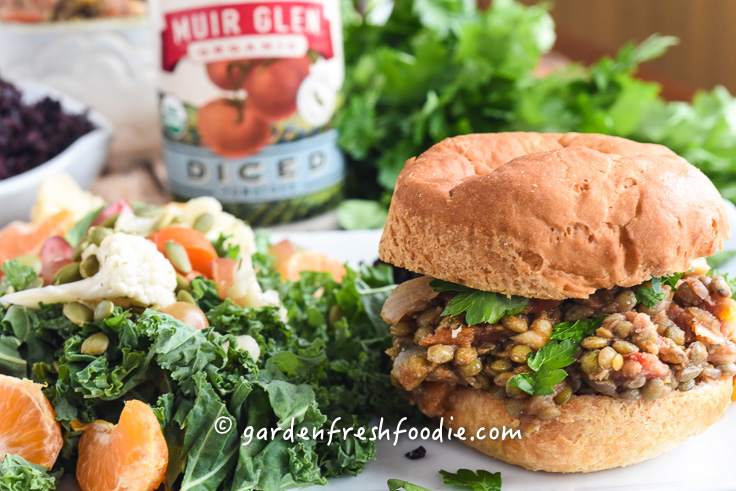 This post is sponsored by Muir Glen and TheFeedfeed, but all opinons are my own
This recipe was created to make a healthy version of a former meal I used to make when we ate meat, and a request from Muir Glen Tomatoes.  These lentil sloppy joe's have NO added fats, oils, and is low on salt and added sugars, but are still packed with protein, fiber, and micronutrients.  Lentils cook up quickly, and you can either pre-make them and store in the fridge or you can make them while you're prepping the other ingredients for the recipe.  I always have the ingredients in this dish on hand, as they are pantry/fridge staples for me. I store my ginger in the freezer and it peels and chops perfectly well without even needed to defrost it.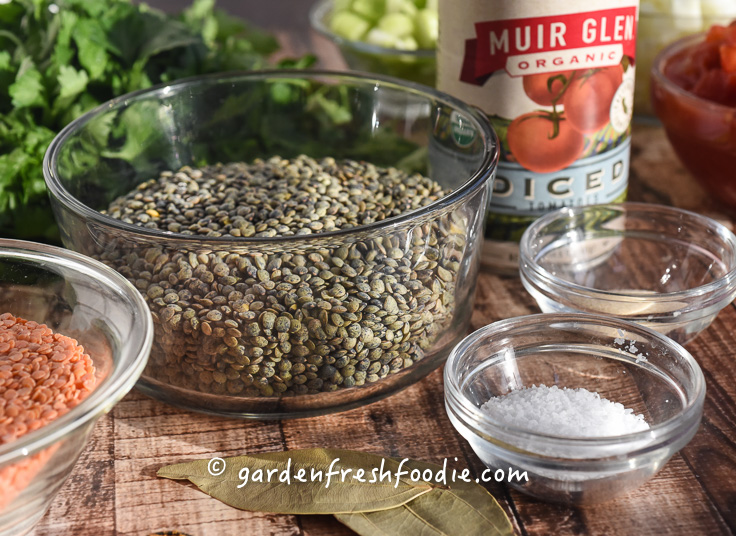 The tomatoes I used in this recipe are Muir Glen. I use them because they're 1) organic and 2) the cans aren't lined with BPA.  Both things that are important to me.  I get a lot of my staples, especially my bulk foods like lentils, and the tomatoes at my local food co-op, Lexington Food Coop.  The bulk foods are WAY less expensive than a regular grocery store, and they often run specials for members (although you don't need to be one to shop there) and I can also order items in large quantities from them.
Find your local co-op here on their store locator – you won't regret it!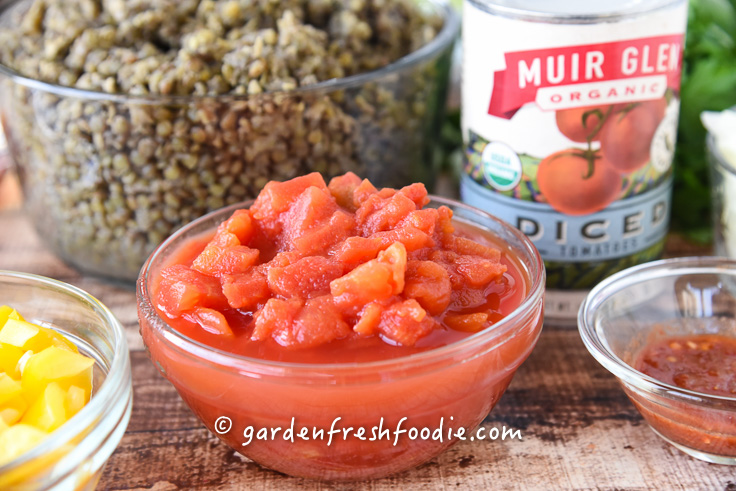 This dish can be used traditionally on a roll, or you can use it to stuff peppers, or plate atop rice for a gluten free option! Goes really well with a salad, especially my apple slaw!
Serves 6-8       Prep Time: 20 minutes     Cook Time: 10 minutes
Ingredients:
Lentils:
2 cups brown/french lentils
1/2 cup red lentils
2 bay leaves
1 tsp salt
3/4 tsp both garlic & onion powder
1/8 tsp cayenne
5-6 cups water (if lentils aren't fully cooked, add a little more water, start with 5)
Remaining Ingredients:
4 tbsp freshly minced ginger (we keep ours in the freezer so we always have it on hand)
4 tbsp minced garlic
1 c small diced celery
1 cup small diced red/yellow/or orange peppers
2 cups chopped red onion
2-3 tsp sambal oelek/asian garlic sauce (you can add more if you like it spicy, if your kids are sensitive to spice, start with 2 tsp and add as desired)
2 tbsp rice wine vinegar
1-2 tbsp date paste or maple syrup
1/4 cup soy sauce, gluten free if needed
3 tbsp freshly squeezed lime juice (about 2 limes)
2-15 oz can stewed tomatoes (we use a pint of Muir Glen tomatoes)
freshly ground pepper to taste
Fresh Parsley to serve
Instructions:
Place water, lentils, garlic & onion powder, and bay leaf in a stock pot. Bring to boil, reduce heat to low and simmer until cooked (not mushy), about 10-15 minutes. If lentils taste done, and water remains, strain extra water.
Saute celery, and onion in hot pan with a little water to prevent sticking, until softened (about 5 minutes). Add in pepper, ginger, garlic and sauté for a few more minutes.
Add in lentils, soy sauce, date paste/maple syrup, vinegar, lime juice & tomatoes
Saute until cooked through about 5 minutes, top with some fresh parsley.
Serve atop salad, rice, as a lettuce wrap (use bib lettuce), or on slider rolls
Nutritional Benefits:
Low in Calories
Oil free/Low in Fat/cholesterol free: heart healthy
Vegan and Gluten Free: reduces inflammation
High in Plant-based protein: essential for repairing and rebuilding tissues
Ginger: anti-inflammatory (reduces swelling)  and aides in digestive stimulation, immune health
Garlic: anti-inflammatory, heart heart (lowers cholesterol/blood pressure/triglycerides), anti-microbial  
Asian Lentil Sloppy Joe's
These lentil sloppy joe's have NO added fats, oils, and is low on salt and added sugars, but are still packed with protein, fiber, and micronutrients with Asian spices of ginger, garlic, and chilis.
Author:
Garden Fresh Foodie
Ingredients
Lentils:
2 cups brown/french lentils
½ cup red lentils
2 bay leaves
1 tsp salt
¾ tsp both garlic & onion powder
⅛ tsp cayenne
5-6 cups water (if lentils aren't fully cooked, add a little more water, start with 5)
Remaining Ingredients:
4 tbsp freshly minced ginger (we keep ours in the freezer so we always have it on hand)
4 tbsp minced garlic
1 c small diced celery
1 cup small diced red/yellow/or orange peppers
2 cups chopped red onion
2-3 tsp sambal oelek/asian garlic sauce (you can add more if you like it spicy, if your kids are sensitive to spice, start with 2 tsp and add as desired)
2 tbsp rice wine vinegar
1-2 tbsp date paste or maple syrup
¼ cup soy sauce, gluten free if needed
3 tbsp freshly squeezed lime juice (about 2 limes)
2-15 oz can stewed tomatoes (we use a pint of Muir Glen tomatoes)
freshly ground pepper to taste
Fresh Parsley to serve
Instructions
Instructions:
Place water, lentils, garlic & onion powder, and bay leaf in a stock pot. Bring to boil, reduce heat to low and simmer until cooked (not mushy), about 10-15 minutes. If lentils taste done, and water remains, strain extra water.
Saute celery, and onion in hot pan with a little water to prevent sticking, until softened (about 5 minutes). Add in pepper, ginger, garlic and sauté for a few more minutes.
Add in lentils, soy sauce, date paste/maple syrup, vinegar, lime juice & tomatoes
Saute until cooked through about 5 minutes, top with some fresh parsley.
Serve atop salad, rice, as a lettuce wrap (use bib lettuce), or on slider rolls