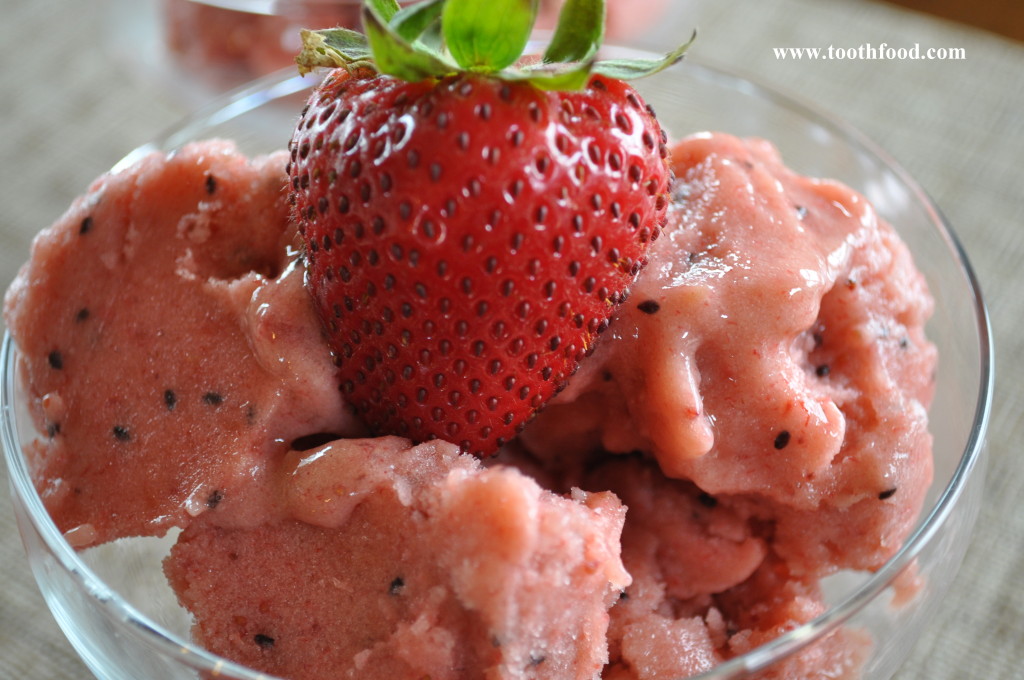 My kids are always wanting ice cream when it gets hot out.  As an alternative to store bought ice cream, we often make our own using whole foods.  They get to pick what goes in it, and that way, it becomes more fun.  This is similar to a smoothie, but made thicker. It's best eaten right away, but I'm eating left overs from the other day as I write this. The left overs tend to ice up a bit, but if you let them sit for a little before digging in, it softens back up.  You could also throw it back into the Vitamix when you want a sweet fix, and bring it back to its softer self.  I think this would be great poured into some Popsicle molds! Next purchase….
This is a super fast and easy 4 ingredient recipe.  Most sorbets are made with a sugar syrup. This recipe is a whole food fix.  No added sugar, plus you get your vitamins and fiber! Can't get that from a tub o'ice cream.
Tip: when your bananas start to go, peel them and wrap in foil, place in a freezer bag and freeze for use in smoothies, cookies, ice "creams", pancakes, you name it!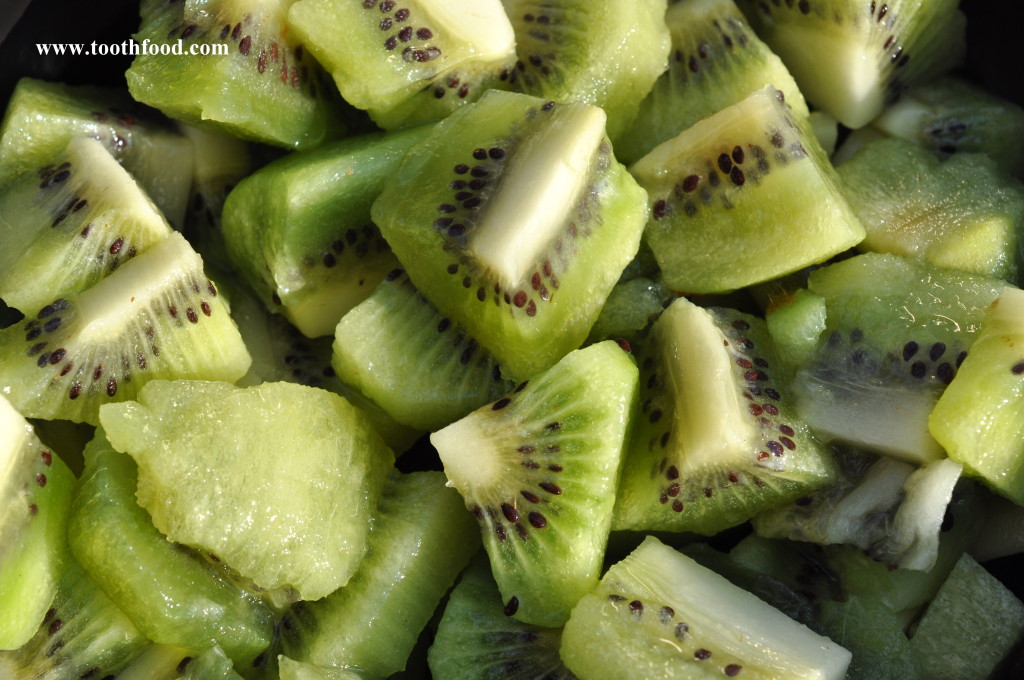 Serves 6-8
Ingredients:
6 peeled kiwis, cut and frozen
2 frozen bananas
2 c frozen strawberries
1/2 c-1 c low fat coconut milk
1/2 tsp of cinnamon if desired
Instructions:
Place fruit into freezer for about 2 hours, if not already frozen
Puree in Vitamix or good blender, adding in milk until desired consistency is reached
Serve right away. If made for later, the sorbet will become a little icy. It will soften if left out for a bit, or re-whip in blender. This would also be great poured into pop-sickle molds
Nutritional Benefits:
Plant-based, reduced inflammation
Good source of fiber: great for digestive health, improving satiety, regulating blood sugar
No added sugars (just natural fruit sugars)
Kiwi: packed with Vitamin C and potassium
High in potassium, 218 mg/serving: great for nervous system function, kidney regulation, decreasing blood pressure
High in antioxidants/anti-inflammatory: Vitamin C 84% of daily needs per serving; great for increasing immune health
Strawberry Kiwi Bananarama Ice "Cream"
Fruit based "ice cream"
Author:
www.gardenfreshfoodie.com
Ingredients
6 peeled kiwis, cut and frozen
2 frozen bananas
2 c frozen strawberries
½ c-1 c low fat coconut milk
½ tsp of cinnamon if desired
Instructions
Place fruit into freezer for about 2 hours, if not already frozen
Puree in
Vitamix
or good blender, adding in milk until desired consistency is reached
Serve right away. If made for later, the "ice cream" will become a little more like a hard sorbet. It will soften if left out for a bit, or re-whip in blender. This would also be great poured into pop-sickle molds
Notes
Nutrition calc using ⅔ c light organic coconut milk. Great source of Potassium:218 mg & Vitamin C 84% of daily needs per serving
Nutrition Information
Serving size:
⅛
Calories:
71
Fat:
1.5 g
Saturated fat:
1 g
Carbohydrates:
14.5 g
Sugar:
8.6 g
Fiber:
2.8 g
Protein:
1 g
Cholesterol:
0 mg