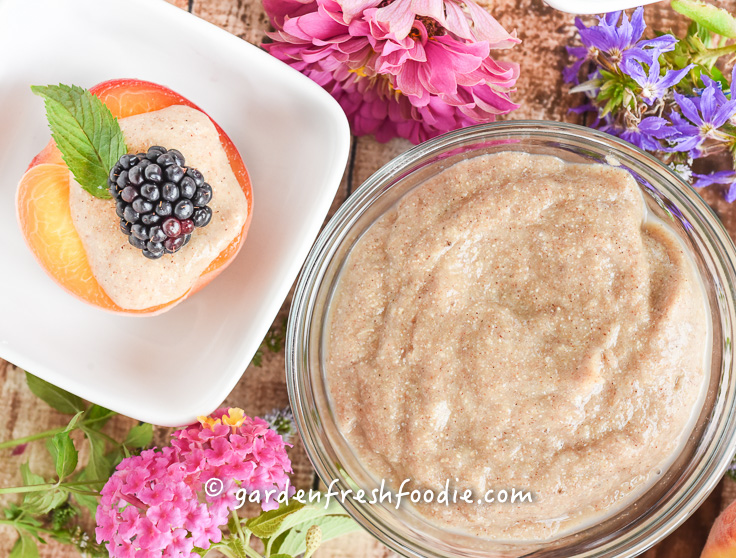 I went to a Forks Over Knives conference with the Esselstyns this past year, and there I learned a great trick from Chef AJ. Whipping pears as an alternative to a whipped cream topping! I created my own version of whipped pears to serve on top of some poaches peaches during a healthy plant-based cooking class I was teaching recently at Farmer's and Artisans in Buffalo, NY. It is so light and easy, and really is the perfect warm summer night dessert! I love the topping on its own as a fruit dip, dessert, or breakfast on its own too! Ditch the inflammatory yogurt and use this! The perk of using canned pears, is that they're sweet naturally, so no need to add additional sugars.  I make sure to purchase organic pears in their own juice. Also, be sure you're not purchasing fruits in syrup, or you negate any health benefit of eating them to begin with.
I use chia seed to thicken this, as well as to add some nutrition. Chia seeds are great sources of fiber, protein, magnesium, and omega 3-fatty acids without the cholesterol! I used white chia for this, because the black would turn the pears a gray color, and no one likes gray food!
This topping thickens as it sits, so it's even better to whip up ahead of time, making this even easier to serve to guests, or as a late night treat. Be sure to check out the cider poached peaches I used it on!
Ingredients:
1-14 oz. can of pears, in their own juice (organic preferred), strained with juice reserved for your oatmeal another day or use of your choice
2 tbsp white chia seed
1/2 tsp cinnamon
1/2 tsp vanilla
Instructions:
Place all ingredients into a blender and puree until smooth
Serve as a fruit dip or as a whipped toppings on pies, cakes, or poaches fruit like these peaches!
This would also be great with some granola on its own, like my tahini ginger granola
For a video how to Make Pear Whipped Topping:

Nutritional Benefits:
No added sugars
Chia seeds add magnesium, fiber, protein, and plant-based omega 3 fatty acids
Cholesterol free
Good source of fiber
Whipped Pear Topping
Whipped pear topping-the perfect topping for pies, cakes, or simple poached fruit. This is great as a fruit dip as well as a dessert on its own!
Author:
www.gardenfreshfoodie.com
Ingredients
1- 14 oz. can of pears, in their own juice (organic preferred), strained with juice reserved for your oatmeal another day or use of your choice
2 tbsp white chia seed
½ tsp cinnamon
½ tsp vanilla
Instructions
Place all ingredients into a blender and puree until smooth
Serve as a fruit dip or as a whipped toppings on pies, cakes, or poaches fruit like these peaches!
This would also be great with some granola on its own, like my tahini ginger granola