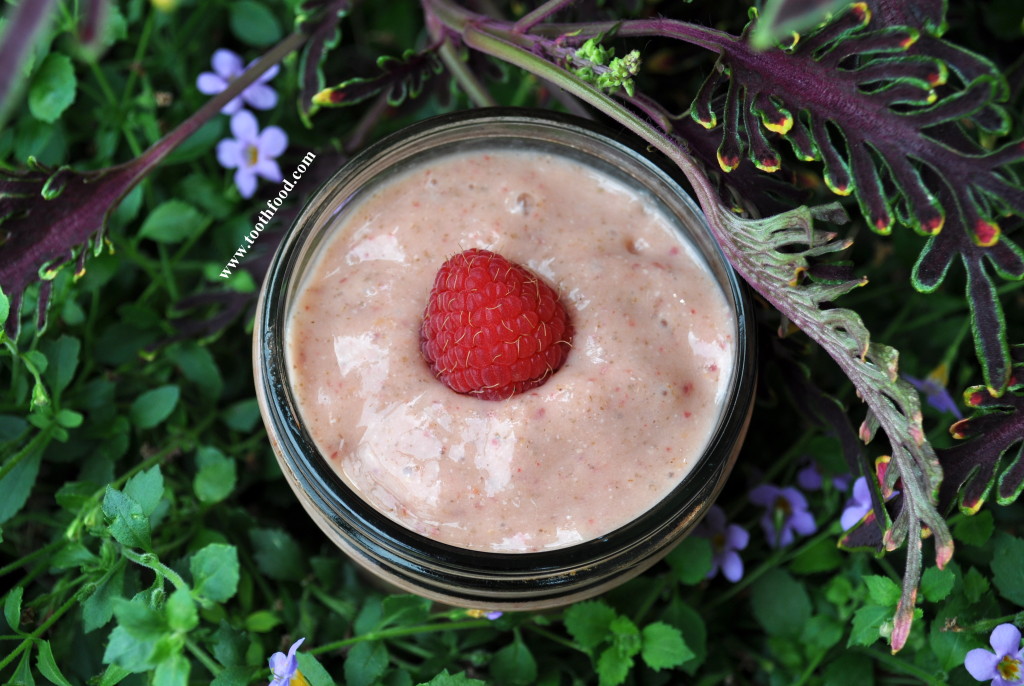 Nectarines and raspberries are in full swing here, and made for an awesome breakfast the other day. This smoothie is packed with so much goodness, you won't be able to stop yourself from shouting-"That's Nectastic"! Chia, raspberries, and nectarines, all powerhouses of fighting inflammation and revving up your body to fight illness.
Raspberries are very high in antioxidants. Raspberries are being studied in their impact in obesity management.  It has been shown that the metabolism in our fat cells can be increased by phytonutrients found in raspberries, especially rheosmin (also called raspberry ketones).  By increasing enzyme activity, oxygen consumption, and heat production in certain types of fat cells, raspberry phytonutrients like rheosmin may be able to decrease risk of obesity as well as risk of fatty liver. It has also been found that organic raspberries outperformed their non-organic counterparts in terms of their overall antioxidant benefits.  Raspberries also have been shown to have great anti-cancer properties. In animal studies involving breast, cervical, colon, esophageal, and prostate cancers, raspberry phytonutrients have been shown to play an important role in lowering oxidative stress, reducing inflammation, and thereby altering the development or reproduction of cancer cells.  (source: http://www.whfoods.com/genpage.php?tname=foodspice&dbid=39)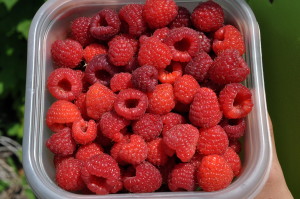 That's a lot of benefits!!! So why not grow your own? They're so expensive in the store and go bad quickly.  Growing your own raspberries are SOOOOO easy!!!! I think they're  the easiest fruit to grow. They produce abundantly, even in their first year, if given full sun and enough space between plants. Raspberries spread quickly. The only issue with growing them, is the need to thin the plants out each year. This helps to ensure that the plants aren't overcrowded and will allow them to produce larger, more plentiful fruits.  We thinned ours out this year and gave plants to 4 different families to share the wealth.  We preserve our fruits by freezing them by the tray full, and store them in vacuum sealed bags to be able to add them to smoothies, pies, you name it, throughout the year.  Grow them!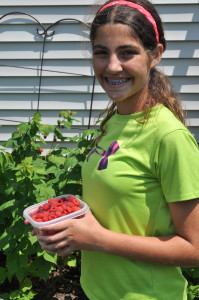 Makes 1, 1/2 pint serving
Ingredients:
1 nectarine
1 cup organic raspberries
1 tbsp chia seed
1/2 frozen banana
Enough plant-based milk or water to thin to desired consistency (we used almond milk)
*if you don't have a frozen banana (which you should keep on hand for delicious smoothies like this, add a few cubes of ice)
Instructions:
Place all ingredients into a blender, like a Vitamix, and blend
Drink right away for optimal nutrition consumption (vitamins diminish as they are exposed to the air)
Nutritional Benefits:
Plant-based/vegan and Gluten Free; fights inflammation
Raspberries-contains powerful antioxidants and anti-inflammatory
Chia seeds: high in omega-3 fatty acids and rich source of plant-based protein
VERY High in fiber 17g; reduces inflammation, lowers cholesterol, helps to regulate blood sugar levels, increases satiety
great source of plant-based protein, 6 g; great for healing and repairing
High in Vitamin C; important antioxidant that helps to boost immunity and fight inflammation
No added sugars, sugars are all natural fruit sugars
No cholesterol
Nectastic Smoothie
Nectarine and raspberry smoothie
Author:
www.gardenfreshfoodie.com
Ingredients
1 nectarine
1 cup organic raspberries
1 tbsp chia seed
½ frozen banana
Enough plant-based milk or water to thin to desired consistency (we used almond milk)
*if you don't have a frozen banana (which you should keep on hand for delicious smoothies like this, add a few cubes of ice)
Instructions
Place all ingredients into a blender, like a
Vitamix
, and blend
Drink right away for optimal nutrition consumption (vitamins diminish as they are exposed to the air)
Notes
Makes a ½ pint jar, if more if desired, increase fruit amount and liquid, or double recipe for a full pint (this would be a lot). 81% of Vitamin C, 12% Vitamin A, 750 mg Potassium, 12% calcium (would vary if using almond milk, this is calculated using water), 7% iron
Nutrition Information
Serving size:
½ pint
Calories:
245
Fat:
6 g
Carbohydrates:
50 g
Sugar:
26 g
Fiber:
17 g
Protein:
6 g
Cholesterol:
0 mg