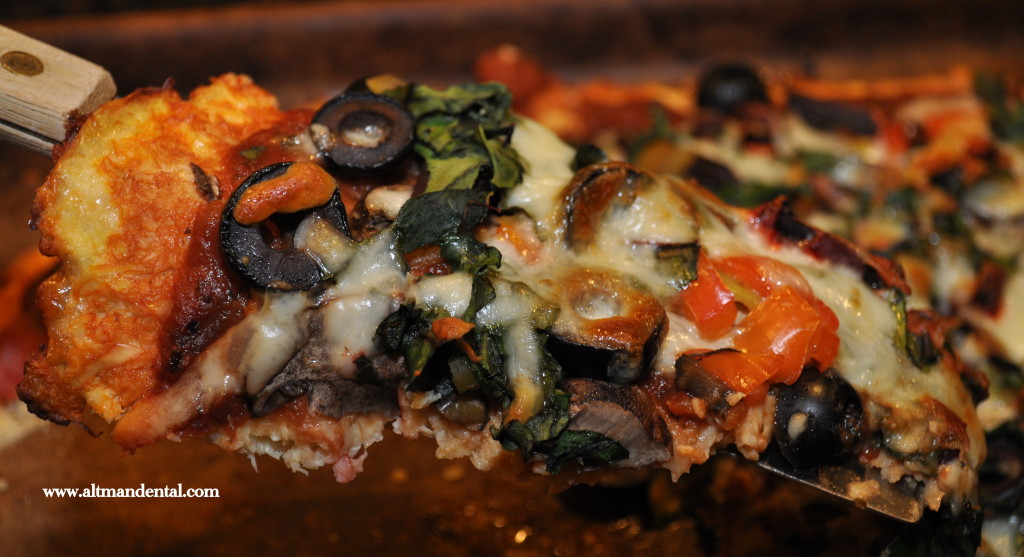 When I saw this, I had to try it! But on who? We had some friends over and I knew the ladies would be more adventurous than the men (sorry men, no offense).  I was right! This was awesome and was eaten up super fast! You could top it with anything-and no, it didn't taste like cauliflower at all! Check back, I'm going to try it with zucchini next!
This is an awesome substitution for your gluten-free friends and family.  There is NO flour in this at all.  Reducing your flour intake will aide you in decreasing inflammation. This pizza is great for healing: high in calcium and protein, to repair and rebuild damages tissues, as well as fiber which helps cleanse the body.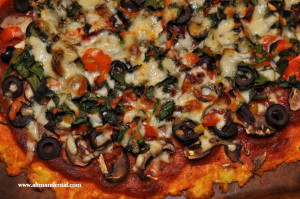 *Note: this crust doesn't get crunchy like a traditional pizza.  We used a pizza stone to help crisp it up, but still eat it with a knife and fork.  When reheated it's a little bit softer as well.
Recipe below was adapted from the following site http://www.closetcooking.com/2013/02/cauliflower-pizza-crust-with-bbq.html
Cauliflower Pizza Crust: Gluten Free (completely flourless)
Ingredients:
6 cups of shredded cauliflower
1/2 c of low-fat mozzarella cheese (could sub with a low-fat cheddar to make a Mexican style pizza)
1/4 c Parmesan cheese
1 egg
1/4 tsp kosher salt
freshly ground pepper (a few cranks)
*optional: fresh herbs (we used basil, about 1/4 cup chopped) or 2 tsp Italian blend dried herbs
plus a 1/4 cup of mozzarella or Parmesan cheese for topping your pizza
Instructions:
Shred cauliflower (about 3/4 of a large head) by using the shredding attachment in a food processor
Place in a microwave safe bowl and microwave for 8 minutes
Squeeze out all moisture using a towel-VERY important step!
Put back into a bowl and mix in remaining ingredients
Place on a pizza stone or a cookie sheet on top of parchment paper or a silpat mat (one of our favorite things)
Cook at 400  for about 30-40 minutes (or until crust browns)
Serve with a salad
Winter Ideas:
Gluten Free
Low-Fat Pizza
High in Fiber: 2 grams per 1 cup of cauliflower
High in Calcium; great for bone & teeth strength
Anti-inflammatory & High in Anti-oxidants: in 1 cup of raw cauliflower: High In Vitamin C:86% of your daily needs, Vitamin K-21%
Good source of Folate-15% in 1 cup of raw cauliflower (linked to brain and neurological function and formation for developing brains)
Tomatoes: High in Lycopene, an anti-oxidant that prevents cancer
Breakdown of Calories in entire pizza (if you ate the whole thing-nothing like a regular pizza :):
Calories: Cauliflower (135)+ Mozzarella Cheese (270)+Egg (70)=475
Fat in entire crust: 18g (cheese) plus 5g (egg)=23g
Protein: cheese (24g)+egg (6g)+10g (cauliflower)=40g
Fiber: 10g
Calcium: 60% of daily needs