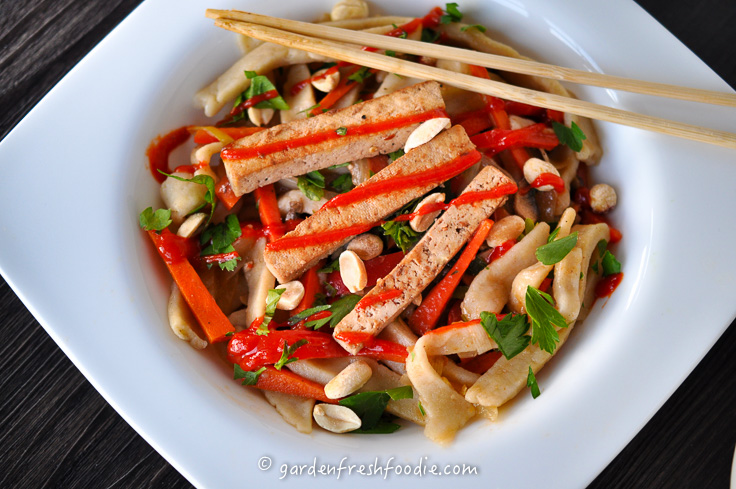 I just posted a recipe for making your own gluten free fresh udon noodles. To make the complete recipe, you need something colorful and fulfilling on top. This stir fry is easy to make and the ingredients are all things you probably have in the fridge or can easy find.  I love stir fries for weeknight meals. They come together super fast and are warm and satisfying.
I have made this with baked tofu, as well as tossing the tofu into the pan as I stir fry. I have found it best to press the tofu, to get out excess moisture. This allows the tofu to better absorb whatever sauce and spices you're using. Here's a link for a baked tropical tofu or a miso marinated tofu (you can bake the tofu in this marinade too) and click this youtube link on how to press tofu!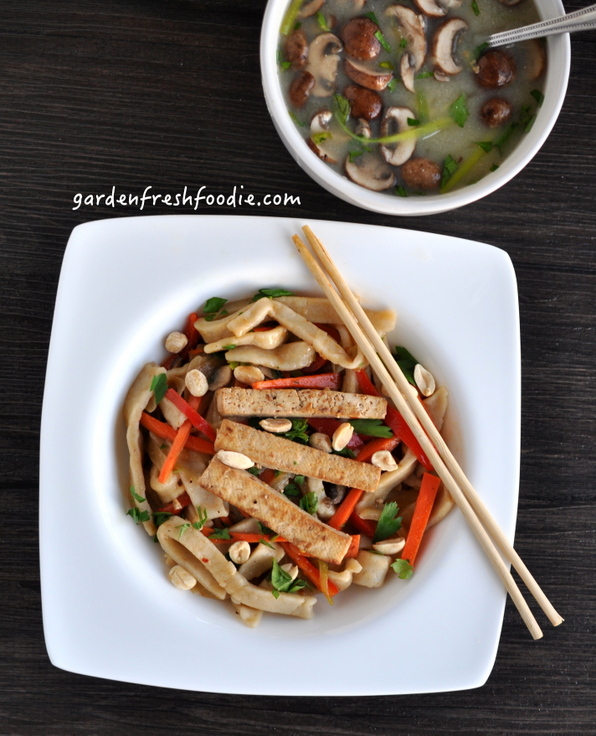 If adding the extras: tofu, broccoli, and cabbage, this recipe will feed 6-8 people. If not, it'll serve 4.
Ingredients:
Stir Fry Sauce:
1/4 cup tamari or gluten free soy sauce (if needed)
2 tbsp vegetarian oyster sauce, or Worcestershire sauce (be sure it's gluten free if needed)
2 tbsp peanut butter or sesame oil (I like to use peanut butter vs oil, provides added protein and flavor, not empty calories)
1/4 cup rice vinegar
1/4 tsp chili garlic sauce (sambal oelek)
2 tbsp agave nectar (or choice of sweetener-could use date paste)
Stir Fry Vegetables:
1 1/2 cups minced onion
2 cups cremini mushrooms sliced
1 1/2 cups julienned carrots
2 scallions, julienned
2 tbsp ginger, julienned or chopped based on preferenec
1 tbsp garlic
For a really good sized stir fry; additional options: 2 packs of tofu, pressed (baked-see this tropical baked tofu or miso marinated tofu for ideas or added in to pan, 28 oz total), 5 cups chopped napa cabbage, 4 cups blanched broccoli-toss into boil water and cook for 1 min. and throw into ice water to shock
2 red/orange peppers, about 1 1/2 cups multi-colored peppers
Toppings: sesame seeds, fresh cilantro, peanuts, and/or siracha
Instructions:
Mix sauce ingredients in a bowl, or a blender for better consistency and set aside.
Heat wok until hot enough that a droplet of water will form a tight ball and move freely in pan.
Add onions (I cook oil free whenever possible). To prevent sticking, add a little water or broth to pan. Sauté until nicely golden.
Add in cubed tofu, if cooking in pan/using, and a little of the sauce. Cook for about 2-3 minutes. If baking tofu, add on top of stir fry once ready to serving.
Add in mushrooms, carrots, scallions, ginger, and garlic. Toss for another 2-3 minutes
Add in peppers, napa cabbage-if using, and toss until cabbage just wilts. Toss in blanched broccoli and pour in remaining sauce.
Serve atop fresh udon noodles, rice noodles, or brown rice. For a full Asian meal, add in my Gingered Miso Soup!
Nutritional Benefits:
Plant-based, cholesterol free
If made with peanut butter instead of sesame oil, this dish is oil-free
Gluten free, reduces inflammation
High in plant-based protein, 20.4 g using the tofu
Great source of Vitamin C; 212% daily needs per serving, great for boosting immunity and reducing inflammation, antioxidant
Great source of fiber; 5 g, great for digestive health, regulating blood sugars, increasing satiety
Ginger and garlic both aid in circulation as well as helping to detoxify the body. Ginger calms the digestive system and can help with nausea
Potassium: 483 mg, good for kidney and nervous system function as well as reducing blood pressure
93% Vitamin A, great antioxidant and helps with skin, eye, bone and dental health, anti-inflammatory
Good source of plant-based calcium, 20%-more easily absorbed by the body than animal sources
Good source of plant-based iron, 17%, more easily digested and absorbed by the body
Yaki Udon Noodle Stir Fry
Yaki Udon Noodle Stir Fry, made with fresh gluten free udon noodles and tons of fresh veggies, this noodle bowl is so satisfying!
Author:
www.gardenfreshfoodie.com
Ingredients
Stir Fry Sauce:
¼ cup tamari or gluten free soy sauce (if needed)
2 tbsp vegetarian oyster sauce, or Worcestershire sauce (be sure it's gluten free if needed)
2 tbsp peanut butter or sesame oil (I like to use peanut butter vs oil, provides added protein and flavor, not empty calories)
¼ cup rice vinegar
¼ tsp chili garlic sauce (sambal oelek)
2 tbsp agave nectar (or choice of sweetener-could use date paste)
Stir Fry Vegetables:
1½ cups minced onion
2 cups cremini mushrooms sliced
1½ cups julienned carrots
2 scallions, julienned
2 tbsp ginger, julienned or chopped based on preferenec
1 tbsp garlic
For a really good sized stir fry; additional options: 2 packs of tofu, pressed (baked-see this tropical baked tofu for ideas, or add directly into pan cubed, 28 oz total), 5 cups chopped napa cabbage, 4 cups blanched broccoli-toss into boil water and cook for 1 min. and throw into ice water to shock
2 red/orange peppers, about 1½ cups multi-colored peppers
Fresh udon noodles
Toppings: sesame seeds, fresh cilantro, peanuts, and/or siracha
Instructions
Mix sauce ingredients in a bowl, or a blender for better consistency and set aside.
Heat wok until hot enough that a droplet of water will form a tight ball and move freely in pan.
Add onions (I cook oil free whenever possible). To prevent sticking, add a little water or broth to pan. Sauté until nicely golden.
Add in cubed tofu, if cooking in pan/using, and a little of the sauce. Cook for about 2-3 minutes. If baking tofu, add on top of stir fry once ready to serving.
Add in mushrooms, carrots, scallions, ginger, and garlic. Toss for another 2-3 minutes
Add in peppers, napa cabbage-if using, and toss until cabbage just wilts. Toss in blanched broccoli and pour in remaining sauce.
Serve atop fresh udon noodles, rice noodles, or brown rice. For a full Asian meal, add in my Gingered Miso Soup
Notes
Based on 7 servings without the pasta, see link for udon noodle nutrition info; Potassium: 483 mg, Vitamin C 212%, 93% Vitamin A, 20% calcium, 17% iron
Nutrition Information
Serving size:
1/7
Calories:
231
Fat:
7 g
Carbohydrates:
17.4 g
Sugar:
12 g
Fiber:
5 g
Protein:
20.4 g
Cholesterol:
0 mg