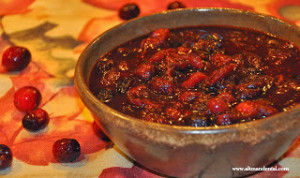 How much do we love cranberries? So much that we stock up in the fall to last all year! Cranberries shouldn't be only for the Thanksgiving table.  Cranberries freeze very well and are jam packed with Vitamin C, an essential immune boosting vitamin and anti-oxidant.  Add cranberries to breads, muffins, smoothies, oatmeal, etc.  Cranberries are super foods but are often hidden in sugar.  Try to reduce your sugar in take, and over time things with a lot of sugar will taste too sweet to you.  It's a habit thing, break your addiction by gradually reducing sugar in recipes.  We promise, it'll work in time.
The typical recipe uses 12 oz of cranberries to 1 cup of sugar and some call for even more. We changed up your standard recipe by reducing the sugar by almost half, plus a few other changes to make a table standout. We doubled this recipe to freeze in 2 cup amounts for a cold winter day when we felt like a feast.
Makes 4.5 cups (can easily be doubled)
Ingredients:
 1 cup water
1 cup apple cider (could use orange juice instead for bigger orange flavor)
1 cup dried cherries (use unsweetened, organic preferred)
4 cups of cranberries (1-12oz bag plus 1 cup)
1 tsp cinnamon
2/3 cup honey
1 tbsp molasses (if you don't like the flavor of molasses, try using a mild form or omit)
1 tbsp orange zest
Additional ideas for sauce: add in a little freshly grated ginger, or swap out dried cherries for crushed pineapple (decrease amount to 1/2 cup)
Instructions:
 Combine water, juice, & cinnamon in a pot and bring to a simmer

Add in cranberries and honey and molasses (if using) and bring to a boil.  Cook until cranberries pop and loose shape.  It's ok for some to keep their shape.
Stir in zest. Sauce will thicken more once cooled
Chill
Sauce can be frozen (freezes well) or made ahead up to a week ahead of time
Interested in a menu idea that uses this sauce? Try our Chicken with Cranberry Sauce (ready in a flash)
Nutritional Benefits:
No refined sugar and reduced sugar from typical recipe
Cherries help reduce risk of arthritis, gout, and rheumatism with their anti-inflammatory benefits
Benefits of Cranberries:
Reduces periodontal disease
High in Vitamin C-22% of daily needs in 1 cup
Anti-inflammatory: helps with heart disease inflammation and digestive inflammation
Decreases risk of ulcers and colon cancer
Protects against UTIs (urinary tract infections)
More info on cranberries: http://www.whfoods.com/genpage.php?tname=foodspice&dbid=145