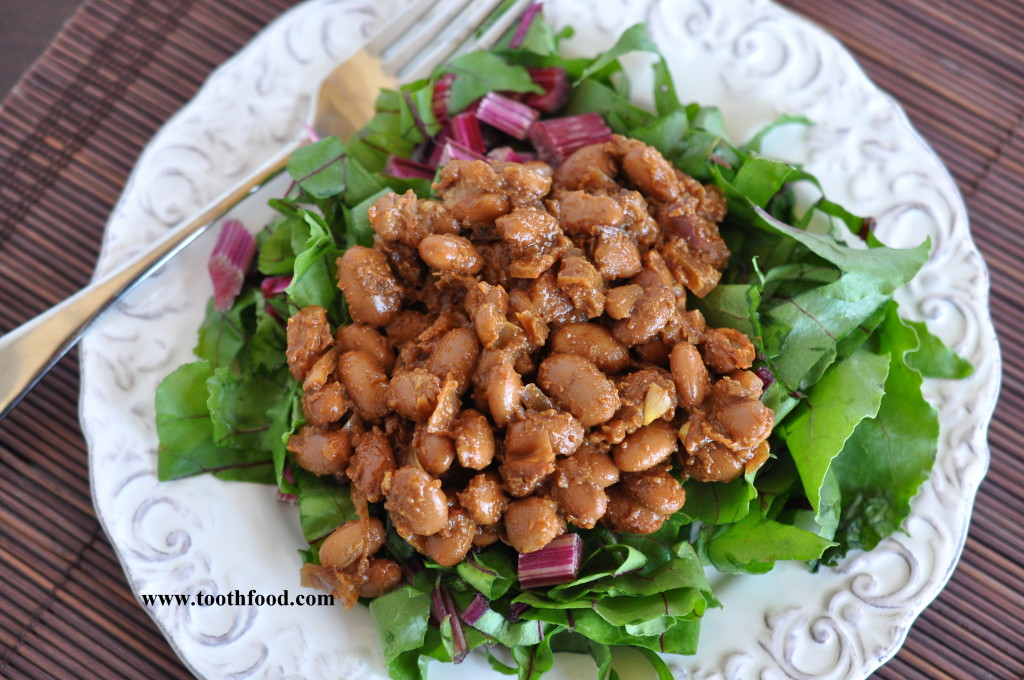 Nothing says summer like baked beans! Yum. We made these in a flash and didn't have to rely on a pre-made can. We like to cook our own beans. We have a pressure cooker, and make beans with 12 minutes of cook time (vesus 1 1/2-2 hrs in a standard pot). We like to make our own because 1) we can buy in bulk and that saves $$ 2) We can buy organic beans for a fraction of the cost 3) No sodium added 4) no BPA lined cans 5) less waste.  All around a good thing. All it takes is a little planning. Soak your beans the night before or in am before you go to work. Come home and cook up a fresh pot of beans. You can then have them on hand for all kinds of meals throughout the week. Beans are great on a salad, with rice, quinoa, or in a taco. High in fiber and protein, they help to stabilize blood sugar levels and add no cholesterol to your diet.
Do yourself a favor, incorporate more beans into your diet. Beans are part of a plant-based diet that can help reduce inflammation, prevent cancers, heart disease, diabetes, and periodontal disease. The more plant-based foods you eat, and the less animal-based proteins, you will see your cholesterol and blood sugar levels drop. Plant-based diets have been linked to many health improvements. Try to up your intake of beans and other veggies every day.
If you'd like to decrease the sugars in this recipe, cut back on the BBQ sauce and up the mustard by 1/4 cup and add 1/4 cup of tomato sauce.
Note: for those not into making their own beans, this recipe would be the equivalent of 3- 16 oz. cans of beans
Ingredients:
5 cups of cooked pinto beans
1 cup of prepared BBQ sauce (we used Wegman's Organic BBQ Sauce)-be sure to check ingredients if you have allergies or want a vegan sauce
1/4 cup of mustard
1/4 cup of molasses
1 cup of chopped onion (we used a red onion)
1 tbsp apple cider vinegar
Instructions:
Mix all ingredients together in an oven safe pan
Bake at 375 covered for about 40 minutes, until hot and bubbly.  Uncover and bake until top gets a little bit crusty, another 10 minutes.
Eat and enjoy with your favorite summer dish or a big ol'salad
Nutritional Benefits:
High in fiber: great for regulating blood sugar levels, improving digestive health, reducing risk of many cancers
Plant based/vegan: helps improve heart health, diabetes risk, reduce inflammation
Great source of protein: helps with healing
No cholesterol: plant based food, excellent for heart health, diabetes, and overall wellness
Baked Vegetarian Beans: Gluten Free & Vegan
Baked Vegetarian Beans
Author:
www.gardenfreshfoodie.com
Ingredients
5 cups of cooked pinto beans
1 cup of prepared BBQ sauce (we used Wegman's Organic BBQ Sauce)-be sure to check ingredients if you have allergies or want a vegan sauce
¼ cup of mustard
¼ cup of molasses
1 cup of chopped onion (we used a red onion)
1 tbsp apple cider vinegar
Instructions
Mix all ingredients together in an oven safe pan
Bake at 375 covered for about 40 minutes, until hot and bubbly. Uncover and bake until top gets a little bit crusty, another 10 minutes.
Eat and enjoy with your favorite summer dish or a big ol'salad
Notes
High in potassium 483 mg per serving, 13.7% of iron, 7% of calcium
Nutrition Information
Serving size:
½ cup
Calories:
160
Fat:
1 g
Carbohydrates:
30.2 g
Sugar:
9.6 g
Fiber:
5.7 g
Protein:
6 g
Cholesterol:
0