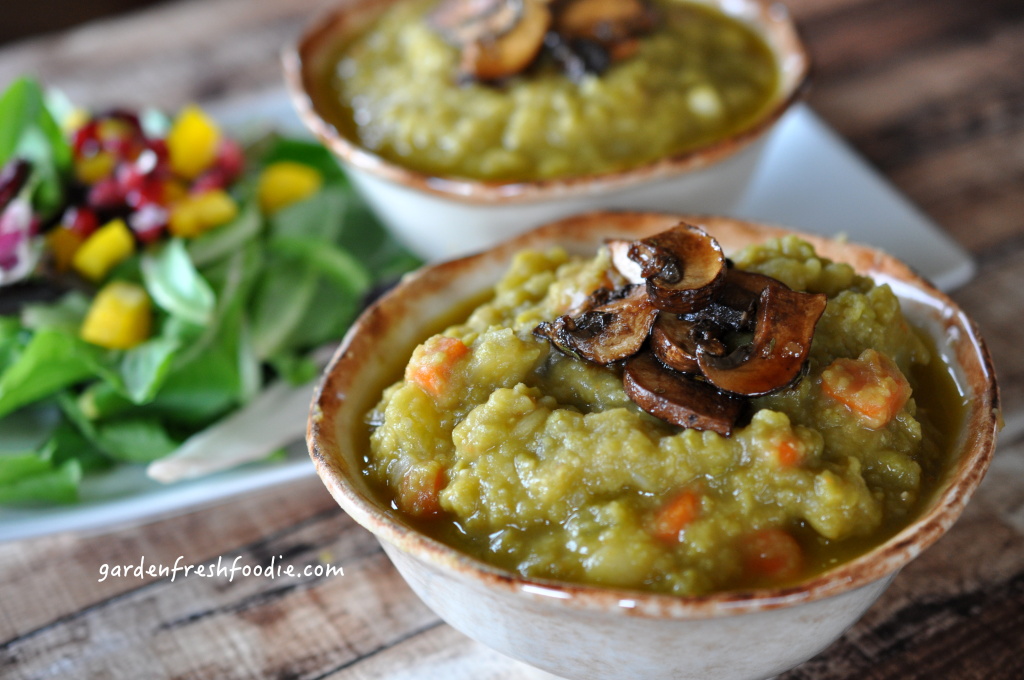 Warm, thick and delicioso! This is thicker than fog, and quite a bit tastier. What's better, is it gets thicker as it sits and stores well in the fridge or freezer, so make extra! We always double a batch (or triple) to have ready to go from the freezer when we want a warm meal without the fuss. If you want this for a weeknight meal, prep your veggies the night before and place into your soup pot. When you get home, just add your water and simmer for an hour. Done! Another idea is to make a batch of soup on a Sunday when you have the time. This will help you to have healthy lunches throughout the week without extra time or thought. Soup freezes very well. Nothing is better than a cold night when you don't feel like cooking and you can pull a quart or 2 of soup out of the freezer and have instant happiness! So, a little planning will make you healthier and successful!
Thankfully, we just had some beautiful weather that allowed me time to bring in some of our last veggies from the garden. I just pulled out some more beautiful parsnips (I am ALWAYS growing these from now on!) and carrots. Perfect for this soup.
But, sadly, after a gift of 70 degrees, our temps have swung down into the 30's in the matter of 24 hours. With flurries flying, I decided we needed a warm, and soothing dinner to take us into the next season. I served this for dinner the other night along with a nice salad and our pumpkin cranberry bread. Yumma!
Peas are packed with protein & fiber! Per serving you will get 18 g of fiber and 17g of plant-based protein!  This soup will defy your preconceived notion of overly salty pea soup, making it a heart healthy option for all to enjoy! This recipe was adapted slightly from the Moosewood Cookbook recipe and is easy peesy to make! Prep your stuff ahead and you can throw it all together when you get home from work, done in an hour or less.
I topped this soup with some quickly marinated mushrooms. To do: place 3 cups of sliced mushrooms in a pan and add 1-1/2 tbsp of balsamic vinegar. Heat until mushrooms soften and enjoy!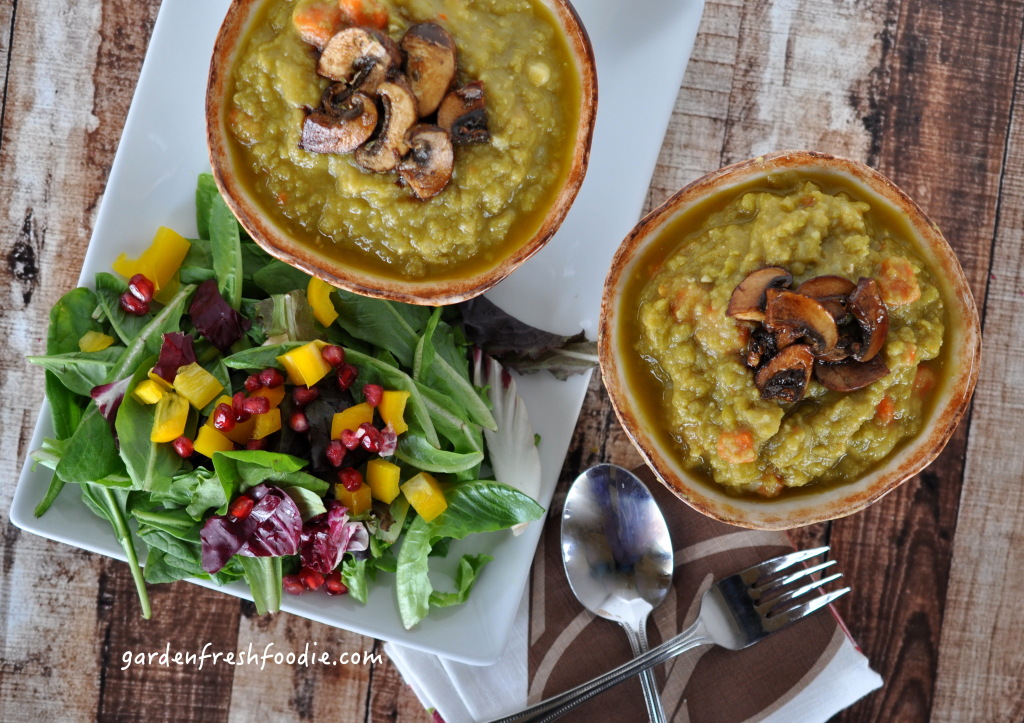 Serves 8 or more depending on how you thin it
Ingredients:
3 cups split peas (we use organic)
10 cups of water (or more depending on how you like your thickness)
1 bay leaf
2 tsp of dried mustard
1-2 tsp salt (we use 1.5)
2 cups chopped onions (we used leeks this time around)
1 tbsp chopped garlic (or 4 cloves)
1 cup chopped carrots
1 cup chopped & peeled parsnip
1 cup chopped celery
4 tbs apple cider vinegar (to taste)
*optional: fresh parsley as a topping
Instructions:
Place peas, water, onions, bay leaf, and mustard in a heavy soup pot Bring to boil and simmer for about 40 minutes.
Add carrots, parsnips, celery, garlic and simmer partially cover until veggies soften. About 20 more minutes, if needed, add more water
Season with a generous amount of black pepper and vinegar, serve topped with a little fresh parsley and enjoy!
As soup sits it will continue to thicken. Just add water to thin when reheating. Shown here, we served it with a salad and our Pumpkin Cranberry Bread-YUM!
Nutritional Benefits:
No added fat, virtually fat free, great for heart health
Very high in plant-based protein, 17+g, great for healing & repairing tissues
Vegan & gluten free-anti-inflammatory
Low in sodium
Very high in Fiber: 18.5 g! fiber helps to lowers cholesterol stabilize blood sugar, improve digestive health, and increase satiety
Good source of folate: 31% in 1 cup of cooked peas
High in Vitamin A: eye, teeth, and bone health: 52% daily requirements
High in anti-oxidants and anti-inflammatory
High in iron: helps with oxygenation of blood-24%
Good source of potassium, 210 mg, important for kidney and nervous system function and regulation of blood pressure
Thick As Fog Split Pea Soup
Thick and delicious split pea soup. Made vegan and gluten free
Author:
www.gardenfreshfoodie.com and Moosewood Cookbook
Ingredients
3 cups split peas (we use organic)
10 cups of water (or more depending on how you like your thickness)
1 bay leaf
2 tsp of dried mustard
1-2 tsp salt (we use 1.5)
2 cups chopped onions (we used leeks this time around)
1 tbsp chopped garlic (or 4 cloves)
1 cup chopped carrots
1 cup chopped & peeled parsnip
1 cup chopped celery
3-4 tbs apple cider vinegar (to taste)
*optional: fresh parsley as a topping
Instructions
Place peas, water, onions, bay leaf, and mustard in a heavy soup pot Bring to boil and simmer for about 40 minutes.
Add carrots, parsnips, celery, garlic and simmer partially cover until veggies soften. About 20 more minutes, if needed, add more water
Season with a generous amount of black pepper and vinegar, serve topped with a little fresh parsley and enjoy!
As soup sits it will continue to thicken. Just add water to thin when reheating
Notes
52% Vitamin A, 24% iron, 11% Vitamin C, 210 mg of potassium
Nutrition Information
Serving size:
⅛
Calories:
203
Fat:
<1 g
Carbohydrates:
49.5 g
Fiber:
18.5 g
Protein:
17.3 g
Cholesterol:
0 mg