From this…..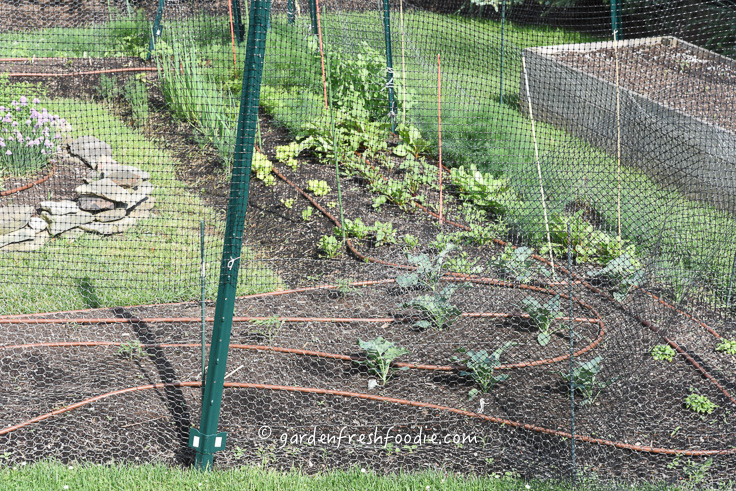 To this….in just 2 months!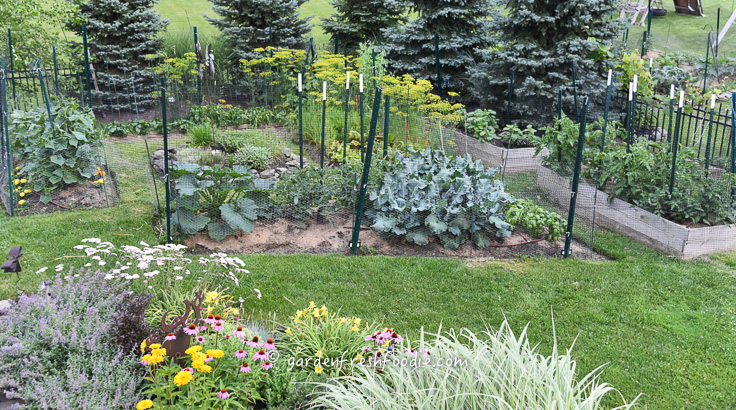 What's happening in the mid-July garden you may want to know? Well for one thing-weeding!!! It's been so wet here, it's been difficult to stay on top of things. One thing I do is to place my grass clippings around the plants, about 1 inch thick.  The clippings act as a natural mulch. Be sure not to put it on too thick. Too thick and the plants loose air circulation, too thin, and it doesn't do anything. The grass breakdown and releases nitrogen for the plants. Nitrogen is needed for green growth of your plants.
Here are some other things to watch out for:
1)  Peas: Peas Can get powdery mildew, a fungus that will coat them with a white powder. This will kill the plants, so watch out for it. As a preventative, you can use neem oil. Neem is an organic natural fungicide and pesticide. See more below under zucchini.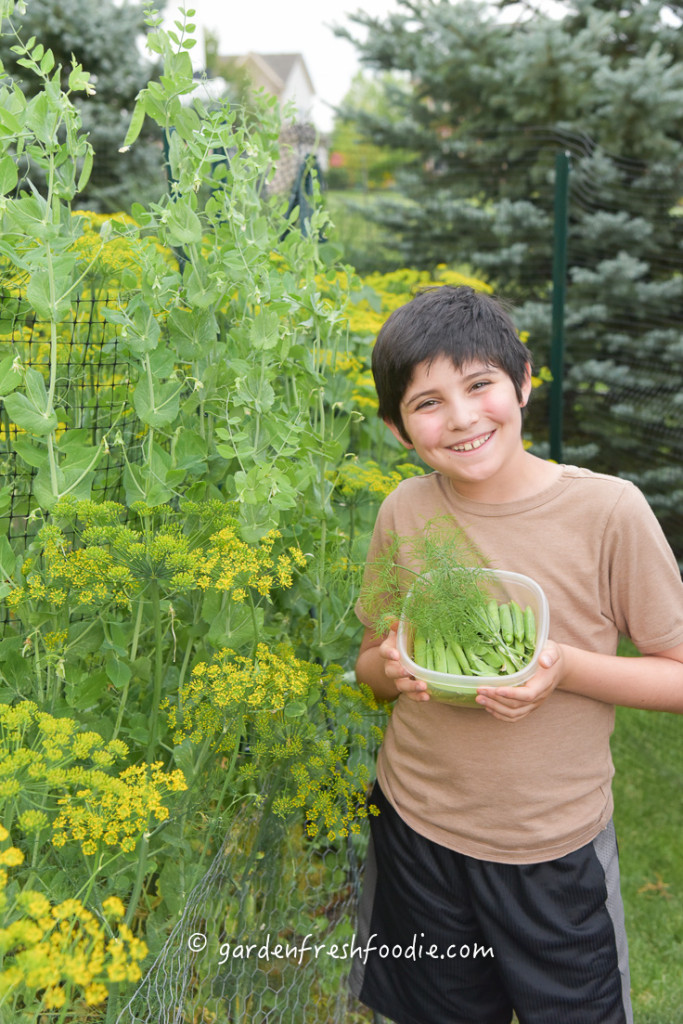 2)  Ugh-Japenese Beetles! I despise these creatures. They have sex all the time, I mean really who has that much time?! They also destroy my beautiful leaves! How to handle them? I make beetle juice. What's that? Nope-not that gross warm drink you had at camp (why did someone think bug juice was a good name?).  It's my cup of insect death. I know, being plant-based you'd think I liked bugs more, huh? Not when they're ruining my harvest! What I do is take a cup of water with a few drops of dish soap. In early evening the beetles get lazy on the leaves, and basically can be rolled off into your cup of death.  As they fall into the cup, they can't break the surface with the soap.  This only works with the addition of soap. If using plain water, they can climb out. I've even seen them crawl out while pushing their buddies further down into the water! Yuck!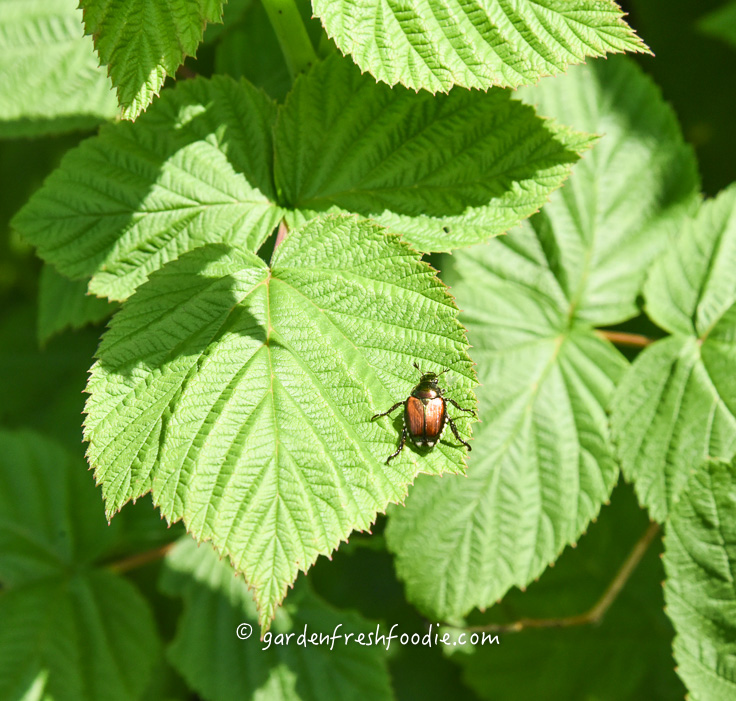 3)  Greens: Bolting: this is the time of year when the temps start to rise, and your greens may begin (if they haven't already) to bolt. What does that mean? That means you greens have started to prepare for flowering. Lettuce flowers you may be wondering?! Of course! How else do you think seeds are produced?  The greens begin to get tight in the center and send up a flower stalk. Once this happens, the plant is done. The leaves will have turned bitter. Pull the plant and put it in the compost. Here's a quick video on bolting:
4)  Tomatoes: Keep tying up those tomatoes! Each week those 'maters need tending too. Be sure to watch for signs of yellowing leaves and spotting, signs of blight. You want to make sure you remove these leaves ASAP! You can also apply neem oil to prevent blight from wrecking your plants. See more on neem in the zucchini section. Here's my video on tying up those 'maters. This video was taken before the tomatoes had gotten very large (now they're craaaazzzzy!).
5)  Zucchini: what to watch for; as July heats up, so does the humidity in our area. When this happens funguses are psyched! Watch for powdery mildew. It looks like a white coating that happens on the leaves. It will destroy the plant. Pick off the worst leaves at first sign, or spray with neem oil.  If using, be sure to apply in the early morning or late day when the sun won't fry the wet oil.  Neem oil is a natural oil made from the oil from neem seeds.  You can buy neem oil at specialty garden stores (the big box ones won't have it) or on Amazon, here's the link of the one I use-Pure Neem Oil.  It's concentrated, so the bottle should last you a bunch of seasons.  It's sold as a leaf polish, but don't be fooled. It has WAY better uses!  It also acts as a natural pesticide. So, spraying it on the leaves and stems works to guard against 2 other zucchini pests, the squash bug and squash vine borer! Yuck! I hate squash bugs! Look for early signs on the under sides of leaves where they lay their silvery eggs. Pluck them off and discard (not in the compost pile!)!  If you are watering and you see some brown triangular insects come out, these are squash bug.  Squash them with you foot! Squash for the squash! Soon…many recipes on zucchini and how to hide them in your friend's cars….
6)  Fertilizing: Don't forget to fertilize! Do so about once a month with an organic slow release fertilizer,  like plant tone by Epsoma, or apply a layer of aged compost.
What we're harvesting now: Swiss chard, kale, lettuce, scallions, basil, parsley, thyme, oregano, chives, snap peas, and raspberries! Too bad the deer have eaten all of our strawberries 🙁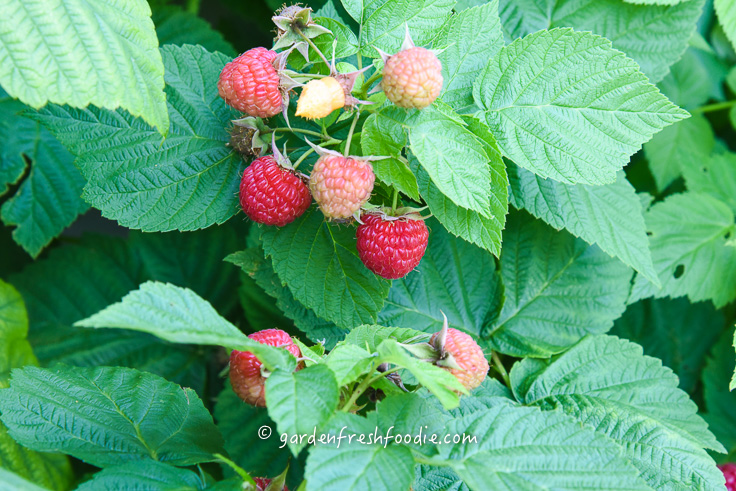 Happy gardening!