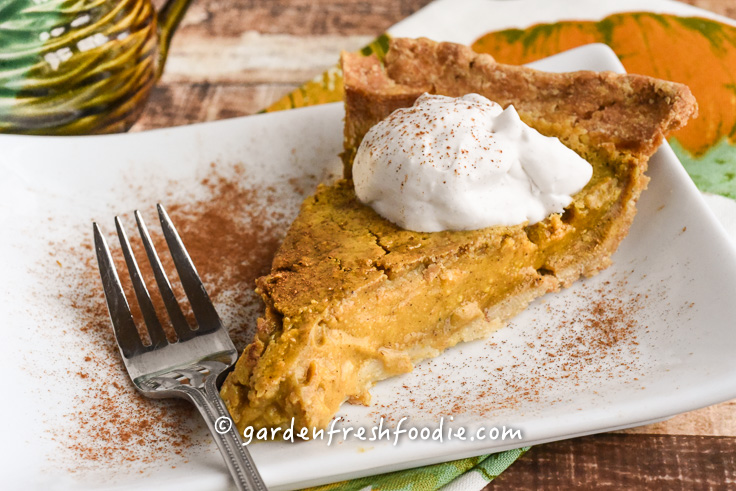 You know the lyrics for Sleigh Ride? "There's a happy feeling nothing in the world can buy when they pass around the coffee and the pumpkin pie?" I know I feel happy when we're talking pumpkin pie! Except, this one makes me even happier, as its allergen friendly! No one will know that it is both plant-based and gluten free! The texture of the filling is pudding-like and, if using the almond crust, it sinks into the filling, creating a cookie like shell.  The pie doesn't weigh heavily upon your belly, since the crust isn't heavy. This recipe was inspired by Martha Stewart's "Golden Maple Pumpkin Pie", but this one cuts out the animal-based products and the gluten, making it less inflammatory.
Don't keep pumpkin pie for the holiday table alone! Pumpkin is a great source of Vitamin A, a vitamin that helps reduce inflammation, improve skin, bone, and dental health, as well as serve as a powerful antioxidant. It also helps to lower blood pressure. You can make this, as pictured, with my traditional roll-out pie dough, or with the almond crust recipe below. For the holidays, I typically make my traditional pie dough, because that's what most people expect, but I prefer the alternative crust for my family.  The almonds in the crust provide a good source of potassium, calcium, protein, and healthy fats to lower cholesterol. Almonds also provide a good source of fiber, which along with a low glycemic index, keep blood sugar levels in check.
**Note: I love this filling! I think you could skip the crust altogether and bake as a custard! You can do this 2 ways. 1) Pour filling into a pie plate and bake for same amount of time (80-90 minutes), bake at 350 degrees, until filling begins to crack, is no longer shaky, and knife inserted is mostly clean.  2)  Serve as individual puddings by filling some ramekins, and placing them into a roasting pan. Add water to the pan and fill so it comes half way up the sides of the ramekins, and place gently into the oven (sometimes it's best to fill pan after it's in the oven so water doesn't get into your pudding). Since you're cooking smaller amounts of filling, your cooking time will be less. To prevent excessive browning, you could also cook at a lower temp, say 350 degrees. Check puddings after 40 minutes. They should be set, like a filling. I recently baked this in a pie plate, and it was a delicious custard!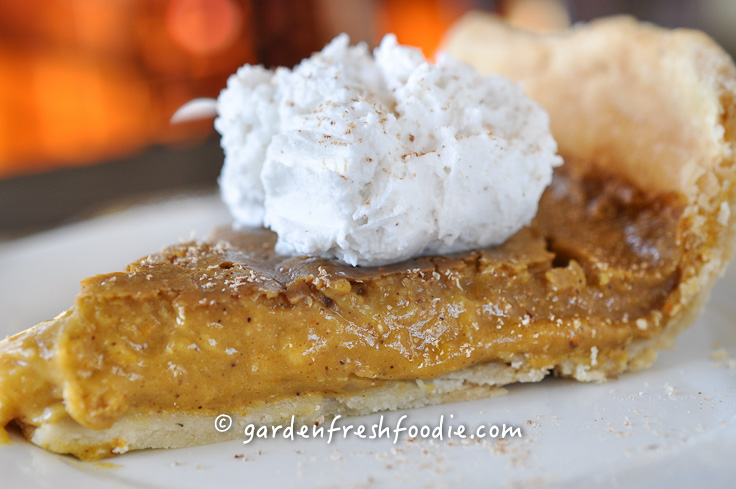 Ingredients:
1/2 Garden Fresh Foodie Gluten Free Pie Crust Recipe (or make the full batch and freeze half to use another time) 
OR
Alternative to traditional pie crust make crust below, or bake w/o a crust for a custard dessert
Oil Free Almond Gingered Almond Crust:
 1 3/4 cups of almond meal
1/4 cup of almond butter
2 tbsp maple syrup
1 tsp cinnamon
1 tsp ground ginger
1 tbsp ground flax/flaxmeal
1/8 tsp salt
1/4 tsp baking soda
Pie Filling:
1 can of full or reduced fat coconut milk, with 6 tbsp set aside (1 can-I've done the pie both ways, but like it better with the full-fat), alternatively could use almond milk for a lower fat version
1 1/2 cups of pumpkin (we use 1 can of organic pumpkin)
1/2 cup of maple syrup
2 tbsp ground flax, added to the 6 tbsp reserved coconut milk, mixed and allowed to sit 10 minutes before using
3 tbsp tapioca starch
1 tsp cinnamon
1/2 tsp nutmeg
1/2 tsp ginger
1 tsp vanilla
1/4 tsp salt
Instructions:
Preheat oven to 350 degrees if making crust above (or if baking without a crust, see note above*), if using traditional dough, preheat to 400
Mix crust ingredients in a food processor and blend until dough forms into a ball
Press almond crust into ungreased 9″ pie dish, or if using Garden Fresh Foodie Pie Crust, roll out and crimp edges
If using almond crust above, bake for 10 minutes before adding in pumpkin filling. If using traditional dough, place into pie plate and bake along with filling.
Mix flaxseed and reserved 6 tbsp coconut milk, let sit until thickened, about 5 minutes
Mix together pie filling ingredients (I find it's best to use a blender or a mixer). Pour into pie crust
Cover the edges of the pie with foil or pie crust protectors to prevent crust edges from browning too quickly
Increase temperature of oven to 400 and bake pie for about 60 minutes, cover to prevent excessive browning, turn temp down to 350 and bake 20 more minutes.  Bake until center of pie is set and knife inserted comes out clean. If filling is still slightly loose, it will firm up as it sets. If air bubbles form, pop them.
Let cool before serving (best served cold) and serve with coconut whipped cream

Nutritional Benefits:
Pumpkin is a great source of Vitamin A, a vitamin that helps reduce inflammation, improve skin and teeth health, as well as serve as a powerful anti-oxidant.
If almond crust-Almonds: provide a good source of potassium, calcium, protein, and healthy fats to lower cholesterol. Almonds also provide a good source of fiber, which along with a low glycemic index, keep blood sugar levels in check.
Maple Syrup: good source of potassium, unrefined sugar, and naturally organic (we get ours locally)
Cholesterol free, dairy free, gluten free (however, if made with traditional crust, not the best for you, and does contain saturated fats)
Maple Pumpkin Pie
Maple Pumpkin Pie With Traditional or Gingered Almond Crust
Author:
www.gardenfreshfoodie.com
Ingredients
½ Garden Fresh Foodie Gluten Free Pie Crust Recipe
or alternative oil free Gingered Almond Crust:
1¾ cups of almond meal
¼ cup of almond butter
2 tbsp maple syrup
1 tsp cinnamon
1 tsp ground ginger
1 tbsp ground flax/flaxmeal
⅛ tsp salt
¼ tsp baking soda
Pie Filling:
1 can full or reduced fat coconut milk, with 6 tbsp coconut milk reserved (1 can-I've done the pie both ways, but like it better with the full-fat), alternatively could use almond milk for a lower fat version
1½ cups of pumpkin (we use 1 can of organic pumpkin)
½ cup of maple syrup
2 tbsp ground flax, added to coconut milk, mixed and allowed to sit 10 minutes before using
3 tbsp tapioca starch
1 tsp cinnamon
½ tsp nutmeg
½ tsp ginger
1 tsp vanilla
¼ tsp salt
Instructions
Preheat oven to 350 degrees if making crust above (or if baking without a crust, see note above*) if using traditional dough, preheat to 400
Mix crust ingredients in a food processor and blend until dough forms into a ball
Press almond crust into ungreased 9" pie dish, or if using Garden Fresh Foodie Pie Crust, roll out and crimp edges
If using almond crust above, bake for 10 minutes before adding in pumpkin filling. If using traditional dough, place into pie plate and bake along with filling.
Mix flaxseed and reserved 6 tbsp coconut milk and let sit five minutes, until thickened
Mix together pie filling ingredients (I find it's best to use a blender or a mixer). Pour into pie crust
Cover the edges of the pie with foil or pie crust protectors to prevent crust edges from browning too quickly
Increase temperature of oven to 400 and bake pie for about 60 minutes, cover to prevent excessive browning, turn temp down to 350 and bake 20 more minutes. Bake until center of pie is set and knife inserted comes out clean. If filling is still slightly loose, it will firm up as it sets. If air bubbles form, pop them.
Let cool before serving (best served cold) and serve with coconut whipped cream