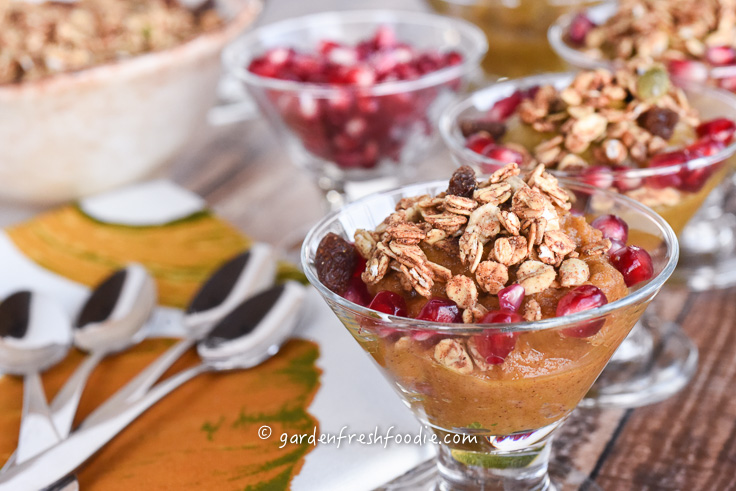 OMG! I just learned the most amazing swap out that no one will ever guess! You can swap the typical heavy cream/coconut milk/nuts, and eggs found in your typical pudding recipe with…..lean in closer, closer….cannellini beans!!! Say what?! Coconut milk, often used in plant-based cooking, is high in saturated fat.  For those of us really trying to prevent diseases like heart disease, diabetes, and breast/prostate cancer (which I think is all of us)-saturated fat is NOT where it's at. For a long time, as I transitioned to a plant-based diet, I had been swapping out the standard dairy products for high fat alternatives like nuts and coconut.  After spending time recently with the Esselstyns (Dr. Esselstyn wrote How To Prevent and Reverse Heart Disease and featured in Forks Over Knives, the movie), I am trying to reduce how much added fat I consume.  Beans provide a MUCH better swap out. You can use them to provide a creamy texture, much like silken tofu can do (I've made this same recipe with silken firm tofu, with great results as well!). I think there is less of an aftertaste using the beans, as compared to tofu, but both can be used. Unlike tofu however, beans have almost no fat (tofu is actually high in fat percentage wise), and are packed with protein, magnesium, and potassium! Power to the bean! Can you feel my excitement over this recipe????!
The real test is of course the kiddo test (well, let's be honest, the husband too!). This got rave revues and I didn't tell them the secret ingredient until after. I always tell them, but maybe just a little delayed 😉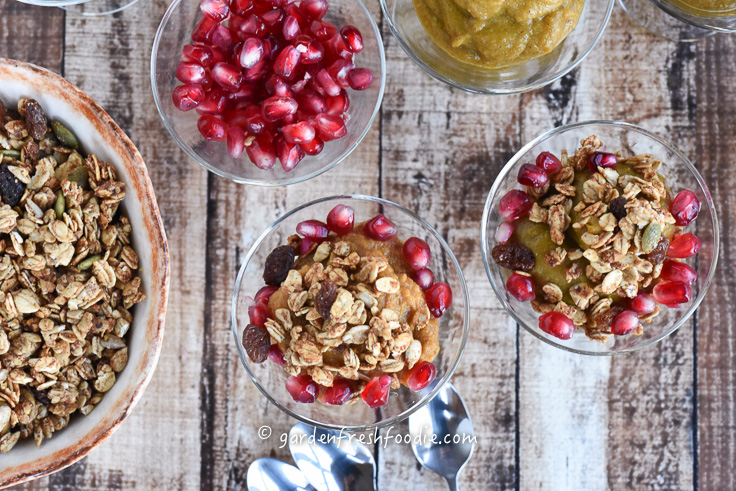 The above granola is a Tahini Ginger Granola (made with date paste!), that goes perfectly with this pudding! It really is boosted by the combo. That recipe is coming soon….I'm going to continue to mess around with this pudding and see how it holds up to an ice cream maker and baking it as an alternative to my vegan pumpkin pie. It has a real thick consistency if you don't add too much almond milk,  that would be perfect as pie filling.
Ingredients:
1 can of pure pumpkin (I like the Farmer's Organic-BPA free can!)
1 can of cannellini beans or 1 3/4 cup, rinsed and drained (can use 12 oz of firm silken tofu instead)
1/4-1/2 cup of almond milk or milk-alternative (depending on how thick/thin you like your pudding)
7 dates, pitted
2 tsp cinnamon (I love cinnamon, if you don't as much, maybe reduce it 1/2 tsp)
1/4 tsp nutmeg
1/2 tsp ginger
Optional Toppings: granola and pomegranate seeds
Instructions:
Place all ingredients into a blender like a Vitamix, preferably in order above
Blend until a smooth, creamy consistency
Eat and enjoy!
Can be turned into an ice cream using an ice cream maker if desired. Top with Tahini Ginger granola and pomegranate seeds to liven it up!
Nutritional Benefits:
No refined sugar; dates are high in fiber and help to regulate blood sugar spikes MUCH better than traditional sweeteners
VERY low in fat, no saturated fat or cholesterol
High in beta-carotene, diets high in carotenoids have been linked to reduced rates of cancer
Great source of plant-based protein
Great source of magnesium & potassium-both beans and dates are high in magnesium & potassium, which are important for nervous system regulation, bone and dental health (Mg), as well as blood pressure regulation. Magnesium also helps those who suffer form migraines, and potassium aids in kidney function as well.
Great source of fiber; helps to regulate digestive system, reduce your risk of cancers, heart disease, and diabetes. Fiber helps to regulate blood sugar levels.
Perfect Pumpkin Pudding
Perfect Pumpkin Pudding-made with cannellini beans, pumpkin, and dates-this pudding is nutrient packed, and can even be a breakfast!
Author:
www.gardenfreshfoodie.com
Ingredients
1 can of pure pumpkin(I like the Farmer's Organic-BPA free can!)
1 can of cannellini beans or 1¾ cup, rinsed and drained
¼ cup of almond milk or milk-alternative
7 dates, pitted
2 tsp cinnamon
¼ tsp nutmeg
½ tsp ginger
Instructions
Place all ingredients into a blender like a Vitamix, preferably in order above
Blend until a smooth, creamy consistency
Eat and enjoy! Can be turned into an ice cream using an ice cream maker if desired. Top with granola or maple chipotle walnuts
Notes
513 mg of potassium, 63% Vitamin A, 16% iron, 12% calcium, 5% Vitamin C
Nutrition Information
Serving size:
¼
Calories:
247
Fat:
1 g
Saturated fat:
0 g
Carbohydrates:
54.8 g
Fiber:
8.3 g
Protein:
7 g
Cholesterol:
0 mg