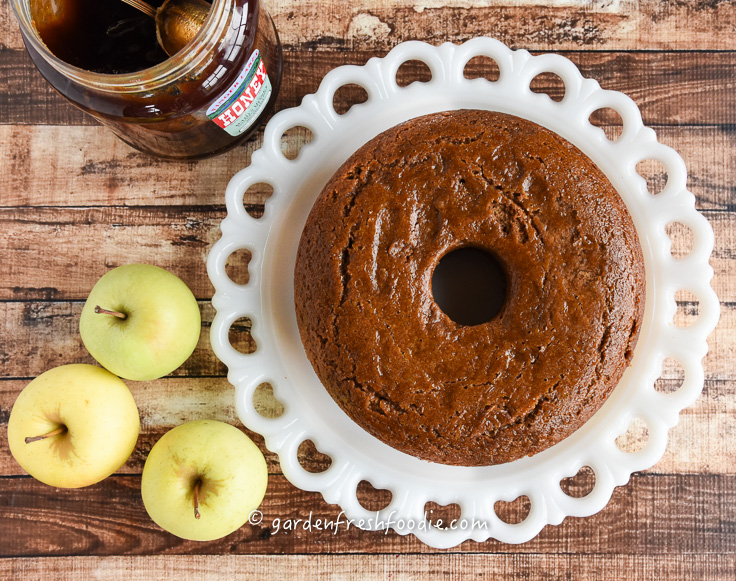 Honey cake is a traditional Jewish food eaten during the High Holidays, which is the Jewish New Year. The idea is by eating sweet things you will have a sweet year. Honey and apples are traditional as well. But-there is nothing sweeter than a honey cake! The smells fill your house as it bakes, and reminds me of my grandma. My Grandma Terry and I, always talked the day I made this cake. I miss her a lot. A shot of brandy is in this recipe in her memory (it was the secret ingredient we always laughed about). For my vegan friends who don't eat honey, you can make this using maple syrup and make a maple cake. Please let me know how it tastes!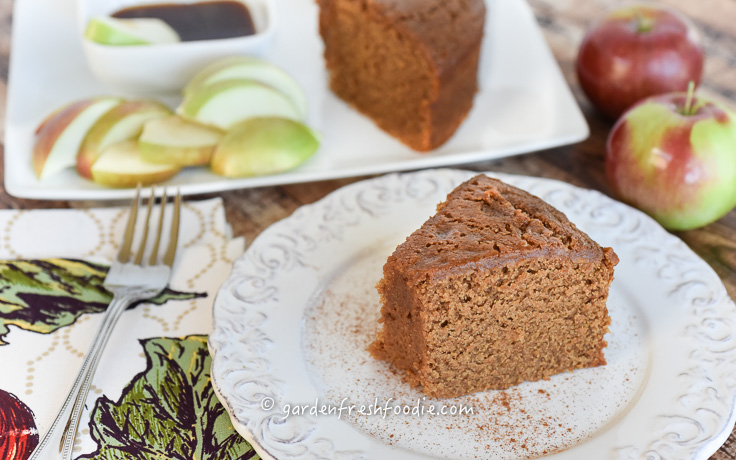 The typical honey cake has a pound of honey plus a cup of sugar! I cut out all of the refined sugar this year, as well as reducing the fat in half, and made this gluten free and plant-based (no eggs/dairy). You're thinking…it can't be good then. Wrong! In fact, this honey cake came out AWESOME! I think my grandma was watching from above 🙂 One caveat-you MUST get yourself some buckwheat honey. It makes a FAR superior cake and is what gave this cake its dark brown color and rich flavor.  It is my go-to honey. If you don't have any, regular clover will do, it just won't be as good as mine 🙂
**If you'd like to make this totally oil free, try swapping out the oil for a nut butter, like almond butter. I needed to make this nut free, so I used grapeseed oil. Grape Seed Oil is much lower in saturated fat that coconut oil, and can tolerate a higher heat. The typical cake has about 1 cup of oil. I reduced it in half by replacing it with applesauce. You can do this in all baking recipes.
PS-nothing is better than left over honey cake for a morning treat with some coffee!!! L'shana tova (Happy New Year)!
Serves 15 (or more)
Ingredients:
4 flax eggs=1/4 cups flax meal + 3/4 cup water, mix together and let sit for 5 minutes
1/2 cup oil (grapeseed, coconut, or your choice-we use grape seed, it's much lower in saturated fat than coconut)
1/2 cup unsweetened applesauce
1 1/2 cups of honey (we use buckwheat-it has a far superior flavor and color)
3 cups of flour-we used 260 g of all purpose gluten free (we used King Arthur) and 130 g of sorghum flour for added protein
4 tsp baking powder
1 tbsp ground psyllium husk (not totally necessary, but can help to hold cake together better)
1 heaping tsp cinnamon
1 tsp ginger
1/2 tsp allspice
1/4 tsp nutmeg
1/2 tsp baking soda
1/2 tsp salt
1 cup coffee
1 shot of brandy
Instructions:
Preheat oven to 350 degrees
Combine dry ingredients
Add flax eggs and applesauce in mixing bowl.
Combine oil, honey, and coffee in a measuring cup.
Alternate adding dry ingredients and wet to the mixing bowl. Add shot of whiskey
Wrap the bottom of a tube pan with tin foil (to prevent leaking from the pan) and place on a baking sheet.
Pour batter into un-greased tube pan. Bake for 15 minutes at 350, reduce heat to 300 and continue to cook until top cracks and knife inserted comes out clean, about 60 minutes.

Plant-Based Gluten Free Honey Cake
Plant-Based Gluten Free Honey Cake
Author:
www.gardenfreshfoodie.com
Ingredients
4 flax eggs=1/4 cups flax meal + ¾ cup water, mix together and let sit for 5 minutes
½ cup oil (grapeseed, coconut, or your choice-we use grape seed, it's much lower in saturated fat than coconut)
½ cup unsweetened applesauce
1½ cups of honey (we use buckwheat-it has a far superior flavor and color)
3 cups of flour-we used 260 g of all purpose gluten free (we used King Arthur) and 130 g of sorghum flour for added protein
4 tsp baking powder
1 tbsp ground psyllium husk (not totally necessary, but can help to hold cake together better)
1 heaping tsp cinnamon
1 tsp ginger
½ tsp allspice
¼ tsp nutmeg
½ tsp baking soda
½ tsp salt
1 cup coffee
1 shot of brandy
Instructions
Preheat oven to 350 degrees
Combine dry ingredients
Add flax eggs and applesauce in mixing bowl.
Combine oil, honey, and coffee in a measuring cup.
Alternate adding dry ingredients and wet to the mixing bowl. Add shot of whiskey
Wrap the bottom of a tube pan with tin foil (to prevent leaking from the pan) and place on a baking sheet.
Pour batter into un-greased tube pan. Bake for 15 minutes at 350, reduce heat to 300 and continue to cook until top cracks and knife inserted comes out clean, about 60 minutes.
Let cool for 15 minutes, and then invert, and allow to cool all the way
Enjoy and may you have a sweet and healthy year (without lots of refined sugar 🙂