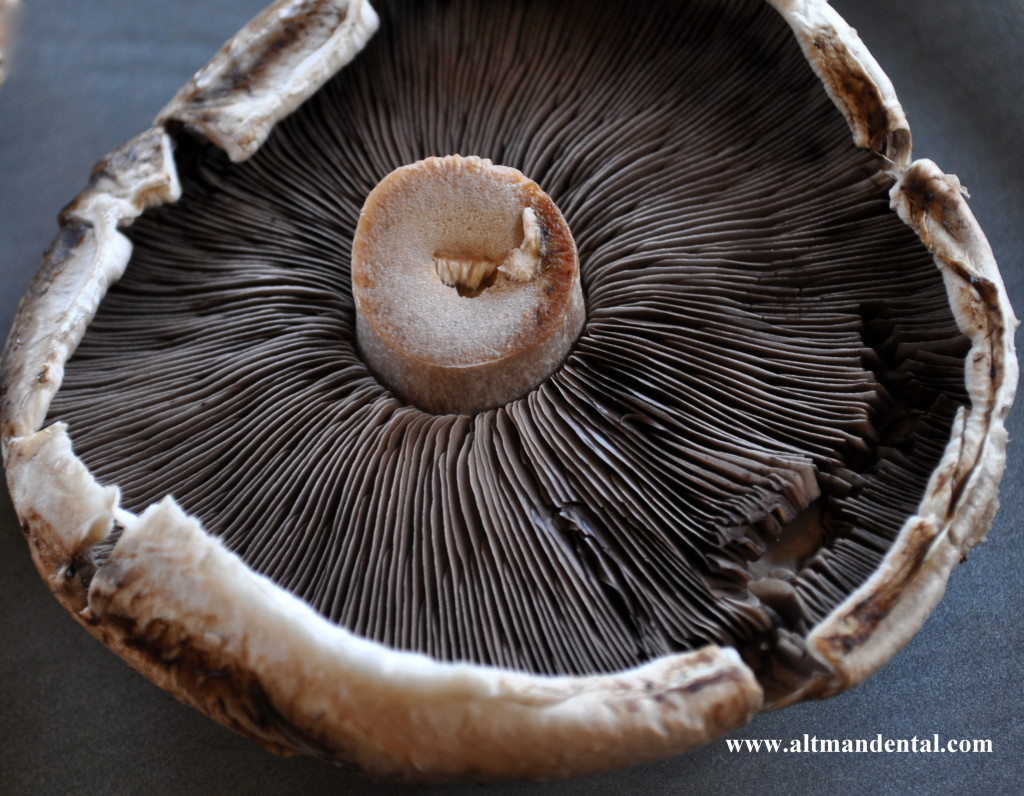 Mushrooms! Yum. Earthy, meaty (without the meat), and satisfying. I know, there are some of you who have major issues with mushrooms. Well, you've probably this out already 🙂
To my mushroom loving friends, mushrooms are more than meets the eye. This dish is jam packed with fiber, protein, anti-oxidants, and is anti-inflammatory (especially is you omit the cheese and replace with nutritional yeast).  If you're looking for a meal during the Jewish Holiday of Passover, this is a great change of pace (just omit the beans and replace with chopped nuts or roasted tofu for added protein).
* Nutritional Yeast-is a SUPER FOOD.  If used, it's high in protein (9 g in 3 tbsp), high in fiber (5 g in 3 tbsp), very low in fat (1 g), dairy free, and packed with B Vitamins(vitamins often lacking in vegetarian/vegan diets), high in folic acid (310% in 3 tbsp). A great alternative to the cheese shown in the pics below.
Serves 2:
Ingredients:
Mushrooms:
Toppings:
1 cup of cooked wild or brown rice, or quinoa
1/2 cup cooked beans (we used black beans)
2 packed cups of greens of choice (we used spinach)
1 avocado
Siracha to taste
1/4 cup of Shredded cheese if desired or could sprinkle with nutritional yeast for vegan option
Instructions:
Preheat oven (or could be done on a grill) to 350
Place mushrooms on a rimmed baking sheet and drizzle each with 1/4 tsp oil, 1/4 tbsp of balsamic, season with salt and pepper
Roast or grill for 8-10  minutes, don't over cook.  Mushrooms contain a lot of water and can become overcooked quickly.
Divide toppings evenly between the mushrooms, top and enjoy
This reheats wonderfully. Place mushrooms with toppings into a microwave for 2 minutes until heated 

 
Nutritional Benefits:
Jam packed with Fiber (12.5 g/serving): great for digestive health and regulating blood sugar levels, great for diabetics
No added sugars/low glycemic: great choice for diabetics
Packed with Protein: 16 g/serving; great for healing and repairing the body
High in Vitamin A (33% of daily needs): great for bone and dental health, anti-oxidant and anti-inflammatory, great for heart, skin, and eye health
High in Vitamin C (17% of daily needs): great anti-oxidant and anti-inflammatory, increases immune health
High in Calcium (15% of daily needs): great for bone and dental health/strength
High in Iron (13% of daily needs): helps with oxygenation of blood and heart health
Gluten Free and can be Vegan
Nutritional Yeast-if used, high in protein (9 g in 3 tbsp), high in fiber (5 g in 3 tbsp), very low in fat (1 g), dairy free, and packed with B Vitamins(vitamins often lacking in vegetarian/vegan diets), high in folic acid (310% in 3 tbsp)
Balsamic Roasted Portobello Mushrooms: Topped With Rice, Beans, and Greens
Balsamic Portobello Mushrooms topped with Rice, Beans, and Greens
Author:
www.gardenfreshfoodie.com
Ingredients
Mushrooms:
4 portobello mushrooms
1 tsp of oil, we used grapeseed
1 tbsp balsamic vinegar
¼ tsp kosher salt
Toppings:
1 cup of cooked wild or brown rice, or quinoa
½ cup cooked beans (we used black beans)
2 packed cups of greens of choice (we used spinach)
1 avocado
Siracha to taste
¼ cup of Shredded cheese if desired or could sprinkle with nutritional yeast for vegan option
Instructions
Preheat oven (or could be done on a grill) to 350
Place mushrooms on a rimmed baking sheet and drizzle each with ¼ tsp oil, ¼ tbsp of balsamic, season with salt and pepper
Roast or grill for 8-10 minutes, don't over cook. Mushrooms contain a lot of water and can be overcooked quickly.
Divide toppings evenly between the mushrooms, top and enjoy
This reheats wonderfully. Place mushrooms with toppings into a microwave for 2 minutes until heated
Notes
33% of Vitamin A, 17% of Vitamin C, 15% of calcium, 13% of iron needs per serving. Nutritional info calculated using low-fat mozzarella cheese. Different if using nutritional yeast (biggest difference would be in calcium levels, calories would be same)
Nutrition Information
Serving size:
2 caps
Calories:
394
Fat:
16.5
Carbohydrates:
42.5 g
Fiber:
12.5 g
Protein:
16 g