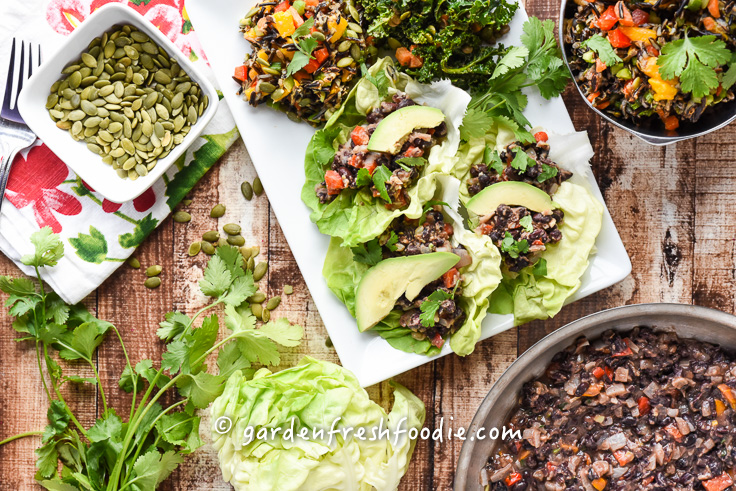 Happy Cinco De Mayo!  As a busy mom, I'm always in need of a quick weeknight meal. This is it! If you don't make your own beans, this dinner comes together in under 30 minutes, including making some rice to go along!  I do make our beans, because 1) it's much less expensive 2) less waste, and 3) I think they taste much better!  If you're interested in how to do so, it's just a matter of planning. Soak the beans in the morning or overnight, rinse, drain, and place into a pressure cooker like this one, cover with water, and cook for 12 minutes once you have it come to pressure. Turn the stove off, let the pressure drop, and voila! The best beans, no can, no salt required! I make a big batch so I can freeze the rest to have on hand for quick meals. Beans make excellent additions to soups, stews, and as salad or potato toppers.
I love to use the black bean taco filling to make lettuce wraps, except the kiddos and hubby prefer them in corn tortillas. I think they're perfect using a Boston bibb lettuce, which is in season this time of year. Fresh crisp lettuce, yum! Lettuce should crunch! I serve these with some brown rice or, if you want to get fancy, make a colorful Rainbow Rice, made with mangoes, red peppers, and fresh herbs.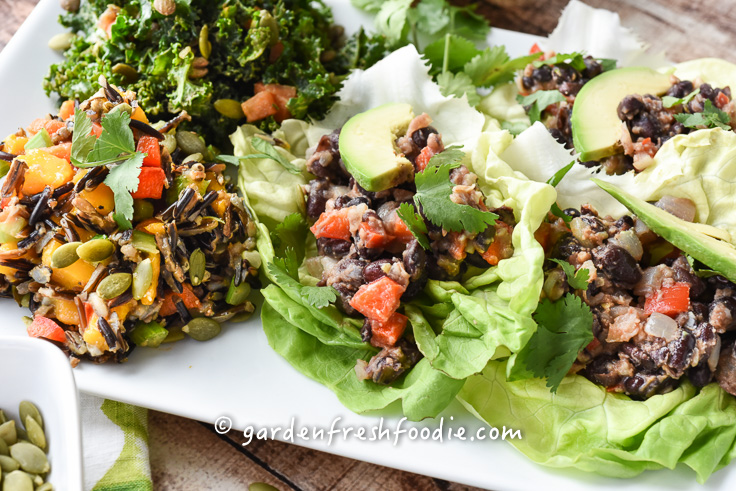 This filling is similar to one I use to make my black bean enchiladas.  The enchiladas require a bit more work, but are great when feeding a crowd, and are a real pleaser to those unfamiliar with plant-based meals.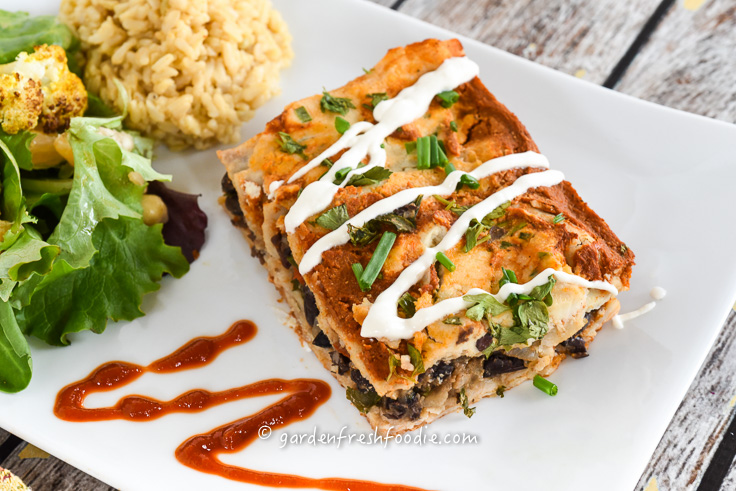 Ingredients:
• 2 cups red onion, minced or sliced thin depending on the texture you desire
• 1 c. yellow, orange, red or green bell pepper
• 2 tbsp minced garlic
• 2 tsp cumin
• 1/2-3/4 tsp salt (to taste)
• 3 1/2 cups-4 cups cooked black beans (if using canned, 2 cans, drained and rinsed)
• 2 tbsp fresh lime juice
• additional vegetable broth/water to soften, about 1 cup
1/8-1/4 tsp chipotle powder
• 10-12 corn tortillas or Boston Bibb Lettuce
• Serving suggestions: freshly chopped scallions and parsley, avocado, lettuce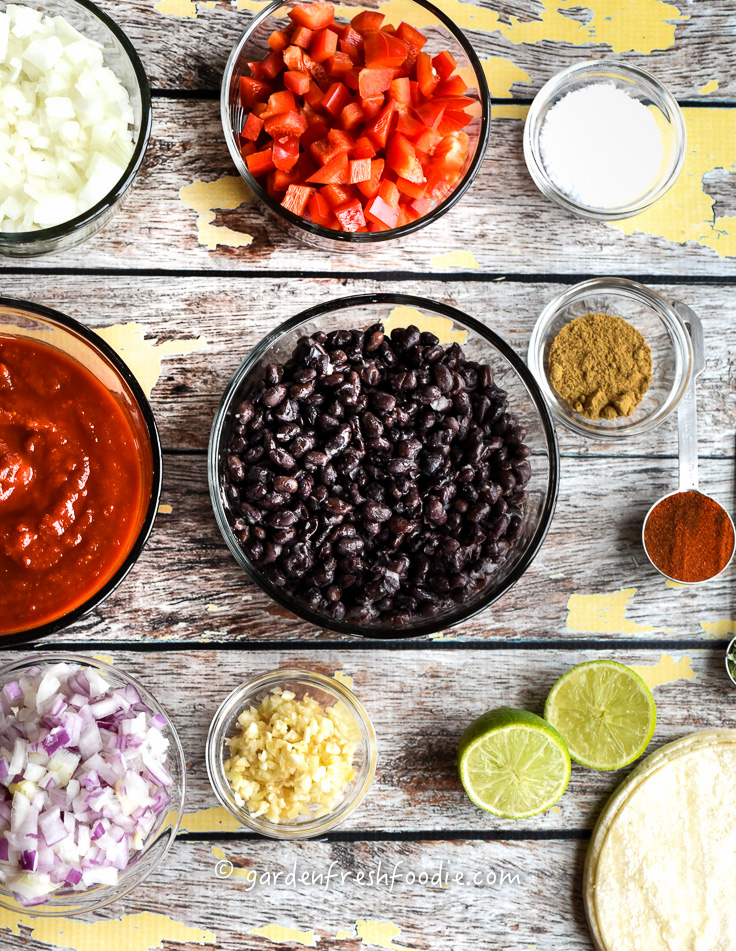 Instructions:
1) Heat hot pan until hot, add onions and garlic, along with 1-2 tbsp water to prevent sticking.  Sauté onions, garlic until translucent
2) Add cumin, black beans, and cook with water until softened, mash if desired, adding lime juice, and some chipotle powder if desired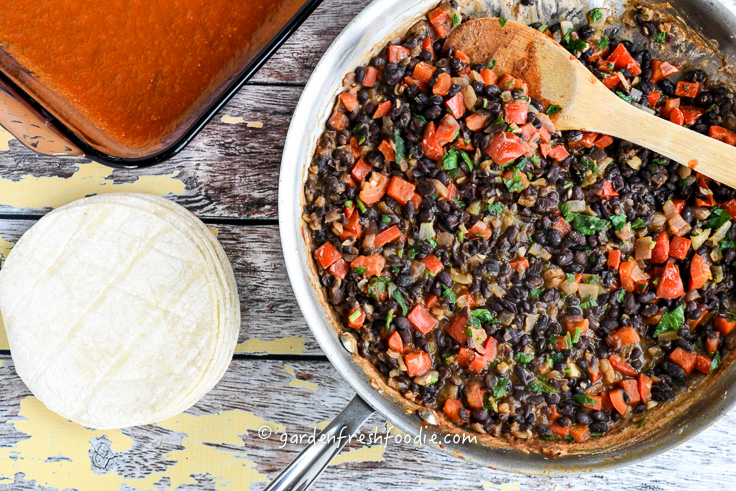 3) Serve in taco shells or on lettuce wraps for a healthy alternative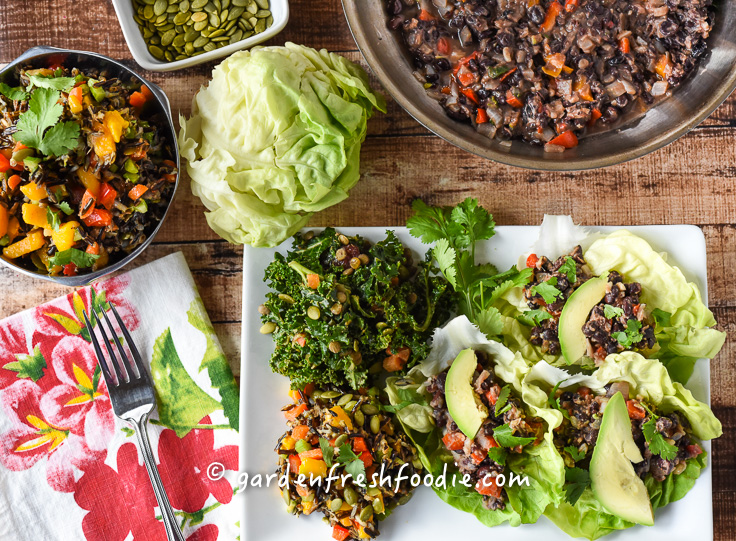 Nutritional Benefits:
No added oils/fats/saturated fat-heart healthy and great for diabetes
High in fiber, 8.5 g-great for digestive health, satiety, prevention of many cancers, and regulates blood sugars
High in magnesium and potassium, both excellent for heart health and regulating blood pressure
Great source of plant-based protein, 8.3 g-important for repairing tissues
Low in calories, for those wanting to lose weight
Great source of plant-based iron, 15% important for oxygenation of blood
Black Bean Tacos
Black Bean Tacos-fast weeknight meal made without oils. Perfect heart healthy meal for your table in under 30 minutes!
Author:
www.gardenfreshfoodie.com
Ingredients
• 2 cups red onion, minced or sliced thin depending on the texture you desire
• 1 c. yellow, orange, red or green bell pepper
• 2 tbsp minced garlic
• 2 tsp cumin
• ½-3/4 tsp salt (to taste)
• 3½ cups-4 cups cooked black beans (if using canned, 2 cans, drained and rinsed)
• 2 tbsp fresh lime juice
• additional vegetable broth/water to soften, about 1 cup
⅛-1/4 tsp chipotle powder
• 10-12 corn tortillas or Boston Bibb Lettuce
• Serving suggestions: freshly chopped scallions and parsley, avocado, lettuce
Instructions
) Heat hot pan until hot, add onions and garlic, along with 1-2 tbsp water to prevent sticking, Sauté onions, garlic until translucent
) Add cumin, black beans, and cook with water until softened, mash if
desired, adding lime juice, and some chipotle powder if desired
) Serve in taco shells or on lettuce wraps for a healthy alternative
Notes
511 mg potassium, 51% Vitamin C, 15% iron, 6% calcium
Nutrition Information
Serving size:
⅛
Calories:
147
Fat:
<1 (.2g)
Carbohydrates:
28.8 g
Fiber:
8.5 g
Protein:
8.3 g
Cholesterol:
0 mg