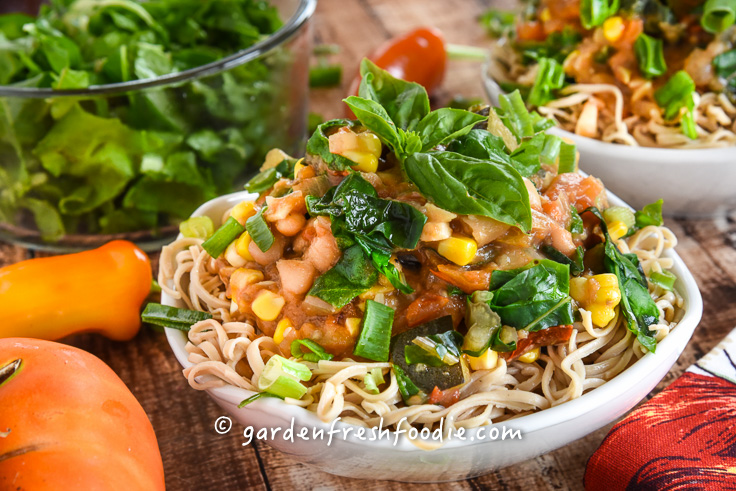 WOW! I feel as if it has been forever since I posted a recipe!  Hard to believe summer has left us and fall is upon us. Fall has been unseasonably warm here in Buffalo, NY, and the garden has continued to produce for us, which is great, because I am sooo behind in taking care of all my produce!  Using in-season ingredients this creamy white bean tomato ragu is the perfect way to preserve the season.  The best part about this sauce is that it freezes perfectly, as do all sauces.  Make a big batch (double this) if you have an overabundance of produce. If you'd like a traditional red sauce, check out this recipe, which is also awesome!  And if you're looking to preserve some tomatoes, here's a link to can them, or to make salsa.
This dish has it all!  Unlike many veggies, the levels of antioxidants in tomatoes actually increase by cooking them. They are rich sources of lycopene, a Vitamin A component, which help to boost cardiovascular health. Many people think of citrus when they think of Vitamin C.  However, peppers are packed with Vitamin C,  four times the amount that oranges have, an antioxidant that boosts immunity. Garlic and onions increase cardiovascular function and improve blood flow, as well as act as an antimicrobial. The beans in this dish provide protein and magnesium, as do the dark leafy greens.  Be sure to add these in at the very end of the cooking process to maximize nutritional levels.  Greens add calcium to this dish. The entire meal is full of fiber, which helps lower blood sugar levels, increase satiety, and boost heart health. Winner!!!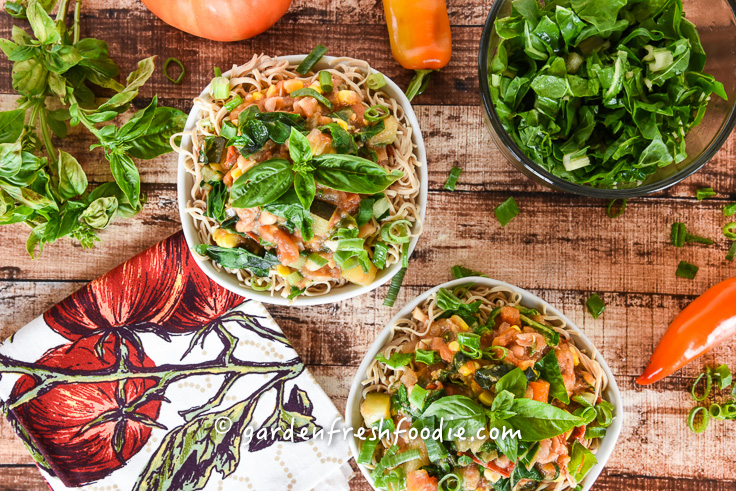 Ingredients:
1 1/2 c onions, chopped (I used red, but can use sweet whites)
1 large eggplant or 2 medium, roasted (see instructions), 2 cups of roasted eggplant
5 cups fresh tomatoes
1 cup fresh bell pepper (which ever color you have)
4 cups zucchini
1/4 cup minced banana pepper
4 cups cooked white/cannellini beans-2 cans, rinsed and drained
1 1/2 tsp salt
2 tbsp chopped garlic
1 1/2 tbsp fresh lemon juice
Black pepper to taste
4 cups of chopped kale or other greens
1 cup of fresh basil
1/4 c scallions
**Note not pictured in mise en place, I added in 1 ear of fresh corn I had left over (it added sweetness, but not necessary)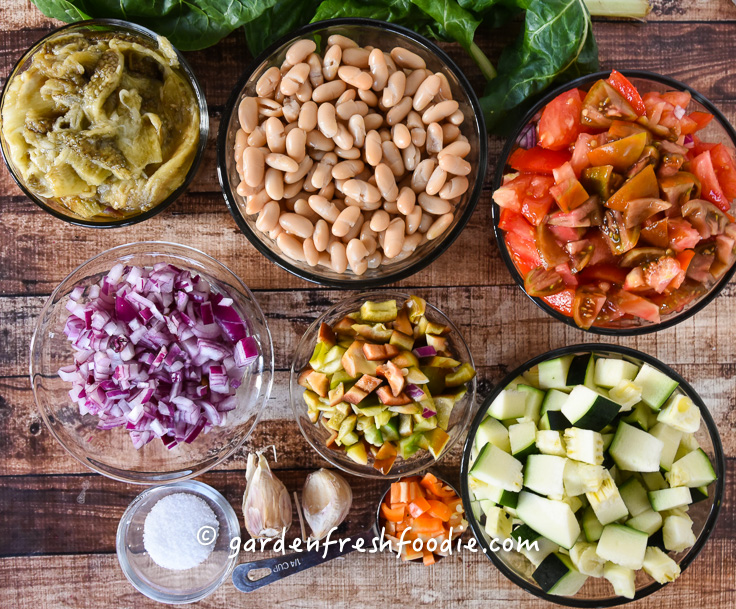 Instructions:
Piece the skin of eggplant, and place on a tray. Roast at 400 degrees for about 40-50 minutes until skin begins to deflate
Once eggplant is finished, open and scoop out the inside
Place roasted eggplant, onions, tomatoes, peppers, zucchini, cannellini beans, salt, and garlic into a pot, and bring to a simmer. Cook until thickened, about 20 minutes.
When finished, season with pepper, stir in fresh greens, basil until wilted, and lemon juice
Serve a top your favorite pasta and top with fresh scallions and basil
Sauce freezes well!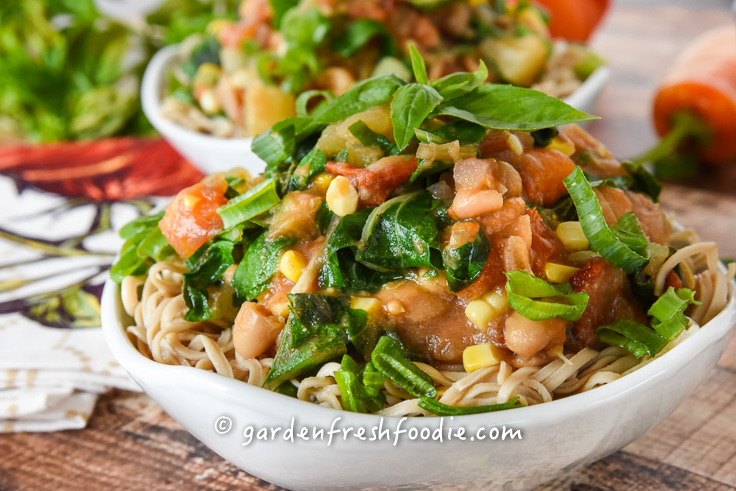 Nutritional Benefits:
Cholesterol and Oil free: good for decreasing caloric intake and boosting heart health
High in fiber: regulates blood sugar and decreases risk for Type 2 diabetes
Low in calories, no added fat or sugar
Great source of antioxidants to decrease inflammation in the body and boost immune health
Good source of plant-based protein, 11.3 grams
Great source of potassium: 1302 mg, important for kidney and nervous system function
Rich source of iron, and calcium: 19% and 13% respectively, important for oxygenation of blood and bone strength
165% Vitamin C, 102% Vitamin A
Creamy White Bean Tomato Ragu
Creamy White Bean Tomato Ragu, made creamy with roasted eggplant. Oil free, vegan, and gluten free with in-season ingredients at their peak!
Author:
Garden Fresh Foodie
Ingredients
1½ c onions, chopped (I used red, but can use sweet whites)
1 large eggplant or 2 medium, roasted (see instructions), 2 cups of roasted eggplant
5 cups fresh tomatoes
1 cup fresh bell pepper (which ever color you have)
4 cups zucchini
¼ cup minced banana pepper
4 cups cooked white/cannellini beans-2 cans, rinsed and drained
1½ tsp salt
2 tbsp chopped garlic
1½ tbsp fresh lemon juice
Black pepper to taste
4 cups of chopped kale or other greens
1 cup of fresh basil
¼ c scallions
**Note not pictured in mise en place, I added in 1 ear of fresh corn I had left over (it added sweetness, but not necessary)
Instructions
Piece the skin of eggplant, and place on a tray. Roast at 400 degrees for about 40-50 minutes until skin begins to deflate
Once eggplant is finished, open and scoop out the inside
Place roasted eggplant, onions, tomatoes, peppers, zucchini, cannellini beans, salt, and garlic into a pot, and bring to a simmer. Cook until thickened, about 20 minutes.
When finished, season with pepper, stir in fresh greens, basil until wilted, and lemon juice
Serve a top your favorite pasta and top with fresh scallions and basil
Notes
1,302 mg potassium, 165% Vitamin C, 102% Vitamin A, 19% iron, 13% calcium
Nutrition Information
Serving size:
⅛
Calories:
184
Fat:
1 g
Carbohydrates:
40.4 g
Fiber:
15.8
Protein:
11.3 g
Cholesterol:
0 mg