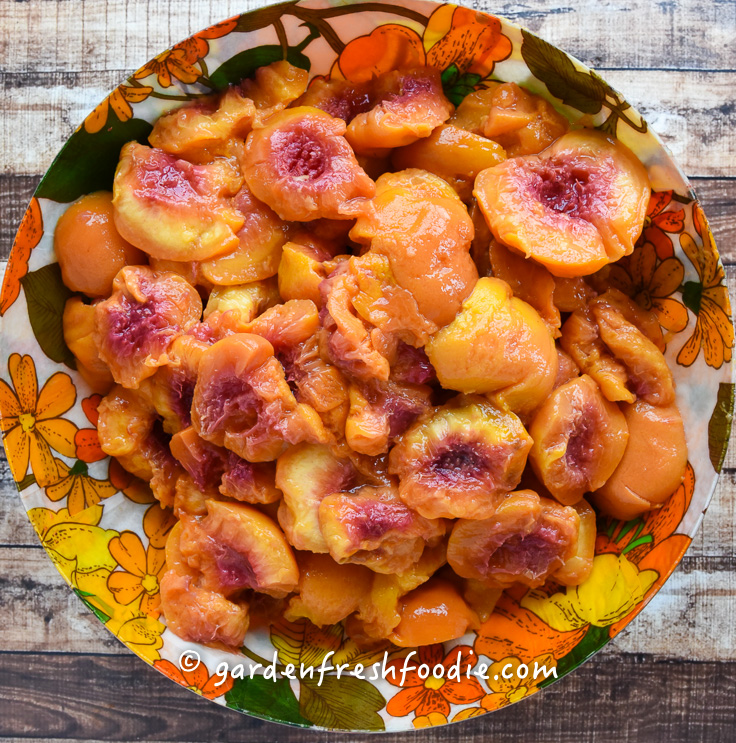 Peaches are in full swing, and preserving them is an easy thing to do (although easier once the free-stone peaches come into season). Like tomatoes (see this post on preserving tomatoes) you need to skin peaches if you'd like to use them for straight up canning or jam.  Our kids love peach jam! I use Pomona's Pectin, as it allows you to use little to no sugar in your jam process, without making it take on an off flavor like I feel other pectins do. You can get it in health food stores, some grocery stores, and Amazon (product link).  It's also made from apples, so it's a more natural pectin.  Pectin helps jams "set" and thicken. This is needed, especially when not using the amount of sugar that's typically in jam.  The standard recipes use 1 cup of fruit to 1 cup of sugar!!! For a standard recipe-that's about a 1/2 cup of sugar per 1/2 pint jar! That's a lot of sugar! Sugar inflames the body. Reducing your sugar intake is always a great idea! Since my kids love peanut butter and jelly, I make sure that the jam they're eating is made as full of goodness as possible.  Using local and in-season ingredients is a part of this process too.
To peel peaches, you simply drop into hot water for 1 minute or until the skins start to peel. Remove and plunge into an ice water bath, and the skins will slip right off.  To learn how, check out my video on on how to can peaches in their own juice:
In this recipe you can use maple or date paste as your sweetener. Maple syrup does spike blood sugar more than date paste, so if you're trying to really watch your sugar, I'd use either date paste or add in some white grape juice to replace the sugar. Because we're using Pomona's Pectin in this, the recipe is easy to double or triple. Other pectin brands get weird when you batch cook with them. I've never had an issue with this pectin.
Ingredients (easy to double or triple), makes 7-8 half pints:
4 cups mashed, peeled peaches
1/2 cup maple syrup or date paste
1/2 tsp fresh nutmeg
1 tsp cinnamon
1/2 tsp all spice
1/4 cup lemon juice
1 tbsp Pomona's Pectin
4 tsp calcium water solution solution (from the Pomona's Pectin)
Instructions:
Have jars cleaned and sterilized, and place lids in warm soapy water prior to use.
Peel peaches, and mash to create 4 cups of fruit in a good sized pot or dutch oven
Add 1 tbsp of pectin to maple syrup or date paste, and stir to combine
Heat fruit and add in 4 tsp calcium water to the mashed peaches, juice, and remaining spices
Once fruit begins to heat, add in sugar and syrup or date paste/pectin mixture.
Using a funnel, pour into hot, sterile canning jars, leaving 1/4″ space from top. Clean off any residue from pouring jam into jars. I use a damp paper towel.
Place clean tops and rings on the jam and place jars into a boiling water bath canner, and cook for 10 minutes.
For a video on how to make jam, check out my Blueberry Jam video, or the link to the recipe on Low Sugar Blueberry Jam:
Enjoy!!
SaveSave