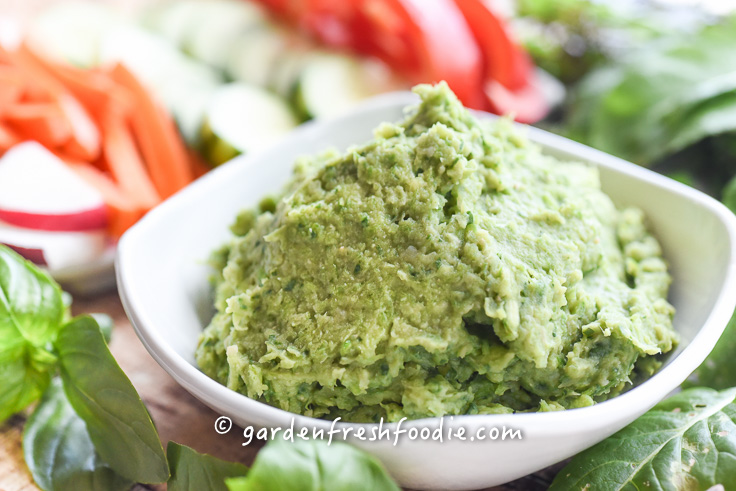 Do you grow garlic? Maybe you get a CSA (community supported agriculture) share? You've heard about garlic scapes, and have no idea what to do with them or what they are?! Well listen up! Garlic scapes are the flower shoot of the garlic plant. Garlic sends up this shoot around mid-late June where we live in Buffalo, NY. If this shoot isn't picked, the energy will go to the flower or the plant, and not the root or bulb, where we want it to go. To learn how garlic scapes are harvested, check out my YouTube video.

I encourage you to grow your own garlic, or purchase locally. A lot of the garlic found in grocery stores comes from China, and supporting local organic growers reduces your food footprint, helps the local economy, and taste SOOOOO much better! My scapes are really strong and flavorful. If you're not sure how garlicky this dip with turn out, you can start with less, and always add more. I made ours a little too strong (I love it) for the rest of the fam, so I would start with the low end and work your way up.
This garlic scape white bean dip can be thinned out and used like a pesto or keep it thick and use as a veggie dip or base for a sandwich spread.  This can also be frozen in ice cube trays, and defrosted as desired! For an oil free pesto recipe, check out one of these 2 recipes: oil free and nut free pesto or oil free pesto (made with pine nuts).
How to grow garlic: Plant cloves 1 foot apart 6 inches deep in the fall. Cover with leaf mulch. Harvest scapes in the late spring, when they've emerged and grown long enough (around 1-2 feet). Harvest garlic in mid-summer, once leaves begin to flop and die off. Allow bulbs to dry in well circulated air to prevent mold from forming.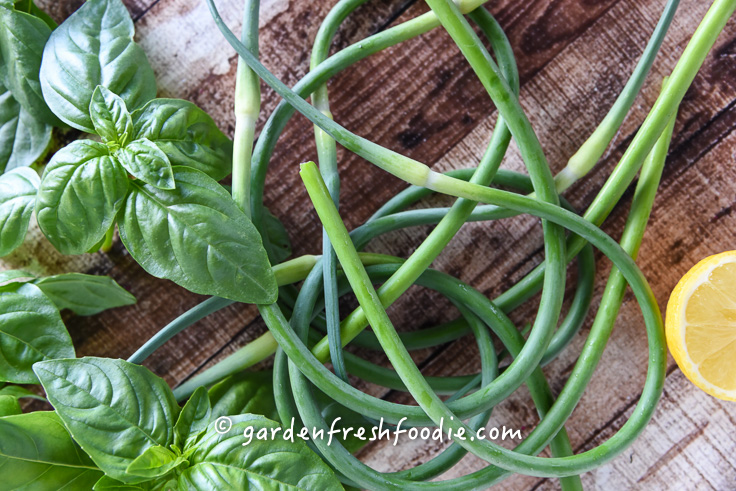 Ingredients:
5-6 oz of garlic scapes (I used 7, but it was VERY garlicky)
1 3/4 cups or 1 can of white/cannelini beans
1/2 cup packed, or 3/4 loosely packed fresh basil leaves
2-3 tbsp fresh lemon juice
3/4 tsp salt
Instructions:
Break scapes in half, and puree in food processor
Add in remaining ingredients and puree. Start with 2 tbsp lemon juice, and add more if desired
Use for pasta like a pesto, as a dip, as a sandwich spread for lunch, or base for pizza!
Nutritional Benefits:
High in fiber
High in potassium
Great source of phytonutrients
Anti-inflammatory, plant-based, gluten free
VERY low in fat, from beans, unsaturated
No cholesterol
SaveSave