Falafel: you know it, those deep fried wonders of the Middle East? They try to package it up with some veggies on top of it to make it look healthy? Well how about a falafel that's easy to make at home and totally healthy?!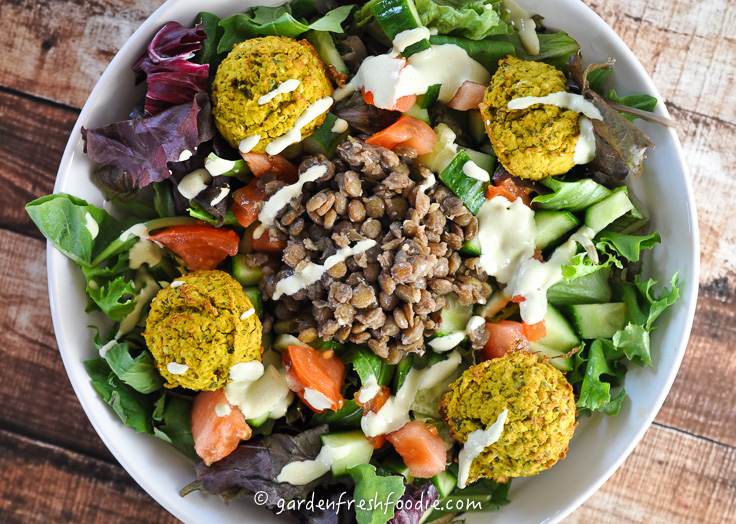 Yes. please! I took inspiration from my favorite cookbook: Moosewood, and revamped to make a healthier version that's baked not fried, lower in salt, higher in calcium, and gluten free.  So easy to make, I whipped it up after a long day of work and had it ready before evening sports. How about that?! As we were finishing dinner our daughter said, "we should make these again!". We made this tahini sauce to use as our dressing, and if you feel like a little hummus-make my Chipotle Hummus to go with too! Tahini jus made from sesame seeds and is nut free, but peanut butter-like in consistency.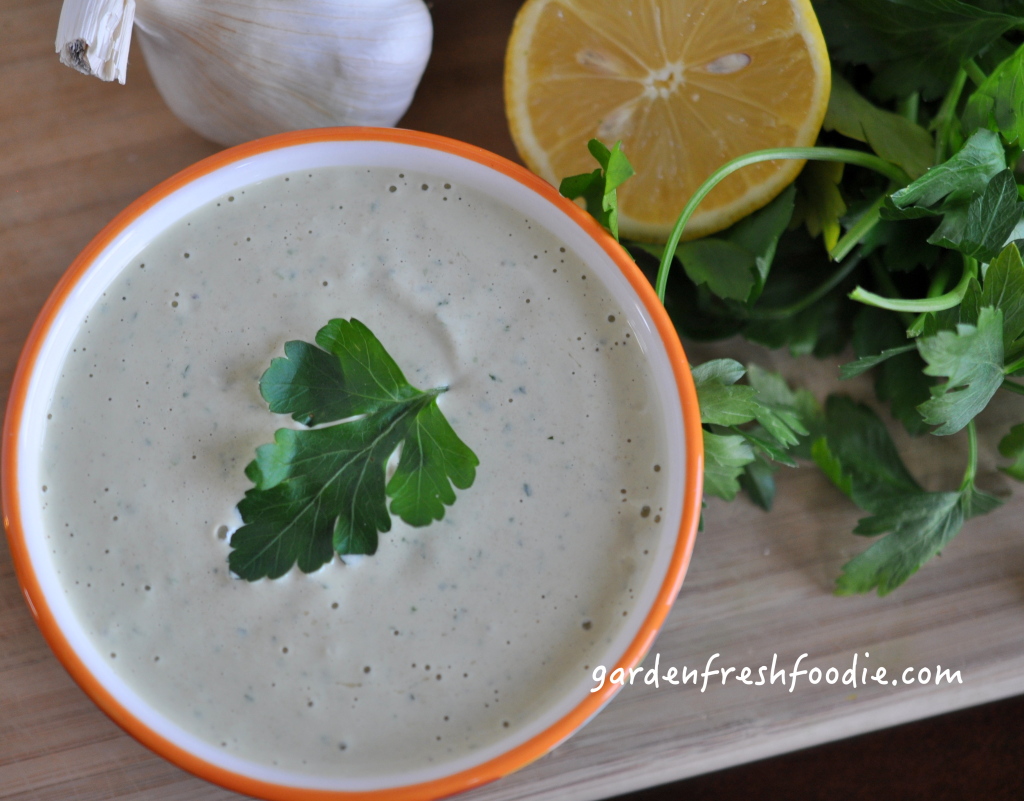 In case you really have no idea what falafel is, they're typically deep fried balls o'batter made out of chickpeas, garlic, lemon, and parsley.  They're usually served in a pita topped with tahini (sesame sauce) and veggies like tomatoes, cucumbers, pickles, and hummus. In Israel this treat can often be packed with even more calories by stuffing in french fries. We cut out oil completely and baked our falafel on a silpat (to prevent sticking).
If you take the base of a falafel, it's a healthy food. One serving (3 patties) of this falafel is packed with over 9 g of fiber, 593 mg pf potassium, 21% of Vitamin C, 14% of Vitamin A, and provides only 3 g of fat without any cholesterol! Top it with Israeli Salad (cucs, tomatoes, and parsley), you've got yourself one phenomenal meal that will kick disease to the curb! I topped my falafel on a beautiful salad with lentils (to keep it gluten free), while the rest of the family used the traditional whole wheat pita. This boosted the nutritional value even further by adding addition protein, fiber, and calcium.
Cooks Note: I do prefer making my own beans. All this takes is a little forethought. I soaked the beans the night before and cooked them in our pressure cooker in the morning before work. To cook; place beans covered in water in a pressure cooker. Bring to pressure, reduce heat and cook for 12 minutes. Drain before using. This step took all of 20 minutes, and provided a far superior chickpea. It's great to prep beans and grains like this on a Sunday when you have more time. If you're not into making your own beans, canned are fine. Just be sure to drain and wash them.
Makes ~22 patties: serves 6-7 
Ingredients (I always double this for company and leftovers, they freeze well):
2 1/2 cups of cooked chickpeas *If using canned, try to purchase sodium free organic, it'll be about 2 cans, be sure to drain and wash.  If you're cooking your own, make 2 cups raw chickpeas to double or 1 cup for a single recipe soaked for 8 hours or more, rinsed and drained, cook (in pressure cooker 12 min), and reserve cooking liquid
1 cup of packed parsley
4 cloves of garlic
3 tbsp of oat flour or sorghum flour
2 1/2 tsp cumin
2 tsp turmeric
1/2 tsp kosher salt
1/2 cup of red onion or scallions
1 1/2 tbsp lemon juice
cayenne to taste
1/4-1/2 cup of water or chickpea cooking liquid (enough to get it to blend)
Black pepper to taste
Instructions:
Preheat the oven to 375
Place parsley in processor first, and process until fine. Add remaining ingredients except water/cooking liquid into a food processor
Add in water as processor is mixing. Sample batter and add cayenne or black pepper to taste.
Place silpat or parchment paper sprayed with non-stick cooking spray onto 2 cookie sheets (could try to make these on a pizza stone lightly rubbed with oil to get a crunchier texture
Drop batter by spoonful, rounded balls (will look almost like a cookie batter)
Bake for 20-25 minutes until lightly browned and firm
Serve on top of a salad or in a pita topped with tahini, cucumbers, & tomatoes. A side of chipotle hummus is great too!
 Nutritional Benefits:
High in Fiber: typical serving will have 9.3 g of fiber! Adding in cucs, tomatoes, and tahini will boost this even higher.  If you put this on top of a salad you've got yourself a kick' meal that will keep you full and satisfied for a long time! Keeps you full, helps improve digestive health, regulates blood sugar, prevents many forms of cancer, and improves risk factors for heart disease and diabetes
High in Potassium: 593 mg/serving beans are packed with this vital nutrient which aides in nervous function and regulation, regulates heart rate and blood pressure
Great source of antioxidants: 21% of Vitamin C, helps boost immune function, 14% of Vitamin A, great for skin, eye, dental and heart health
great source of iron 39% in typical serving, great for oxygenation of blood
Very low in fat (less than 3 g/serving), with no saturated fat or cholesterol
Heart Healthy and Diabetic Friendly
Vegan and Gluten Free: anti-inflammatory food
Falalalala Falafel: Gluten Free and Vegan
Falafel: Gluten Free and Vegan: baked not fried
Author:
www.gardenfreshfoodie.com
Ingredients
2½ cups of cooked chickpeas (if using canned, try to purchase sodium free organic, it'll be about 2 cans, be sure to drain and wash)-if you're cooking your own, make 2 cups raw chickpeas to double or 1 cup for a single recipe, soaked for 8 hours or more, rinse and drain, cook, and reserve cooking liquid
1 cup of packed parsley
4 cloves of garlic
3 tbsp of oat flour or sorghum flour
2½ tsp cumin
2 tsp turmeric
½ tsp kosher salt
½ cup of red onion or scallions
1½ tbsp lemon juice
cayenne to taste
¼-1/2 cup of water or chickpea cooking liquid, enough to get it to blend
Fresh black pepper to taste
Instructions
Preheat the oven to 375
Place parsley in processor first, and process until fine. Add remaining ingredients except water/cooking liquid into a food processor
Add in water as processor is mixing. Sample batter and add cayenne or black pepper to taste.
Place silpat or parchment paper sprayed with non-stick cooking spray onto 2 cookie sheets (could try to make these on a pizza stone lightly rubbed with oil to get a crunchier texture
Drop batter by spoonful or cookie scoop, creating balls (will look almost like a cookie batter)
Bake for 20-30 minutes until lightly browned and firm
Serve ontop of a salad or in a pita topped with tahini, cucumbers, & tomatoes
Notes
You will have trouble making more than 1 batch at a time in a food processor-if wanting more, make in batches, 1 always 1½xs this for company and leftovers, they freeze well)
Nutrition information is for 1 patty based on recipe making 21 patties. Typical serving is about 3 patties. High in potassium: 198 mg, 5% of Vitamin A, 7% of Vitamin C, 11% of iron per patty (multiply each by 3 for typical serving)
Nutrition Information
Serving size:
1 patty
Calories:
49
Fat:
.9 g
Carbohydrates:
9.6 g
Fiber:
3 g
Protein:
2.8 g
Cholesterol:
0 mg