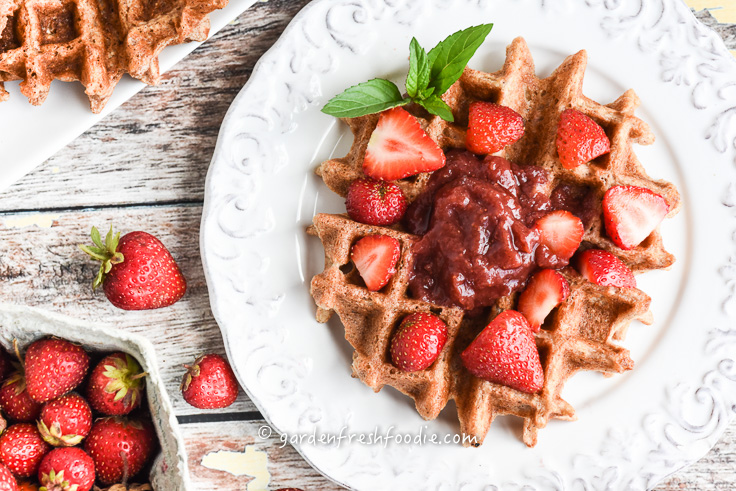 Waffles are a fun weekend treat, or when I have a million kids sleeping over (which happens often). These waffles are made gluten free and plant-based. I topped them with my strawberry lemon jam.  The citrus in the jam and the waffles blended perfectly.  I use my Vitamix to process the oats first, and then I add everything else. If you don't have a powerful blender, then buy the oat flour. I'd recommend Bob's Red Mill Gluten Free Oat Flour, if you need gluten free, and you can buy it from Amazon (see link) if you can't find it in your grocery store. In order to make waffles, you do need a waffle maker. The one I use is this Cuisinart Waffle Maker.
This recipe has many health benefits. 1) It's gluten free and plant-based which helps to fight inflammation, 2) It's high in fiber, 3) Has no cholesterol or added fats/oils, 4) Is made from whole foods no refined sugars. The psyllium in this recipe helps the batter to bind together more, and adds additional fiber. It can be found in health food stores, Amazon, and is sold labeled as "colon cleanser". Don't be concerned! The amount of fiber in it is high, but you are only adding 1 tbsp for the whole recipe. When cooking with gluten free flours, the structural protein gluten is missing. This is why many gluten free creations fall apart more easily. Adding in the psyllium (if you don't have it, the recipe will still work) helps with the binding process, and also thickens the batter. If you are finding the batter gets too thick, you can thin it out with additional almond milk.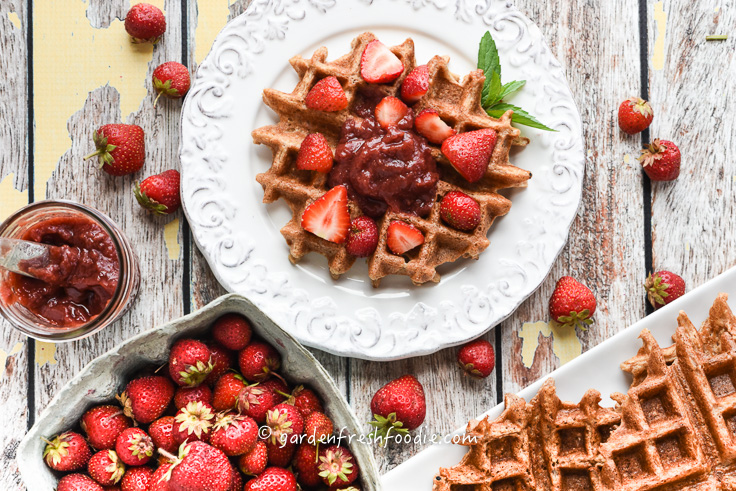 Ingredients:
455 g of oats (equals 3 1/2 cups of oats or 3 cups of regular flour)
3 cups almond milk (or more if batter gets too thick)
2 tbsp maple syrup or date paste
1/3 cup apple sauce
2 tsp cinnamon
1/2 tsp nutmeg
1/2 tsp kosher/sea salt
2 tbsp baking powder
1 tsp vanilla
1 tbsp psyllium husk *can omit if you don't have this, the recipe will still work
juice & zest of 1 orange (about 1 tbsp zest & 3-4 tbsp fresh orange juice) 
Instructions:
If making your own flour, place the oats into blender first. Process until it makes a flour.
Add the rest of the ingredients in the order provided, and blend
Let batter rest for about 5-10 minutes before using
Heat a waffle iron up, and use about a half of a cup of batter per waffle (depending on size of your waffle maker).  If you are finding the batter gets too thick as it sits (it will thicken), you can thin it out with additional almond milk (be sure to stir after or re-blend). I find that my gluten free waffles need a little more time in the waffle maker than the machine tells me it does. I lift and check when the light goes off, and if it doesn't look done, let it go for a couple more minutes
Serve topped with your favorite jam (pictured here is our strawberry lemon jam), fresh fruit, and/or maple syrup
Nutritional Benefits:
High in fiber: great for digestive health, regulation of blood sugar, decreasing cholesterol, lowering blood pressure, and increasing satiety
Whole grain, gluten free, & plant-based-decreases inflammation in the body
No refined sugars, very low in added sugar
Cholesterol free, oil free, no saturated fats, great for heart health
Oat Waffles With Fresh Orange
Oat Waffles With Fresh Orange-a touch of orange with the sweetness of oats, everyone will love these!
Author:
www.gardenfreshfoodie.com
Ingredients
455 g of oats (equals 3½ cups of oats or 3 cups of regular flour)
3 cups almond milk (or more if batter gets too thick)
2 tbsp maple syrup or
date paste
⅓ cup apple sauce
2 tsp cinnamon
½ tsp nutmeg
½ tsp kosher/sea salt
2 tbsp baking powder
1 tsp vanilla
1 tbsp psyllium husk *can omit if you don't have this, the recipe will still work
juice & zest of 1 orange (about 1 tbsp zest & 3-4 tbsp fresh orange juice)
Instructions
If making your own flour, place the oats into blender first. Process until it makes a flour.
Add the rest of the ingredients in the order provided, and blend
Let batter rest for about 5-10 minutes before using
Heat a waffle iron up, and use about a half of a cup of batter per waffle (depending on size of your waffle maker). If you are finding the batter gets too thick as it sits (it will thicken), you can thin it out with additional almond milk (be sure to stir after or re-blend). I find that my gluten free waffles need a little more time in the waffle maker than the machine tells me it does. I lift and check when the light goes off, and if it doesn't look done, let it go for a couple more minutes
Serve topped with your favorite jam (pictured here is our
strawberry lemon jam
), fresh fruit, and/or maple syrup