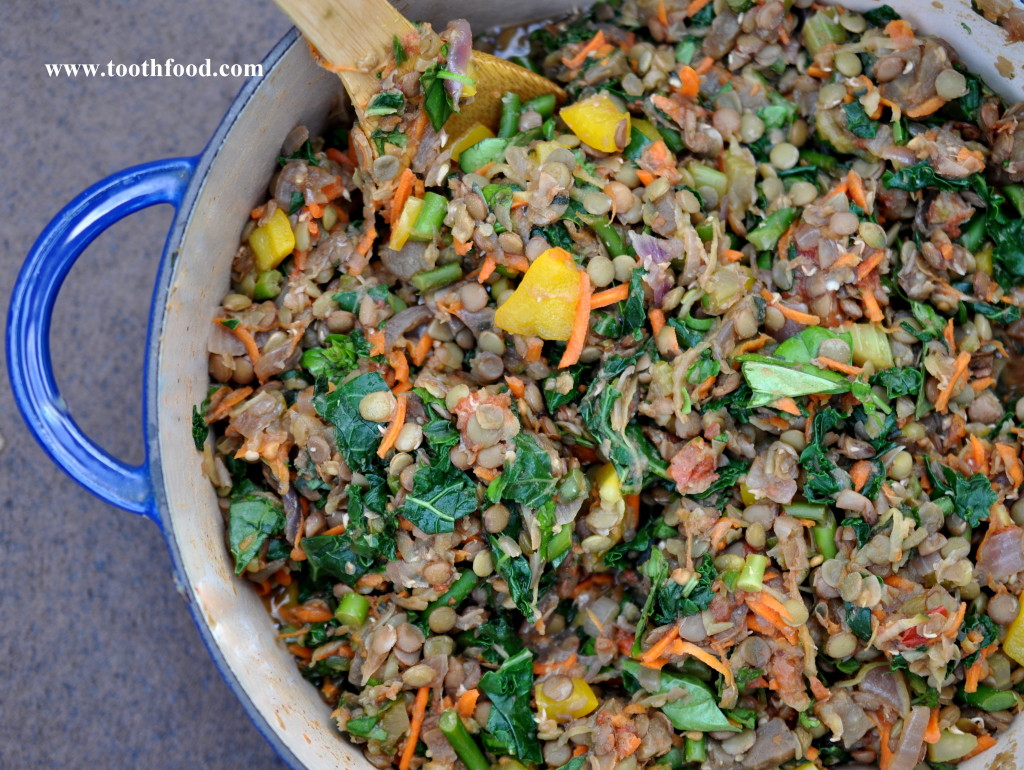 Lentils are a food that has it all-protein, healthy carbs, fiber, and low in fat.  Since it's summertime, we thought we'd amp them up with some fresh basil, garlic scrapes, zucchini, and fresh peppers.  We're still trying to get through some of our last year's veggie abundance before the next haul comes barreling in.
One of the ingredients used in this dish is a garlic scape.  They're in season right now where we live, but if they're not by you, swap it out.  Garlic scapes are the green tops of the garlic plant that are cut back this time of year to allow the plant to grown better.  They have a mild garlic flavor, similar to a garlic chive.  We grow garlic chives, and use them for similar flavors.  They also have a similar consistency to scallions.  If you're omitting them, I'd use a combo of scallions and fresh garlic, or just the garlic chives. For another recipe with garlic scapes, check out these Limey Black Beans.
We begin the cooking process by water sauteing. This method omits the use of oils that's typically done to begin a dish with onions or peppers.  Water can provide the same affect, but lessen the calories and unhealthy fats.  It's also important not to over cook many of the veggies in this dish to maximize their nutritional benefits.  We add most of the veggies at the very end and only cook for a few minutes.  These veggies just need a short time to soften, but if overcooked they lose their vibrant colors.  This dish uses a bunch of fresh veggies but still comes together in under 30 minutes if you have things prepped at the start of your cooking. It's great as left overs eaten cold over some greens!
Lentils can be found in different colors: red, green, brown.  For this dish don't use the red. They will mush out on you, and you want a to be able to see and feel the texture of the lentils in this dish.  Red lentils are great for soups, soft dips, or when you don't mind a smoother consistency. You can use green and brown lentils interchangeably.  We actually used both in this dish, since we ran out of our beloved brown lentils.  Buy them organically in bulk, and you'll save a bunch. Lentils can have small items in them sometimes.  It's always best to rinse them before cooking.
Ingredients:
2 cups of lentils, brown or green
4 cups of water
2 1/2 cups of red onion, chopped (1 large onion)
2 1/2 cups peeled and chopped eggplant (1/2 medium eggplant)
1 cup of celery, chopped
2 cups of shredded zucchini or chopped (we used shredded frozen from our garden last year, but fresh is best if you have it)
1 15-oz jar or a pint of canned tomatoes
1 cup shredded carrots
1 cup of chopped peppers
4 cups of chopped kale, swiss chard, or other green
1 cup of garlic scapes, if you don't have these, use same amount of garlic chives or 4 cloves of garlic and 3/4 cup of scallions
1/4 cup apple cider vinegar (we use Bragg's brand)
3/4-1 cup chopped fresh basil
Salt/pepper to taste
Instructions:
Add lentils and water to large stock pot and bring to boil. Reduce heat to simmer, and cook until water is absorbed and lentils aren't mushy, about 20 minutes.
While lentils cook, add onions to a large pan and pour in 1/4 cup of water.  Saute until onions become translucent and begin to caramelize, turning slightly brown (this method uses no oil for sauteing and you still get the same effect).
Add in eggplant, and cook until softened. Add zucchini with eggplant if cubed, or after eggplant has cooked if it's being added shredded, and cook for 1-2 minutes.
Add peppers, carrots, kale, garlic scapes or garlic, and tomatoes.  Cook until heated through, and kale has just wilted
Stir into lentils and mix.
When ready to serve, but while mixture is still warm, stir in the fresh basil.
 Nutritional Benefits:
Packed with antioxidants! High in Vitamin A 94.5%, great for lowering blood pressure, improving skin, eye, bone, and dental health, Vitamin C 97.6%, great for boosting immunity
Plant-based/vegan & gluten free; great for reducing inflammation
Virtually fat free or cholesterol
Packed with potassium: 735 mg, great at regulating blood pressure and heart rate, as well as nervous and kidney function
10% calcium, bone health and strength, plant-based calcium sources are better absorbed by the body than animal-based calcium sources
19.5% iron, great for improving oxygen circulation
Summertime Lentils
Summertime Lentils: made with eggplant, zucchini, carrots, greens, and fresh herbs
Author:
www.gardenfreshfoodie.com
Ingredients
2 cups of lentils, brown or green
4 cups of water
2½ cups of red onion, chopped (1 large onion)
2½ cups peeled and chopped eggplant (1/2 medium eggplant)
1 cup of celery, chopped
2 cups of shredded zucchini or chopped (we used shredded frozen from our garden last year, but fresh is best if you have it)
1 15-oz jar or a pint of canned tomatoes
1 cup shredded carrots
1 cup of chopped peppers
4 cups of chopped kale, swiss chard, or other green
1 cup of garlic scapes, if you don't have these, use same amount of garlic chives or 4 cloves of garlic and ¾ cup of scallions
¼ cup apple cider vinegar (we use Bragg's brand)
¾-1 cup chopped fresh basil
Salt/pepper to taste
Instructions
Add lentils and water to large stock pot and bring to boil. Reduce heat to simmer, and cook until water is absorbed and lentils aren't mushy, about 20 minutes.
While lentils cook, add onions to a large pan and pour in ¼ cup of water. Saute until onions become translucent and begin to caramelize, turning slightly brown (this method uses no oil for sauteing and you still get the same effect).
Add in eggplant, and cook until softened. Add zucchini with eggplant if cubed, or after eggplant has cooked if it's being added shredded, and cook for 1-2 minutes.
Add peppers, carrots, kale, garlic scapes or garlic, and tomatoes. Cook until heated through, and kale has just wilted
Stir into lentils and mix.
When ready to serve, but while mixture is still warm, stir in the fresh basil.
Serve on its own, on top of brown rice, or serve cold on top of a salad
Notes
Packed with antioxidants! Potassium: 735 mg, Vitamin A 94.5%, Vitamin C 97.6%, 10% calcium, 19.5% iron. Nutrition calculated on 10 servings
Nutrition Information
Serving size:
1/10
Calories:
209
Fat:
.5 g
Carbohydrates:
32 g
Sugar:
8.5 g
Fiber:
7.7 g
Protein:
11 g
Cholesterol:
0 mg