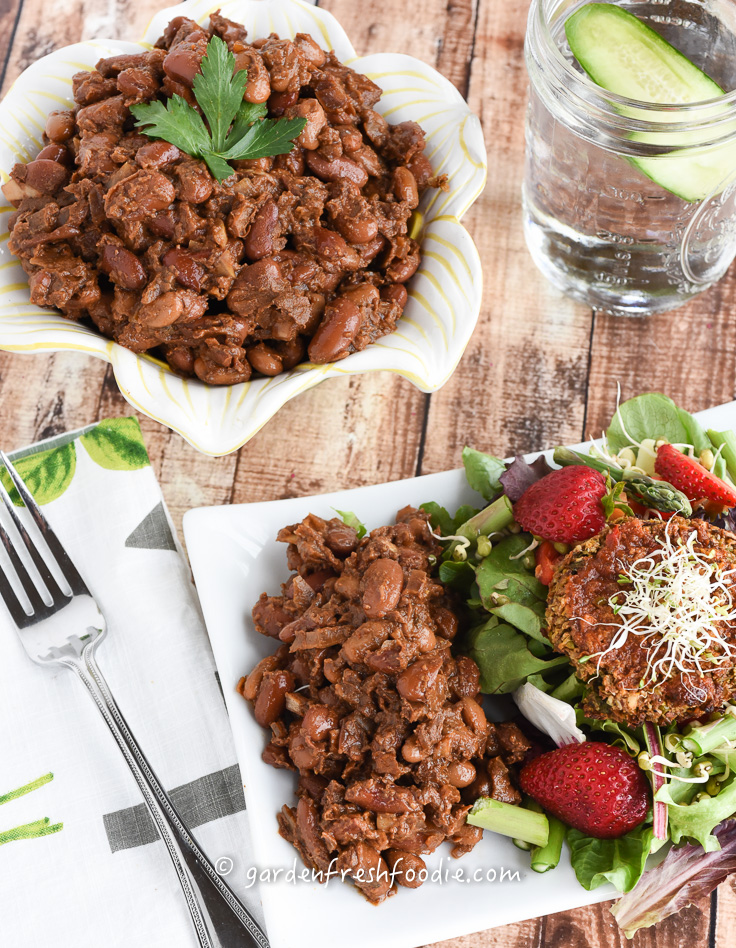 Baked Beans often have tons of added sugar. In this recipe, I cut it by a lot. Homemade version usually call for BBQ sauce, and that has a lot of hidden sugars too. To get that same sauce flavor, I used a tomato sauce, spicy brown mustard, molasses, and liquid smoke. Liquid smoke gives the sauce that smokey flavor, if you don't have it, add in a few dashes of smoked paprika. It should do the trick. If you don't have smoked paprika-go on and get some!!! It's an awesome staple and adds tons of flavor to dishes.
So, I'm guilty. I love these beans cold too, and I eat them out of the fridge by the spoonful! They can be slightly addicting, so watch out. There…I warned you.  Bringing a side like this to a party is always a great idea. 1) Everyone will love you (so you should definitely double this for a crowd), 2) You will be guaranteed something healthy to eat at the party (a strategy I feel is vital), and 3) You will be asked to come back!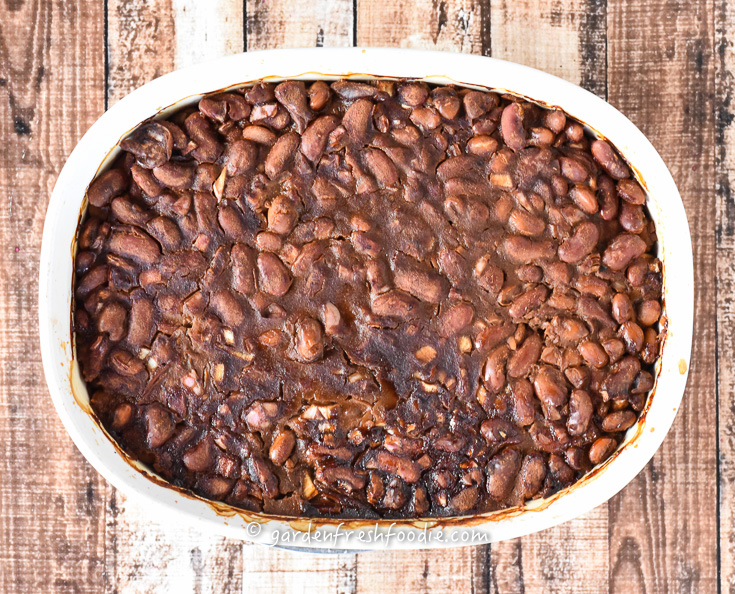 I always say it, but really-try making your own beans! It's easy, inexpensive, and they taste better! I make them in my Pressure Cooker and kidney beans take 11 minutes once they've come to pressure. After they're done, let the pressure drop, and voila! I make a larger batch so I can have them frozen when I want them, like tonight-to make these delicious baked beans. Any kidney-style bean will do; cannelloni, pinto, red or pink beans. Here I use a blend of pinto and red kidney beans because that's what I had on hand.
Beans are packed with magnesium, a vital nutrient responsible for healing and bone strength. Magnesium works in conjunction with calcium to strengthen bones and teeth. They're also excellent sources of plant-based protein, are cholesterol free, very low in fat, and packed with fiber. Let's hear it for the bean!  As Americans we don't consume any where the amount of beans we should. Strive for 1/2-1 cup of beans a day. If you think beans don't agree with you, eat a little more each day. It's really the fiber you're not used to as an American. Over time, your body will adjust.  They're the perfect topper of salads, soup bases, or main dish.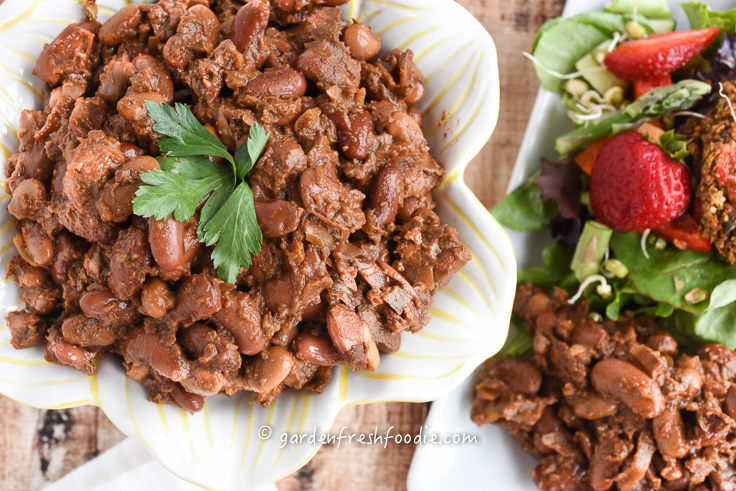 Ingredients:
5 cups of cooked pinto or kidney beans (we used a combo, 4 cups kidney and 1 1/2 cups of pinto, because that's what we had)-equals about 3 cans of beans, since we made our own, we threw in the extras
3/4 cup of prepared tomato sauce (we used Wegman's Organic Marinara Sauce)-be sure to check the label so you know you're getting quality ingredients, and that they're plant-based
1/2 cup of mustard
1/3 cup molasses
1 cup of chopped onion (we used a red onion)
2 tbsp apple cider vinegar, we use Bragg's Raw Vinegar
3/4 tsp liquid smoke (or smoked paprika)
Instructions:
Preheat oven to 375.
Mix all ingredients together in a large bowl.
Cover with foil and bake for about an hour, or until the mixture is nice and bubbling (really, it's hard to overcook them)
Take the cover off, and let brown up, about another 15 minutes. 
These beans are even better the next day, and are awesome cold too!
They make a great side, seen here with my Real- Deal Veggie Burger
Nutritional Benefits:
Much lower in sugar than traditional baked beans
Oil/fat-free, cholesterol free: great for heart health
High in plant-based protein, great for healing & repairing tissues
High in fiber; great for digestive health, regulating blood sugar levels, preventing many forms of cancer, and increases satiety
Gluten free & plant-based, helps to decrease inflammation in the body
Vegetarian Molasses Baked Beans
Vegetarian Molasses Baked Beans: perfect side for the next BBQ! Plant-based, no refined sugars, gluten & oil free!
Author:
www.gardenfreshfoodie.com
Ingredients
5 cups of cooked pinto or kidney beans (we used a combo, 4 cups kidney and 1½ cups of pinto, because that's what we had)-equals about 3 cans of beans, since we made our own, we threw in the extras
¾ cup of prepared tomato sauce (we used Wegman's Organic Marinara Sauce)-be sure to check the label so you know you're getting quality ingredients, and that they're plant-based
½ cup of mustard
⅓ cup molasses
1 cup of chopped onion (we used a red onion)
2 tbsp apple cider vinegar, we use Bragg's Raw Vinegar
¾ tsp liquid smoke (or smoked paprika)
Instructions
Preheat oven to 375.
Mix all ingredients together in a large bowl.
Pour into a baking dish, the one I used was about an 8x10 oval.
Cover with foil and bake for about an hour, or until the mixture is nice and bubbling (really, it's hard to overcook them)
Take the cover off, and let brown up, about another 15 minutes.
These beans are even better the next day, and are awesome cold too!
They make a great side, seen here with my
Real- Deal Veggie Burger