This week Alec Baldwin combined forces with the Physicians Committee For Responsible Medicine and created a hilarious "commercial" for a Meal Replacement Replacement Meal. The gist is that we are obsessed with the quick fix, protein bar-style meal. Our culture has promoted processed foods as a replacement for real cooking. Alec Baldwin in his great sense of humor makes a joke of this culture.
Why are we so quick to eat a bar instead of a full meal that would give us so much more satisfaction? I will cannot argue that a bar is not quick and easy, but a food that can sit on shelf for a year and can be used to replace a meal, isn't screaming nutrition to me! We do need to find time to get back to the kitchen. Veestro is a great in-between, offering prepared meals for people, but with whole ingredients. The dishes prepared are great to help out for busy nights or a quick lunch, but it will not replace the satisfaction and nutrition of cooking a full meal with your family.
We need to get people back in the kitchen. I'm often told by busy mom's "I don't have time to make a meal like you do" or "My family won't eat that kind of food". Both of these are excuses. Most of us spend countless numbers of hours on social media or surfing the web for various items. We all have 30 minutes in our day that we can repurpose, using these minutes to add some beans and greens to some rice or pasta and make a complete meal. It doesn't have to be fancy. Simple meals can be some of the best. The following recipe was so simple, and delicious, I didn't even think to photograph it, unlike the usual recipes I provide on the site.  Here's one I threw together using items I had on hand in 30 minutes last night:
Sun-dried Tomato Bean Ragu
Ingredients:
3 oz Oil free Sun-dried tomatoes-soaked in hot water until soft, about 10 min
1 red onion, small dice, about 2 cups
1 Red pepper, small dice
Mushrooms, small dice
Can of artichokes, drained and rinsed, chopped
2 cans Cannellini Beans
Splash white wine or masala
vegan pesto, frozen from last year's garden, up to you how much you want, about 1/4 cup
Garlic, 4 tbsp, divided between bean mixture and kale equally
Kale, whole bunch, or more, chopped
Fresh lemon juice
Salt/pepper to taste
Instructions:
Soak the tomatoes in hot water, and reserve water.
Sauté the onions, garlic, mushrooms, peppers, and beans together, adding in some of the reserved soaking liquid, and a splash of white wine or masala.
Add in pesto, and if too thick, add in remainder of the soaking liquid and some extra water depending on the consistency you desire.
In another pan, sauté greens with a little water, and garlic, squeeze with fresh lemon juice.
Serve with kale on top of beans, or all of it on top of pasta, rice, spirialized zucchini or kelp noodles. Dinner in 30 minutes, done.
So make your replacement meal a real meal, check out more of my delicious recipes, on my site. I have a bunch of easy meals, especially soups!
Like these soups: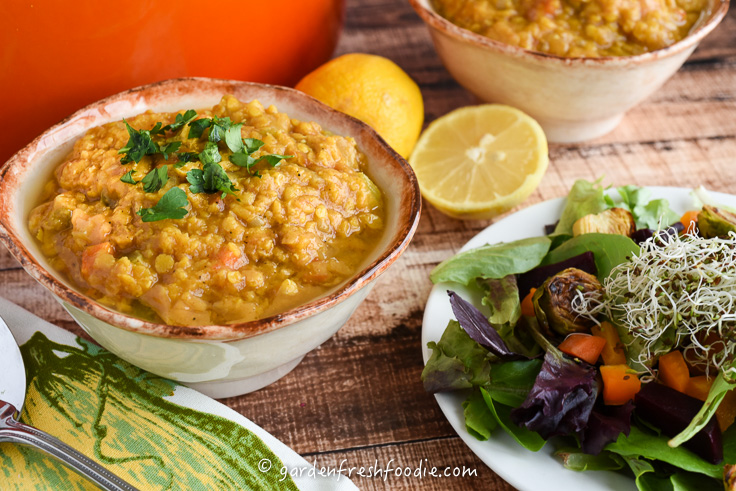 Or a big bowl of miso soup. Add in some rice noodles and make it a noodle bowl!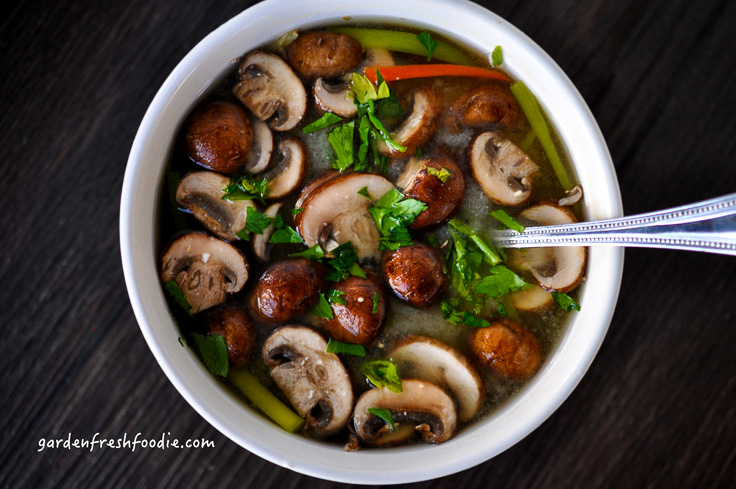 Or how about an awesome salad that has all do-ahead components?
Arugula Beet Salad with Lentils