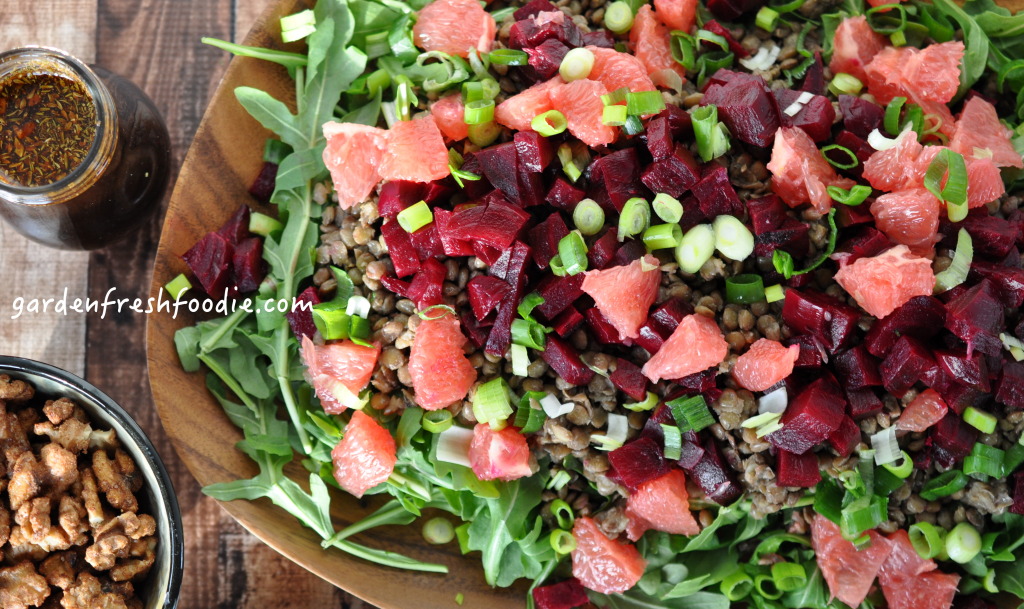 This salad is full of in-season foods: roasted beets, grapefruit, and nuts. It's a beautiful presentation and all of it can be made ahead of time, assembled right before you want to serve it. How's that for a perfect holiday food?! The dressing I created to go with this is oil free. Because of that, it's a little bit more runny than a typical high fat dressing. Place it on the side for people to add themselves. It's very flavorful and lasts a while in the fridge.
This salad is packed with color. What that means is: high density nutrition! Lentils are extremely high in plant-based protein and fiber. They're also amazing sources of calcium and potassium, like all legumes. Adding them to the arugala provides a spicy bite and beautiful color combination. Arugula has a stronger flavor than most greens. It's peppery taste balanced out the sweetness of the other components of this dish.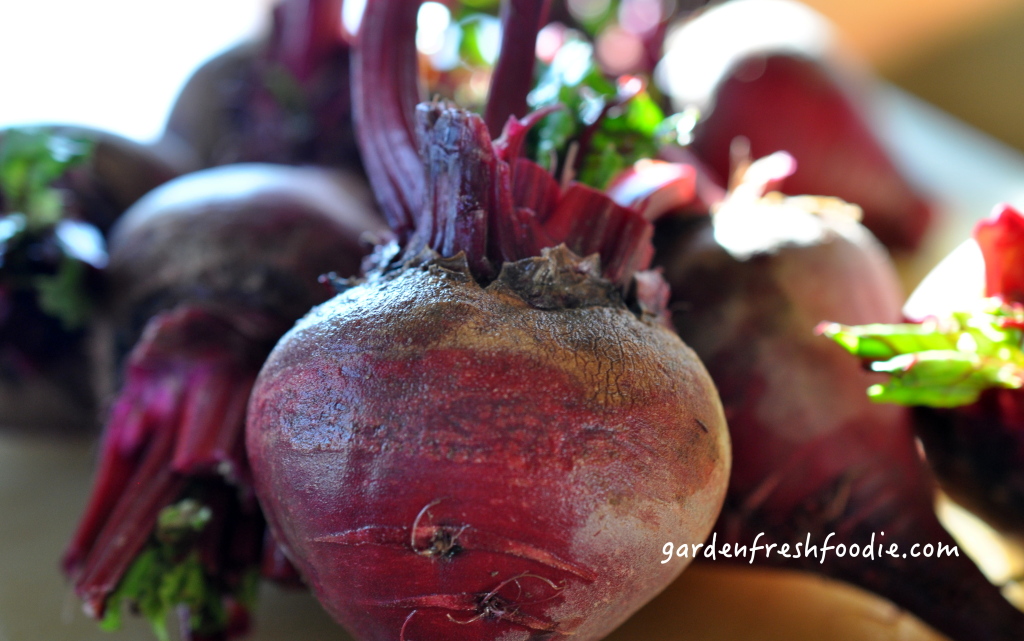 Beets are a root vegetable that are full of color. The deeper the color of your vegetables, the higher their antioxidant content. Beets are high in immune-boosting Vitamin C, fiber and iron. They have been shown to decrease blood pressure, fight inflammation, reduce the risk of cancer, and detoxify the body. Their greens are amazing too-so don't toss them or their stems! As soon as you get your beets home, cut off the greens and the base of the beet. Wash and chop these and place into a sealed container. They will go bad very quickly when attached to the root, but will store for a week this way. That's because, plants loose water through their leaves. If left attached to the root, it would loose water at a faster rate, and the root would also shrivel as water is pulled through the leaves. Beet greens contain important nutrients like protein, phosphorus, zinc, fiber, vitamin B6, magnesium, potassium, copper, and manganese, as well as significant amounts of vitamin A, vitamin C, calcium, and iron. They have been shown to boost immunity, fight Alzheimer's Disease, and osteoporosis. Sauté them along with their stems to use in dishes in place of kale, spinach, or swiss chard. They're also great thrown into soups. WOW! Dance to that beet!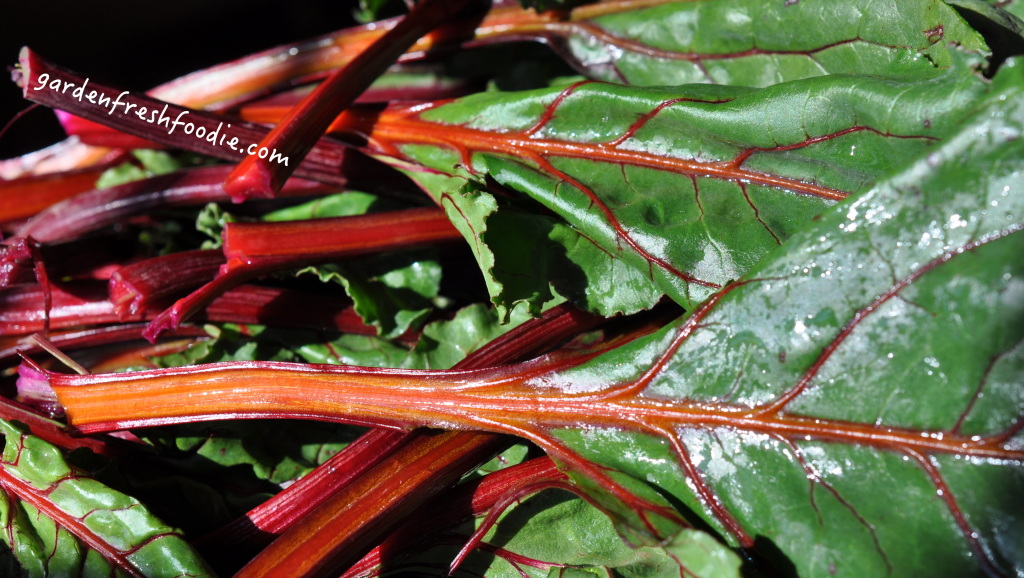 Citrus has it's amazing immune boosting benefits too. Grapefruit is high in Vitamin C, as all citrus is. It's great to ward off illness and is in season, right at the height of cold and flu season. How perfect!
This salad does have a few components. Make them all separately ahead of time. It does come together quickly and is so yummy! You might even want to make extra lentils (they're delish on their own!). The chipotle walnuts are optional, but strongly encouraged. You will need to hide them before serving or there won't be any left for the salad!
Ingredients:
Lentils (lentils from Salad Samurai):
1 1/2 cups of green or brown lentils
3 bay leaves
3 cups of water
1 tsp dried thyme
1/2 tsp salt
*if you want extra lentils make 2 cups, using 4 cups water 4 bay leaves, 2 tsp dried thyme, and 3/4 tsp kosher salt (they're great to have around for sides throughout the week!)
Beets:
1 pound of beets (1 bunch), greens removed
2 tbsp balsamic vinegar
1 tsp of dried thyme
Dressing:
1/2 cup good balsamic vinegar
3 tbsp soy sauce/tamari
2 tbsp maple syrup
1/2 tsp dried thyme
1 tsp chopped garlic (1 clove)
1 1/2 tbsp nutritional yeast
1/2 tbsp onion powder or granules
Maple Chipotle Walnuts:
2 cups raw walnuts
2 tsp cinnamon
1/4 tsp chipotle powder
3 tbsp maple syrup
1 tsp kosher/sea salt
Additional Ingredients:
1 ruby red grapefruit, peeled and segmented (ours equaled 1 cup)
3-4 oz of arugula
2 scallions, chopped
Freshly minced parsley, if desired (about 2-3 tbsp)
Instructions:
To make lentils: Wash lentils and remove any stones, if present. Mix all ingredients into a pan and bring to boil, reduce to simmer and cook until water has absorbed, about 20 minutes. Taste lentils, they should be softened but not mushy. Can be stored for 5-7 days.
To make dressing: place all ingredients into a bowl, and whisk. Dressing will keep in the fridge for over a week.
To roast beets: Preheat oven to 375. Cut beets in half and place into foil. Drizzle with balsamic and thyme. Close foil and roast at 375 for about 40 minutes, until you smell the balsamic and a knife inserted goes in easily. When done, let cool. Remove skins, they should easily peel off. You may want to wear gloves for this, as the juice can stain hands. Cut into bite sized pieces. Can be stored for a week.
Chipotle Walnuts: Place onto a baking sheet. Bake at 375 until nuts have slightly browned, about 10 minutes. While nuts are roasting, toss cinnamon, chipotle powder, and salt into a bowl. Remove from oven, drizzle with maple syrup, toss with spice mixture, & place back into oven for 2 minutes. Allow to cool before packing. Will keep for at least a week in a sealed container (if you can stop yourself from eating them!).
Dressing: Mix all ingredients into a bowl. Can be stored in fridge for at least a week.
To assemble: Place arugula on large platter. Top with lentils, then beets and grapefruit. Sprinkle on chopped scallions. Right before serving sprinkle on chipotle walnuts. Serve dressing on the side.
Alternatively, plate individuallyThis salad is great when served with my Creamy White Bean and Sage Soup, or our Creamy Mushrooms & Black Bean Soup
Arugula Lentil Salad With Grapefruit, Roasted Beets, & Maple Chipotle Walnuts
Arugula Lentil Salad With Grapefruit, Roasted Beets, & Maple Chipotle Walnuts
Author:
www.gardenfreshfoodie.com
Ingredients
Lentils (lentils from Salad Samurai)
1½ cups of green or brown lentils
3 bay leaves
3 cups of water
1 tsp dried thyme
½ tsp salt
*if you want extra lentils make 2 cups, using 4 cups water 4 bay leaves, 2 tsp dried thyme, and ¾ tsp kosher salt
Beets:
1 pound of beets (1 bunch), greens removed
2 tbsp balsamic vinegar
1 tsp of dried thyme
Dressing:
½ cup good balsamic vinegar
3 tbsp soy sauce/tamari
2 tbsp maple syrup
½ tsp dried thyme
1 tsp chopped garlic (1 clove)
1½ tbsp nutritional yeast
½ tbsp onion powder or granules
Maple Chipotle Walnuts:
2 cups raw walnuts
2 tsp cinnamon
¼ tsp chipotle powder
3 tbsp maple syrup
1 tsp kosher/sea salt
Additional Ingredients:
1 ruby red grapefruit, peeled and segmented (ours equaled 1 cup)
3-4 oz of arugula
2 scallions, chopped
Freshly minced parsley, if desired (about 2-3 tbsp)
Instructions
To make lentils: Wash lentils and remove any stones, if present. place all ingredients into a pan and bring to boil, reduce to simmer and cook until water has absorbed, about 20 minutes. Taste lentils, they should be softened but not mushy. Can be stored for 5-7 days.
To make dressing: place all ingredients into a bowl, and whisk. Dressing will keep in the fridge for over a week.
To roast beets: Preheat oven to 375. Cut beets in half and place into foil. Drizzle with balsamic and thyme. Close foil and roast at 375 for about 40 minutes, until you smell the balsamic and a knife inserted goes in easily. When done, let cool. Remove skins, they should easily peel off. You may want to wear gloves for this, as the juice can stain hands. Cut into bite sized pieces. Can be stored for a week.
Chipotle Walnuts: get ready while beets are roasting. Place onto a baking sheet. Bake at 375 until nuts have slightly browned, about 10 minutes.While nuts are roasting, toss cinnamon, chipotle powder, and salt into a bowl. Remove from oven, drizzle with maple syrup, toss with spice mixture, & place back into oven for 2 minutes. Allow to cool before packing. Will keep for at least a week in a sealed container (if you can stop yourself from eating them!).
Dressing: Mix all ingredients into a bowl. Can be stored in fridge for at least a week.
To assemble: Place arugula on large platter. Top with lentils, then beets and grapefruit. Sprinkle on chopped scallions. Right before serving sprinkle on chipotle walnuts. Serve dressing on the side. Alternatively, plate individually
This salad is great when served with my Creamy White Bean and Sage Soup or Creamy Mushrooms & Black Bean Soup