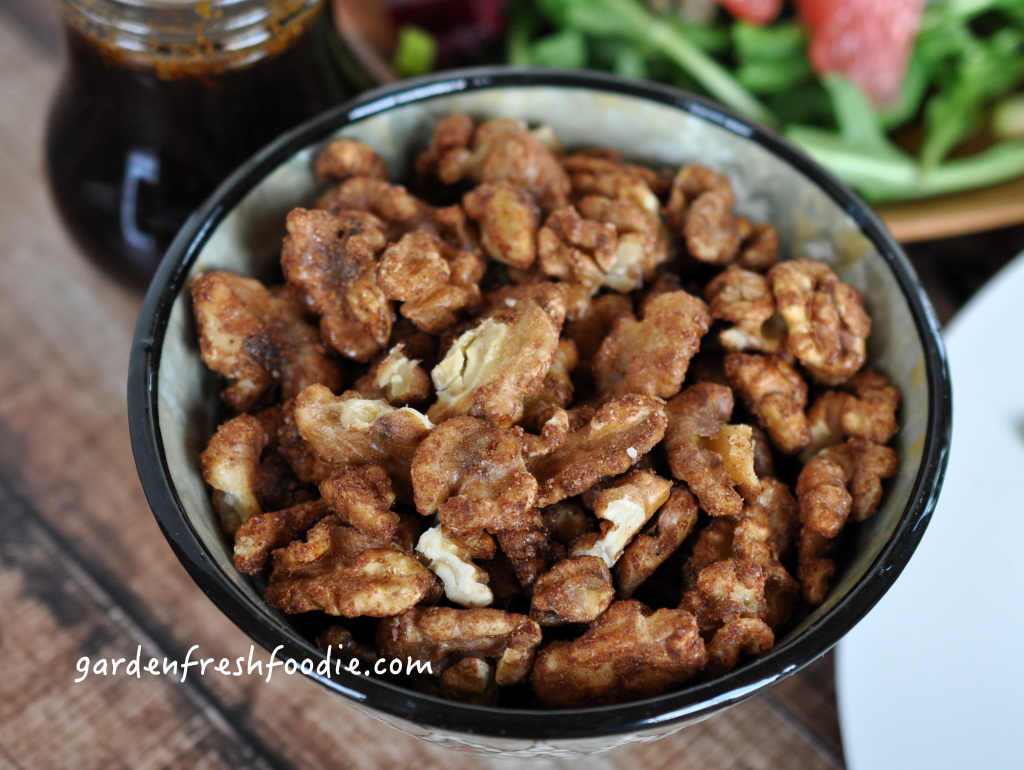 I love spiced nuts (go ahead, you can giggle)! I usually don't make spiced walnuts, and go for cashews or almonds-which you could totally do here too. This time, inspired by a cooking course I'm taking, www.rouxbe.com, I made these walnuts to go on top of my arugala lentil salad. Problem was, everyone was snagging them as I was putting the salad together! So, clearly, they're awesome on their own and will be gracing the table of goods on New Year's Eve. They are VERY easy to make, and can be made ahead of time, allowing you to control what goes on them. When you buy spiced nuts in the store, they often have added oils, preservatives, and a ton of salt. By making your own, you control all of that. There's no need to add oil to nuts, they're oily on their own, and by heating them, you bring out their natural oils.
You can make these in a dehydrator if desired. If you'd like to do that to keep these raw, cook them at 115 degree, until desired crunch is achieved, about 7-10 hours. We toasted them in the oven to speed the process along.
Why soak your nuts (giggle again)? Soaking allows the nuts to be better absorbed by the body. The soaking process allows the cell walls to expand, and the rougher texture to soften, making them easier to digest. If you want to skip this, you can. You can also speed the process along by soaking the walnuts (or any nut) in warm water for 30 minutes. If you're interested in other spiced nuts to go with these as a contrast, check out my Curried Cashews found in my Quinoa Confetti Salad or these Molasses Spiced Cashews. Or…you can skip the soaking process, and the nuts will be more crunchy (I actually prefer them this way).
Ingredients:
2 cups raw walnuts, soaked for a few hours if desired (or not)
3 tbsp maple syrup
1/2 tbsp cinnamon
1/4 tsp chipotle powder
1 tsp sea salt
Instructions:
Preheat oven to 400 degrees. Bake soaked nuts on a cookie sheet for 10 minutes
Mix together cinnamon, chipotle powder, and salt
Drizzle with maple syrup and toss in spice mixture, place back in oven for 2 minutes and let cool. Stores for 1 week.
Serve on their own, or a top your favorite salad (like our arugala lentil salad)
Nutritional Benefits:
Walnuts are an awesome source of protein, and a good source of fiber, potassium, selenium, in 1/4 cup there's 113% of your omega-3 fatty acids for the day, 53% copper, 51% manganese. While high in fat, their nutritional benefits have been shown to lower LDL cholesterol, decrease inflammation, and decrease platelets from excessive clotting. Walnuts have been shown to reduce risk of cancer, especially prostate. For more information: http://www.whfoods.com/genpage.php?tname=foodspice&dbid=99
Made without added oils
Made without refined sugars
Maple Chipotle Walnuts
Maple Chipotle Walnuts: made with only 5 ingredients, these nuts are awesome as an appetizer or salad topper, or sneaking out of the container any time of day.
Author:
www.gardenfreshfoodie.com
Ingredients
2 cups raw walnuts, soaked for a few hours if desired (or not)
3 tbsp maple syrup
½ tbsp cinnamon
¼ tsp chipotle powder
1 tsp sea salt
Instructions
Preheat oven to 400 degrees. Bake soaked nuts on a cookie sheet for 10 minutes
Mix together cinnamon, chipotle powder, and salt
Drizzle with maple syrup and toss in spice mixture, place back in oven for 2 minutes and let cool. Stores for 1 week.
Serve on their own, or a top your favorite salad (like our arugala lentil salad)