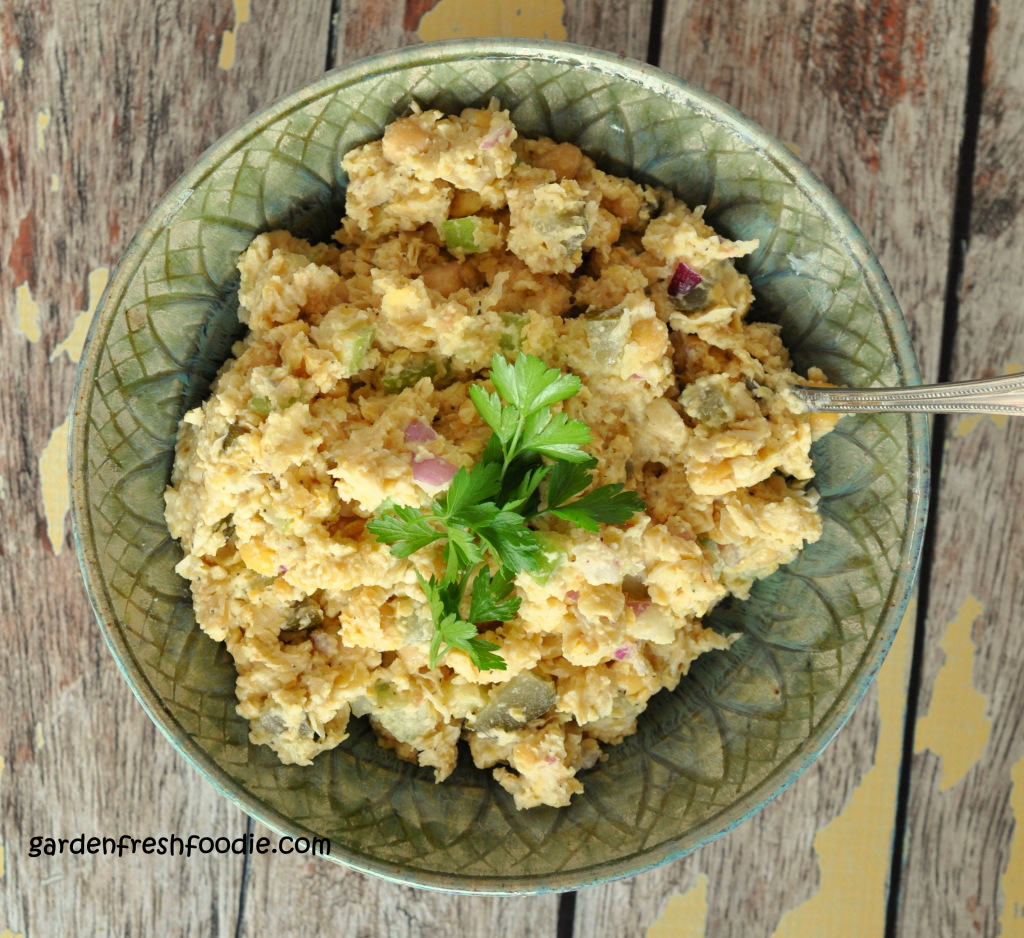 Tuna-less Salad? Say what??? Well we call it this because it has the same consistency and dill flavor of a tuna salad, but WAYYY better and lighter. No globs of mayo here! This recipe was adapted from a plant-based cooking course I'm taking, called www.rouxbe.com. Thanks for the ideas Rouxbe!  This salad was a complete hit at a brunch I had.  I'm making it again to lighten up a calorie laden holiday meal I'm hosting this weekend. For the original recipe, click here: http://rouxbe.com/recipes/4832/text?tab=recipes.
Chickpeas are packed with potassium, protein, and fiber. Often thought of as a salad topping or an ingredient in humus, this recipe will take your chickpeas to a new level of love.  We make ours using dried chickpeas.  We feel that making your own beans is much better for your health and the environment. While they are convenient, canned beans can have a metallic taste to them. By making your own beans, you avoid using BPA-lined cans, as well as controlling the amount of sodium you're taking in.  It's also less expensive and soooo much more tasty!  To do this, get dried beans, soak overnight or for 8 hours. Place into a pressure cooker, add a bay leaf for flavor, cover with water, and cook for 12 minutes once brought up to pressure. Turn heat off, let cool, and drain.  If you don't have a pressure cooker, place beans into stockpot, cover with water, add bay leaf, bring to boil, reduce heat to low and cook until softened, about 1 1/2-2 hrs.
This salad was awesome on top of toast, crackers, or as a sandwich (gluten free bread of course). You must top it with some of our homemade Garlicky Dill Pickles!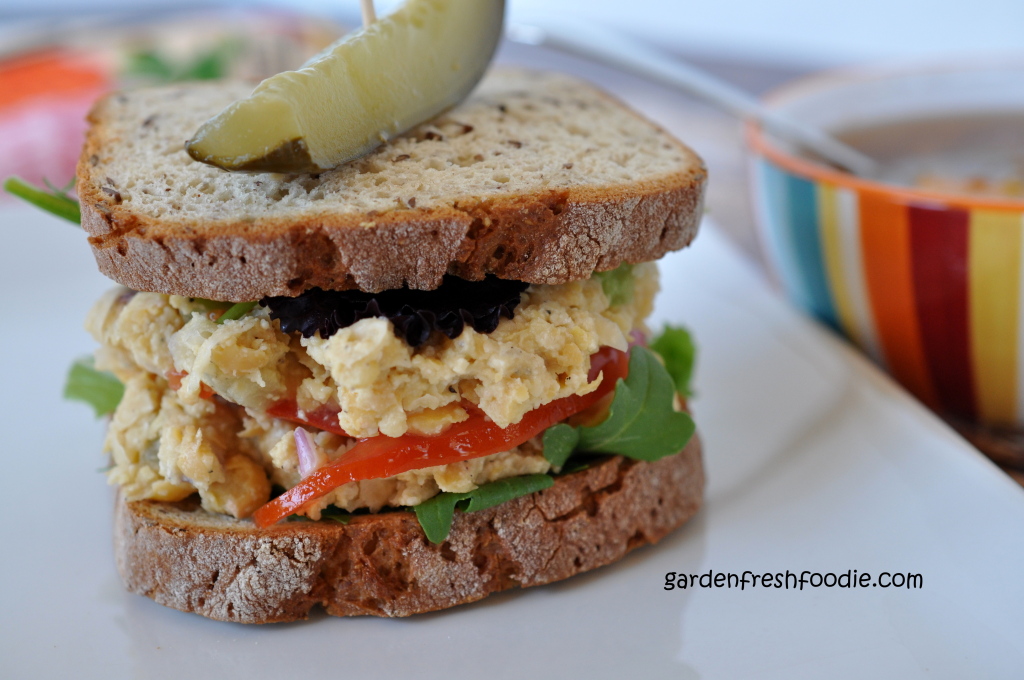 Ingredients:
Chickpea Salad
3 cups of cooked chickpeas, drained (this is 1 1/2 cans if using)
1/2 cup chopped dill pickles, we used our Garlicky Dills
3 tbsp finely minced red onion
1/2 cup chopped celery
1/3-1/2 cup cashew sour cream (recipe below)
1/2-1 tsp salt to taste
1/2 tsp freshly ground black pepper
juice of 1 lemon, about 2 tbsp
fresh parsley/scallions for garnish
Cashew Sour Cream-this will make double the amount you need for the recipe above, makes a great topping for tacos or as a base of a creamy dressing as well:
1 c raw cashews, soaked overnight or a few hours, and then drained
1-2 tbsp fresh lemon juice (to your taste)
pinch of salt
1/2-3/4 cup of water to thin
Instructions:
Blend ingredients for cashew cream in a high powered blender, like a Vitamix, chill until ready to make the chickpea salad. Cashew cream can be made ahead of time, and extras will keep for 5 days.
Mash chickpeas until you get a pasty consistency
Add finely diced onion, celery, cashew cream (adding 1/3 cup to start, up to 1/2 c depending on the consistency you like), pickles, and lemon juice, mix
Season with salt/pepper and serve,or chill until ready to serve. Shown below served with our Garden Fresh Minestrone Soup
Nutritional Benefits:
High in plant-based protein-helps to repair damaged tissues
Plant-based and gluten free-reduces inflammation
High in fiber: great for digestive health, regulating blood sugar, lowering cholesterol, increasing satiety
Great source of potassium: regulates kidney and nervous system function, improves memory
Tuna-less Chickpea Salad
Tuna-less Chickpea Salad
Author:
www.gardenfreshfoodie.com and www.rouxbe.com
Ingredients
Chickpea Salad
3 cups of cooked chickpeas, drained (this is 1½ cans if using)
½ cup chopped dill pickles, we used our Garlicky Dills
3 tbsp finely minced red onion
½ cup chopped celery
½ cup cashew sour cream (recipe below)
½-1 tsp salt to taste
½ tsp freshly ground black pepper
fresh parsley for garnish
juice of 1 lemon, about 2 tbsp
Cashew Sour Cream-this will make double the amount you need for the recipe above, makes a great topping for tacos of as a base of a creamy dressing as well:
1 c raw cashews, soaked overnight or a few hours, and then drained
1-2 tbsp fresh lemon juice (depending on your taste)
pinch of salt
½-3/4 cup of water to thin
Instructions
Blend ingredients for cashew cream in a high powered blender, like a Vitamix, chill until ready to make the chickpea salad. Cashew cream can be made ahead of time, and extras will keep for 5 days.
Mash chickpeas until you get a pasty consistency
Add finely diced onion, celery, cashew cream (adding ⅓ cup to start, up to ½ c depending on the consistency you like), pickles, and lemon juice, mix
Season with salt/pepper and serve or chill until ready to serve. Shown below served with our
Garden Fresh Minestrone Soup
Notes
216 mg of potassium, 22% iron
Nutrition Information
Serving size:
⅛
Calories:
131
Fat:
5.3 g
Carbohydrates:
18.3 g
Fiber:
6 g
Protein:
6.5 g
Cholesterol:
0 mg