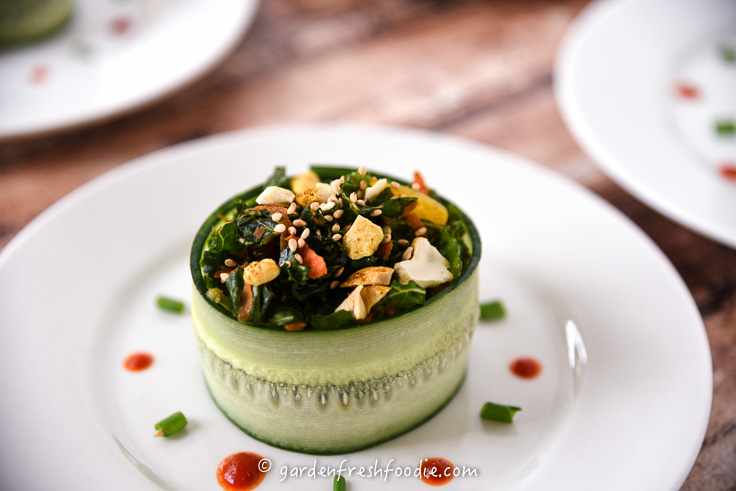 I held a Moroccan-inspired feast the other night for some good friends. All the dishes I served were infused with the warm spices of Morocco. Perfect for the cold nights in Buffalo right now. Oranges, carrots, cumin, turmeric, golden raisins, and curried cashews graced this creamy salad. If you want to pack in the antioxidants to prevent cold and flu-this baby is where it's at! It also has kept pretty well in the fridge days later (although best served day of).
If you want to get all fancy-pants (like I did), use a mandolin to thinly slice an English cucumber (you know, one of those thin long guys?). I served this salad as an appetizer. Something different than the norm. I did take it up a notch further for presentation, and decorated my plates with siracha and chives for added color pops. Oooh-so fancy! This salad is just as awesome, however, eaten out of a canning jar for easy transport (I did that too!).
Kale is a rock star in terms of nutrition. It's what we call, a nutrient dense food. It's packed with fiber, protein, calcium, potassium, Vitamin A, Vitamin C, and Vitamin K. It's also one of the easiest plants to grow. If you are like me, you're thinking of springtime in January. Start planning your garden now, and make sure to leave room for several rows of kale. If you have limited space, greens are among the easiest foods to grow as well. You can purchase a pack of seeds for under $2 and grow greens from the day the snow melts until even after it comes back in late fall.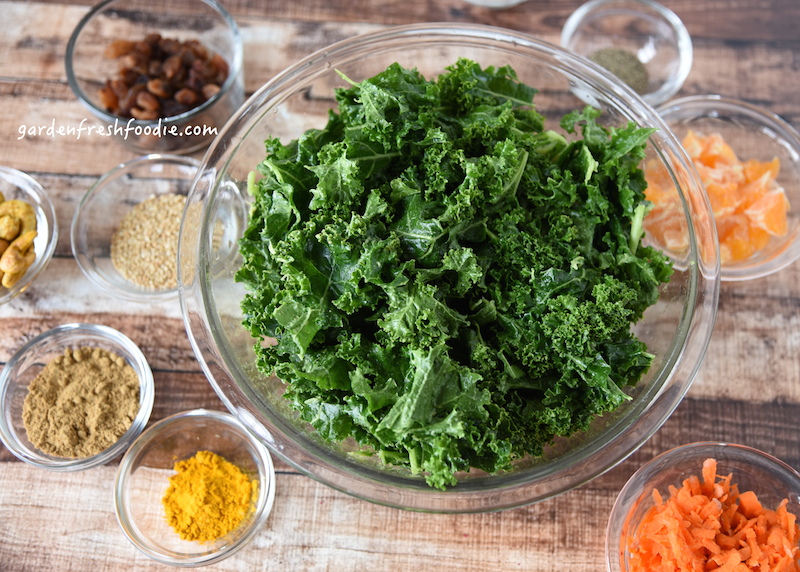 What is this massaging kale idea? Take a bite of kale on its own. It's bitter, right? (well, not if it's straight from the garden, but it is from the store). Tear it into pieces and squeeze a little lemon juice on it. Rub it into the leaves. What happens? They get deeper in color and start to soften slightly. Now squeeze in an avocado and rub it all over the beautiful green leaves. Add a pinch of salt and you'll feel and see the leaves soften, and turn melt-in your mouth amazing (notice the color difference between the kale in the bowl on the left and that on the table below). By massaging in a fat and an acid, you are changing the texture of the leaf, by starting the break down of the cell walls, the tougher part of a plant. This helps your body better digest the raw leaves, but still keeps in tact the benefit of the raw food and the nutrients it has.  Try it and make this salad!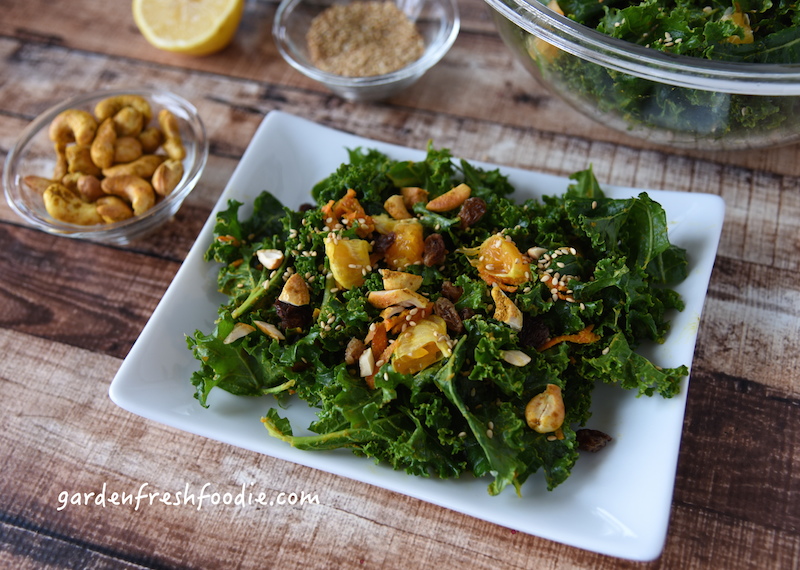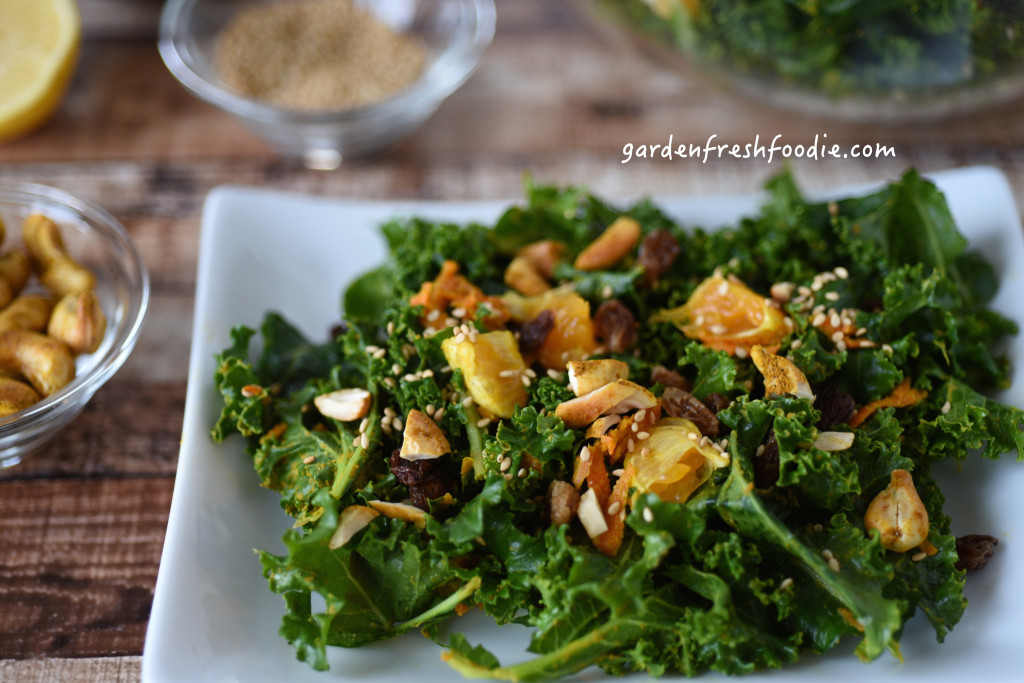 Do ahead: Make your curried cashews, these can be made 1 week ahead-but warning; you'll have to hide them from sneaky hands. You can rip the kale in pieces, and add the lemon juice, avocado, raisins, & carrots a few hours before you'd like to serve. Just before serving toss in the curried cashews (if using) and sesame seeds. If you add these too soon, you'll lose their crunch.
Ingredients:
Head of kale, torn/cut into bite sized pieces-about 10 cups
1 avocado
juice of 1 lemon, about 3 tbsp
1/3 cup golden raisins, soaked for hot water 10 minutes to soften
1 cup shredded carrots
2 tbsp sesame seeds
1 orange, cut into small pieces, or 2 clementines (measuring 1 cup)
1 1/2-2 tsp cumin (to your taste)
1 tsp turmeric
sea or kosher salt/pepper to taste
*optional chopped curried cashews and thin slices of English cucumber to serve as a wrap
Instructions:
Place kale in a large bowl. Squeeze in avocado and lemon juice. With your hands, massage the kale as if you were rubbing in the avocado and juice. This will totally change the texture of the kale and soften it. It will also help take out any bitterness.
Add in cumin, turmeric, and pinch of salt and pepper. Massage into kale.
Add in carrots, raisins, oranges, and if serving right away; add in sesame seeds and cashews. If not serving right away, add in seeds and nuts just before serving.
Nutritional Benefits:
Great source of plant-based calcium, 26%/serving: kale is packed with plant-based calcium that is more easily absorbed by the body, great for strengthening bones and preventing osteporosis.
High in fiber, 6.8 g/serving: helps with digestive health, reduces blood sugar, lower blood pressure, and increases satiety
Packed with Vitamin A: 406%/serving-great for eye, skin, bone, and dental health, as well as helping to reduce inflammation and detoxify the body
High in Vitamin C, 250% of daily needs/serving: the lemon juice and fresh orange are great ways to get in this important antioxidant, which boosts immunity and decreases cancer risks
Avocado: great source of omega-3 fatty acids to help reduce LDL cholesterol
Plant-based and gluten free: reduces inflammation in the body
Cholesterol free-awesome for diabetics and those with heart disease
Super amounts of potassium: great for regulating kidney and nervous function, as well as lowering blood pressure-826 mg/serving
Moroccan Kale Salad
Moroccan Kale Salad: made with anti-inflammatory ingredients that are nutrient-packed. Made with warm spices of cumin, turmeric, carrots, and citrus.
Author:
www.gardenfreshfoodie.com
Serves:
12-14 small servings or 6-8 larger ones
Ingredients
Head of kale, torn/cut into bite sized pieces-about 10 cups
1 avocado
juice of 1 lemon, about 3 tbsp
⅓ cup golden raisins, soaked for hot water 10 minutes to soften
1 cup shredded carrots
2 tbsp sesame seeds
1 orange, cut into small pieces, or 2 clementines (measuring 1 cup)
1½-2 tsp cumin (to your taste)
1 tsp turmeric
sea or kosher salt/pepper to taste
*optional chopped curried cashews and thin slices of English cucumber to serve as a wrap
Instructions
Place kale in a large bowl. Squeeze in avocado and lemon juice. With your hands, massage the kale as if you were rubbing in the avocado and juice. This will totally change the texture of the kale and soften it. It will also help take out any bitterness.
Add in cumin, turmeric, and pinch of salt and pepper. Massage into kale.
Add in carrots, raisins, oranges, and if serving right away; add in sesame seeds and cashews. If not serving right away, add in seeds and nuts just before serving.
Keep cold and serve. For a fancier presentation, create a cucumber wrap by thinly slicing an English cucumber on a mandolin (preferred). Garnish with additional freshly chopped nuts/seeds
Notes
Nutrition calculated without added cashews and cucumber. Calculated for 6 full-meal servings. 406% Vitamin A/serving, 250% Vitamin C, 26% calcium, 18% Iron, 826 mg of potassium
Nutrition Information
Serving size:
⅙
Calories:
163
Fat:
6.6 g
Saturated fat:
1 g
Carbohydrates:
25 g
Fiber:
6.8 g
Protein:
5.5 g
Cholesterol:
0 mg