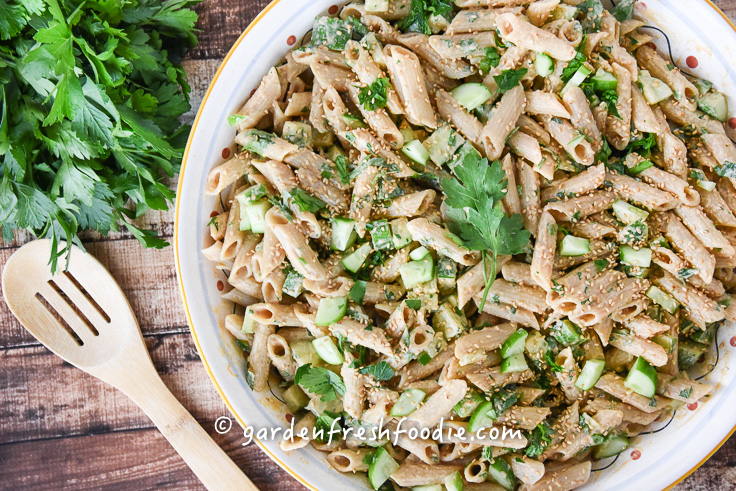 Going to a weekend summer party? This sesame pasta salad is awesome to take along, and best at room temp, freshly made. I have also reheated it, but served cold, doesn't do it justice (gluten free pasta is weird that way). For this dish, and anytime I'm making gluten free pasta, I use the Jovial brand of noodles. I think they are FAR superior to any other gluten free noodles, and they're organic and made with brown rice. While I wouldn't call them healthy, I'd definitely say they are much better quality that other gluten free pastas that tend to be very processed and refined. You could skip the pasta all together and make this with spiralized zucchini noodles, or zoodles, as the dressing is AMAZING and is awesome on them! Zucchini is so low in calories and makes a great swap out for pasta. The reason it's so low in calories, however, is that it's mostly water. When you add this dressing to zoodles, it will make the zucchini noodles break down and release water, thinning out the sauce. I strain the zoodles before serving, and toss it with fresh herbs and scallions. I also added in some sunflower seeds for a little added texture.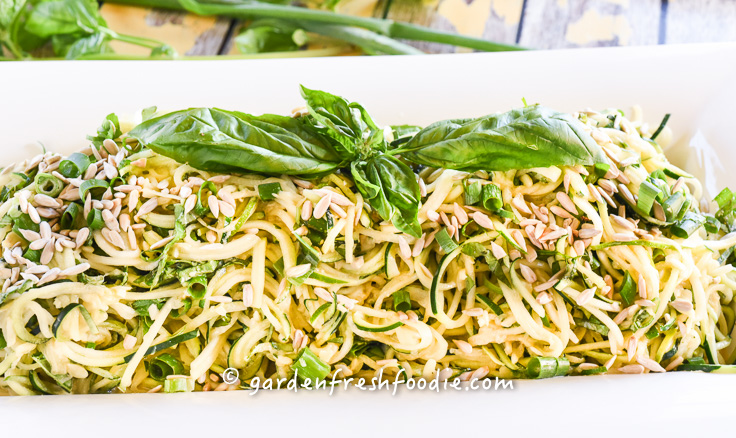 I LOVE my Paderno spiralizer, but I just found this one on Amazon that's less money and has an extra blade.  Go raw with those zucchini noodles, to keep it light and crunchy, cooking will destroy this dish. Just be sure to cut them in half, so your eaters don't have to slop dressing off their faces 🙂
Not sure how to spiralize? Check out how easy it is, even an 8 year old (now 10) can do it!
Tahini-what is it?
Tahini, if you've never used it before, is made from sesame seeds. It's a great nut-free alternative for those who can't eat nuts, and provides a rich, creamy texture similar to peanut butter. Tahini is the often found in Middle Eastern dishes like hummus, baba ganoush. I use it also in my nut-free ginger granola, which is an awesome breakfast or snack!
This salad is SUPER easy to make and uses in season cucumbers and parsley (zucchini if you're spiralizing!)! If you plan to reheat it, I'd add some fresh cucumbers into the reheated dish, as they can get watery when cooked, and the idea is that you want a light, crunchy addition to the salad. You won't use up all of this sauce, so save some of it for a stir fry this week! This oil free sauce is also awesome as a dip for summer rolls, hand rolls, or fresh veggies!
Ingredients:
2 boxes (24 total oz) of cooked gluten free pasta (or spiralized zucchini noodles "zoodles"-sliced to be able to eat easily)-or if using zoodles/zucchini noodles, I made half the dressing for 5 1/2 pounds of zucchini
2 cups cubed cucumbers
1/4 cup toasted sesame seeds or sunflower
1/2 cup minced parsley or basil
1/2 cup scallions if desired
Tahini Sauce (Great for a stir fry sauce, summer roll dip, or fresh veggies!)-can make half if using zucchini noodles (it doesn't use as much as regular pasta)
3/4 cup tahini
1/2 cup soy sauce
1/2 cup rice vinegar
3 tbsp hot sauce
6 cloves garlic (about 3 tbsp)
2-3 inch piece of peeled fresh ginger, about 3 tbsp
Instructions:
Boil water and cook pasta according to directions or spiralize a bunch of zucchini
Place all tahini sauce ingredients into a blender, and blend
When pasta is done, drain, rinse, and toss with 1 1/2 cups sauce, reserving some for another time.  Wait until cooled slightly and toss with cucs, parsley, and sesame seeds.
If using spiralized noodles, place zoodles in a bowl and massage dressing onto zoodles, using as much as looks right based on the amount of zoodles you've made. Then add in remaining ingredients or just top with scallions, basil, and sunflower seeds.
Serve as a side or main dish-we served our with some BBQ tofu and grilled veggies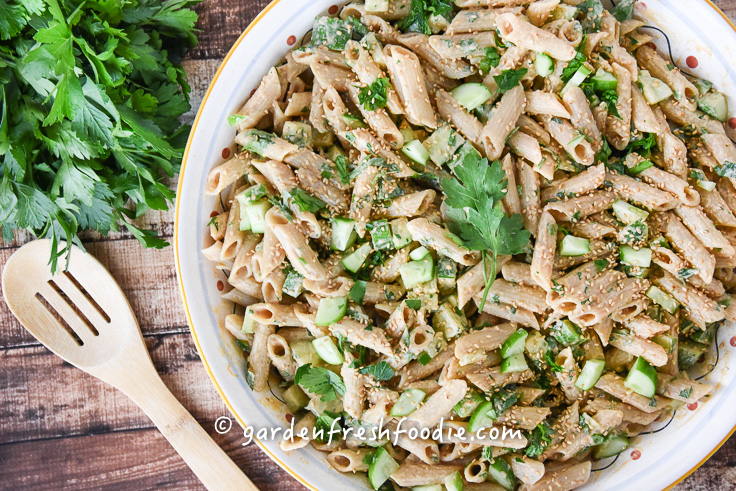 Nutritional Benefits:
If using zucchini noodles-nothing refined or processed and low in calories
Low in fat, vegan and gluten free-helps fight inflammation in the body
Tahini is a good source of calcium and plant-based protein
Ginger and garlic are anti-inflammatory and help with circulation
Good source of fiber-both from tahini as well as pasta or zucchini
Zucchini-great source of vitamin C, maganese, magnesium and fiber, as well as other micronutrients-helps fight inflammation
Sesame Pasta Salad
Tahini Pasta Salad-light and easy for a summertime BBQ or easy weeknight meal. Great on pasta or zucchini noodles for a lower calorie, lighter meal!
Author:
www.gardenfreshfoodie.com
Ingredients
2 boxes (24 total oz) of cooked gluten free pasta (or spiralized zucchini noodles "zoodles"-sliced to be able to eat easily)-or if using zoodles/zucchini noodles, I made half the dressing for 5½ pounds of zucchini
2 cups cubed cucumbers
¼ cup toasted sesame seeds or sunflower
½ cup minced parsley or basil
½ cup scallions if desired
Tahini Sauce (Great for a stir fry sauce, summer roll dip, or fresh veggies!)-can make half if using zucchini noodles (it doesn't use as much as regular pasta)
¾ cup tahini
½ cup soy sauce
½ cup rice vinegar
3 tbsp hot sauce
6 cloves garlic (about 3 tbsp)
2-3 inch piece of peeled fresh ginger, about 3 tbsp
Instructions
Boil water and cook pasta according to directions or spiralize a bunch of zucchini
Place all tahini sauce ingredients into a blender, and blend
When pasta is done, drain, rinse, and toss with 1½ cups sauce, reserving some for another time. Wait until cooled slightly and toss with cucs, parsley, and sesame seeds.
If using spiralized noodles, place zoodles in a bowl and massage dressing onto zoodles, using as much as looks right based on the amount of zoodles you've made. Then add in remaining ingredients or just top with scallions, basil, and sunflower seeds.
Serve as a side or main dish-we served our with some BBQ tofu and grilled veggies