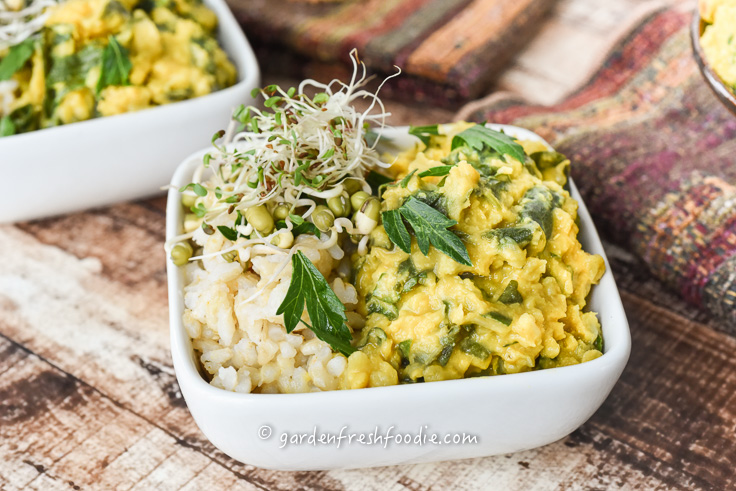 I love Indian spices. They warm and soothe the soul. With cold weather upon us, ughhhhh!, all I want is stuff to keep me warm like soups and stews. When the weather changes, your foods should too.  Cauliflower and greens are in season now where we live. So I thought I'd throw them together with some red lentils and whip up a very fast weeknight meal! Red lentils create a creamy consistency and don't hold their shape, unlike brown or green lentils. They're powerhouses of protein without the added saturated fat (or hardly any fat). Cauliflower is a member of the cruciferous family. A group of veggies that has powerful antioxidants, and should be consumed at least 2-3 times per week (broccoli, kale, kohlrabi, etc are members too). It's a powerful antioxidant, anti-inflammatory, and has been shown to reduce the risks of all forms of cancer, cardiovascular disease, and aid in digestive health with it's high levels of Vitamin C and fiber.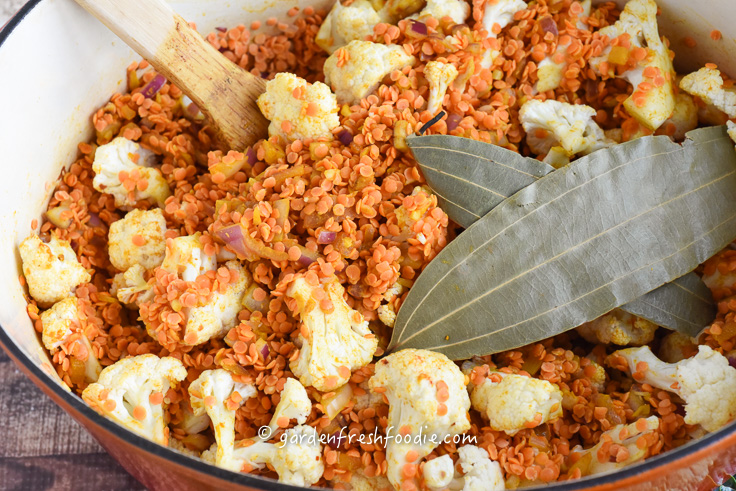 This stew is made with anti-inflammatory spices; garlic, ginger, turmeric, and chills. These spices stimulate your circulatory system and increase blood flow throughout the body. Turmeric has been shown to have amazing properties of fighting inflammation, and has long been used in Eastern medicine to treat a wide variety of aliments, showing the same if not better response to traditional drugs like motrin (source).  It has been shown to prevent and slow the spread of tumor growth, and is especially good to include in your diet if you suffer from inflammatory diseases like rheumatory arthritis, irritable bowel syndrome, and even cystic fibrosis.  The active chemical component of turmeric, curcumin, has been shown to help boost the liver's ability to detoxify the body. It's benefits don't stop there! Turmeric has also been shown to increase LDL (lousy) receptors, and therefore help to eliminate bad cholesterol from the body. In doing so, turmeric has been shown to help prevent cholesterol forming plaques build up in the blood stream.  Combining turmeric with cruciferous vegetables, like cauliflower, has been shown to have an even more powerful effect than each food in isolation. This is yet another example of how nutrients cannot be looked at in isolation, as the sum is often greater than the parts.  
I served this cauliflower red lentil stew along side my chana masala and some homemade gluten free naan for a special Indian feast! It does get considerably thicker if serving the next day. If you'd like it a thinner consistency, simply add more water, coconut or almond milk to thin. It cooks up very quickly!
*Note: Like all of my soups and stews, I made this without added oils. There is no need to sauté veggies in oil. I start the process with a hot pan, and a little water, just enough to prevent sticking. This cuts out the unnecessary fat found in oil, which provides no other nutrient for the body.  If you are careful of added fats, you may want to omit the coconut milk as well. An alternative would be to use almond milk with a tbsp of cornstarch or tapioca starch to thicken it. This cuts out the saturated fat that is found in coconut milk, but still provides the thickening component that the coconut milk would have provided. Just be sure to heat the milk before adding the starch. This will help it to blend more easily, and then it can be added to the stew without causing any clumping to occur.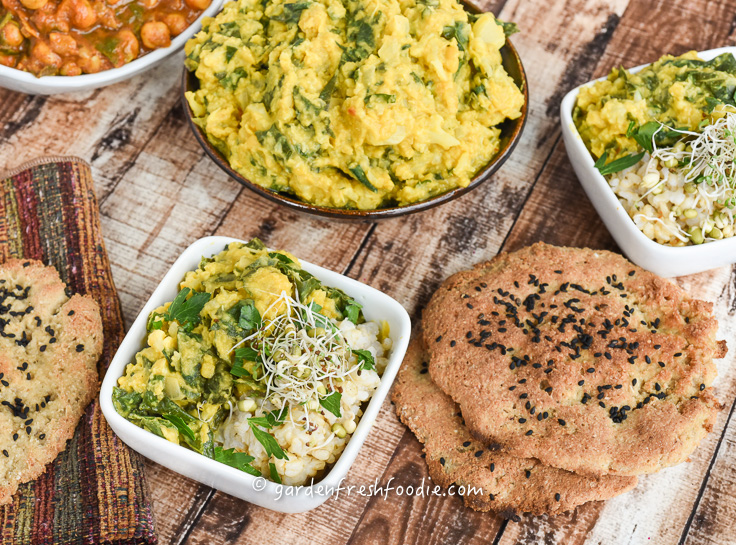 Ingredients:
2 cups red lentils
5 cups cauliflower cut into florets (about 1/2 a head of cauliflower)
2 cups red onion
3 bay leaves
3 tbsp minced garlic
2 tbsp minced ginger
1 tbsp coriander, ground
1 1/2 tsp sea or kosher salt (plus more to taste)
1 tsp ground chili flakes
1 tsp smoked paprika
2 tsp turmeric
3 1/2 cups water (or more if needed)
1 1/2 cups light coconut milk (1 can)-or can use almond milk heated with 1 tbsp cornstarch, tapioca, or arrowroot to thicken, if wanting a lower fat alternative-see note above*
4-5 cups chopped kale (I used tuscan, but any variety of greens will work)
1/4 cup minced parsley
1 tbsp fresh lemon juice
Instructions:
Place spices and onion into a large pot. Sauté by adding a few tablespoons of water into pan, and onions are softened.
Add in red lentils, cauliflower, and water and cook until red lentils have creamed out and cauliflower has softened. About 15 minutes.
Add in coconut milk (or thickened almond milk), and stir in kale, parsley, and lemon juice.
Thickens as it sits the next day. Enjoy thick like a stew, or thin it out with additional water if you prefer it more like a daal. I served this with some gluten free naan I made and my chana masala! 
Nutritional Benefits:
Jam packed with plant-based protein, 17 g per serving!, for healing and repairing tissues
High in fiber, 10 g per serving-great for boosting digestive health, lowering blood pressure, fighting many forms of cancer, regulating blood sugar, and increasing satiety
High in potassium, 874 mg, helps to regulate kidney, nervous system function, as well as regulate blood pressure
Herbs garlic and ginger help to fight inflammation, as well as improving circulation. Ginger helps with digestion, and garlic has been shown to be an antiseptic
High in Vitamin C, powerful antioxidant that helps to boost immunity and decrease inflammation
Great source of plant-based iron, 20% daily needs, better absorbed and eliminated that animal based sources.
Indian Cauliflower Red Lentil Stew
Indian Cauliflower Red Lentil Stew-made oil free, this stew is rich in flavor, antioxidants, and protein.
Author:
www.gardenfreshfoodie.com
Ingredients
2 cups red lentils
5 cups cauliflower cut into florets (about ½ a head of cauliflower)
2 cups red onion
3 bay leaves
3 tbsp minced garlic
2 tbsp minced ginger
1 tbsp coriander, ground
1½ tsp sea or kosher salt (plus more to taste)
1 tsp ground chili flakes
1 tsp smoked paprika
2 tsp turmeric
3½ cups water (or more if needed)
1½ cups light coconut milk (1 can)-or can use almond milk heated with 1 tbsp cornstarch or arrowroot to thicken, if wanting a lower fat alternative, see note above*
4-5 cups chopped kale (I used tuscan, but any variety of greens will work)
¼ cup minced parsley
1 tbsp fresh lemon juice
Instructions
Place spices and onion into a large pot. Sauté by adding a few tablespoons of water into pan, and onions are softened.
Add in red lentils, cauliflower, and water and cook until red lentils have creamed out and cauliflower has softened. About 15 minutes.
Add in coconut milk(or thickened almond milk), and stir in kale, parsley, and lemon juice.
Serve over rice with additional parsley and fresh sprouts if desired.
Thickens as it sits the next day. Enjoy thick like a stew, or thin it out with additional water if you prefer it more like a daal. I served this with some gluten free naan I made and my
chana masala
Notes
874 mg potassium, 114% Vitamin C, 31% Vitamin A, 20% iron, 7% calcium based on 6 servings
Nutrition Information
Serving size:
⅙
Calories:
282
Fat:
6 g
Saturated fat:
2 g
Carbohydrates:
40.7 g
Sugar:
7 g
Fiber:
10 g
Protein:
17 g
Cholesterol:
0 mg