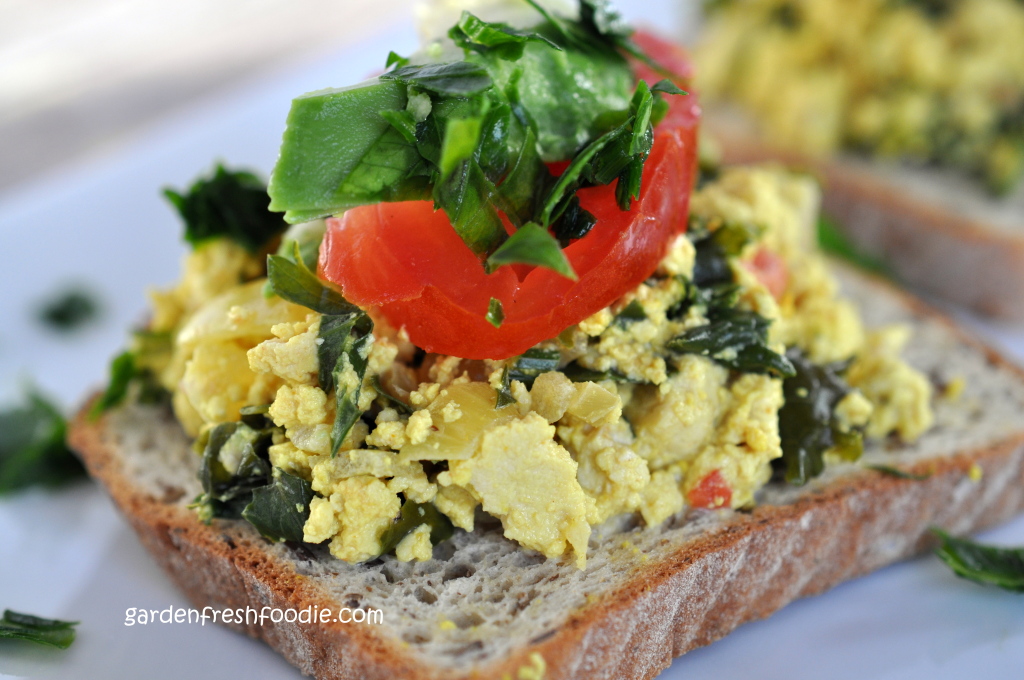 This dish is a nice alternative to cholesterol-rich eggs. Tofu scrambles give the same flavor and consistency of scrambled eggs, but without the cholesterol or fat.  Tofu is a great source of plant-based protein, as well as being a great source of calcium.  It has been shown that by decreasing your consumption of animal-based protein, you can alleviate heart disease, diabetes, inflammatory diseases like arthritis, and many cancers. Eating more plants also helps you to tread lighter on the earth.  So go ahead, try something different (see if anyone can tell the difference, don't tell!).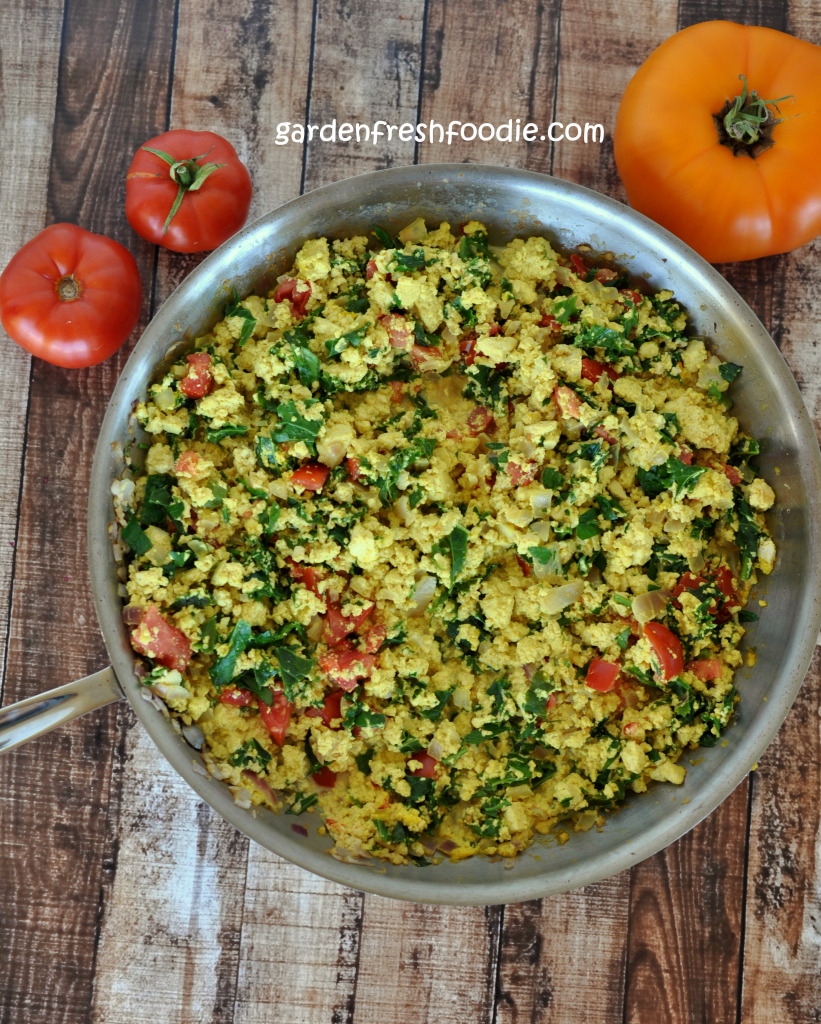 You can add nutritional yeast directly into the cooking process or leave it as a topping. It's a slightly acquired taste, so, if you're not sure how the crowd will respond, keep it on the side. I love it. It's packed with tons of vitamins, namely Vitamin B and all it's cousins, as well as fiber, protein, and is very low in fat and calories.  It has a cheesy taste, which is why I think it goes well with this and most scrambles, as well as a topper on popcorn!
This is great for a brunch. Makes enough for 8 people. Reduce in half for smaller portion. We served this at a brunch with our awesome plant-based waffles (recipe coming soon…).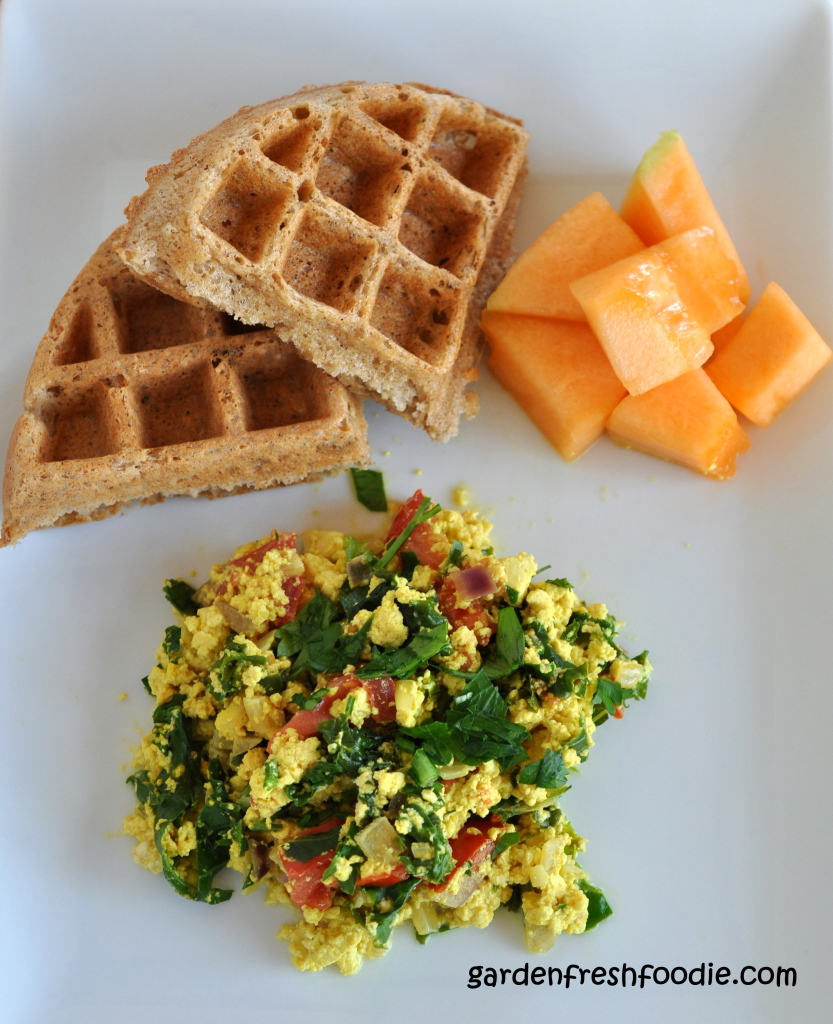 Ingredients:
2 blocks of firm or extra-firm tofu, crumbled
3 1/2 tbsp tamari or gluten free soy sauce
1 tsp turmeric
1 tbsp water
1 1/4 cups of chopped red onion
1 tbsp chopped garlic
1 1/2 packed cups of chopped kale
1/2 tsp salt and pepper to taste
2 tbsp chopped fresh parsley
1 cup chopped tomato
*topping-nutritional yeast, siracha or hot sauce
Instructions:
Drain and crumble tofu in a large bowl, add in tamari and mix (we use our hands to smoosh it all up)
In a sauté pan, add onions and a small amount water to sauté
Saute until translucent and lightly golden. Add in garlic, and kale, and cook until kale just softens 1-2 mins. Add in tofu, salt, and pepper, and cook until hot (about 2 mins)
When ready to serve, add in fresh chopped tomato and parsley.
Top with nutritional yeast and hot sauce if desired. Can be made easily ahead and rewarmed. If doing this, don't add in tomatoes and parsley until after reheated and ready to serve.
Nutritional Benefits:
Plant-based and gluten free-decreases inflammation
Packed with plant-based protein-great for healing and repairing the body's tissues, 14 g/serving!
High in plant-based calcium, 15% of daily needs-calcium from plants is absorbed 3x's more than if from an animal source. Great for strong bones and teeth
Kale, tomatoes, and onions all add fiber, which is essential for digestive health, as well as regulating blood sugars. Fiber also helps you feel satiated
High in Vitamin A-42%, anit-inflammatory, antioxidant that helps with bone, eye, & dental health
High in Vitamin C-33%, boosts immunity and decreases inflammation, antioxidant
Good source of iron-10%, important for oxygenation of blood
Garden Fresh Tofu Scramble
Italian Tofu Scramble
Author:
www.gardenfreshfoodie.com
Ingredients
2 blocks of firm or extra-firm tofu, crumbled
3½ tbsp tamari or gluten free soy sauce
1 tsp turmeric
1 tbsp water
1¼ cups of chopped red onion
1 tbsp chopped garlic
1½ packed cups of chopped kale
½ tsp salt and pepper to taste
2 tbsp chopped fresh parsley
1 cup chopped tomato
*topping-nutritional yeast, siracha or hot sauce
Instructions
Drain and crumble tofu in a large bowl, add in tamari and mix (we use our hands to smoosh it all up)
In a sauté pan, add onions and a small amount water to sauté
Saute until translucent and lightly golden. Add in garlic, and kale, and cook until kale just softens 1-2 mins. Add in tofu, salt, and pepper, and cook until hot (about 2 mins)
When ready to serve, add in fresh chopped tomato and parsley.
Top with nutritional yeast and hot sauce if desired. Can be made easily ahead and rewarmed. If doing this, don't add in tomatoes and parsley until after reheated and ready to serve.
Shown below on top of gluten free toast and our vegan waffles (the waffles were a huge hit, recipe coming....)
Notes
42% Vitamin A, 33% Vitamin C, 15% calcium, 10% iron per serving (based on 8)
Nutrition Information
Serving size:
⅛
Calories:
111
Fat:
3.9 g
Carbohydrates:
6.4 g
Fiber:
1 g
Protein:
14 g
Cholesterol:
0 mg